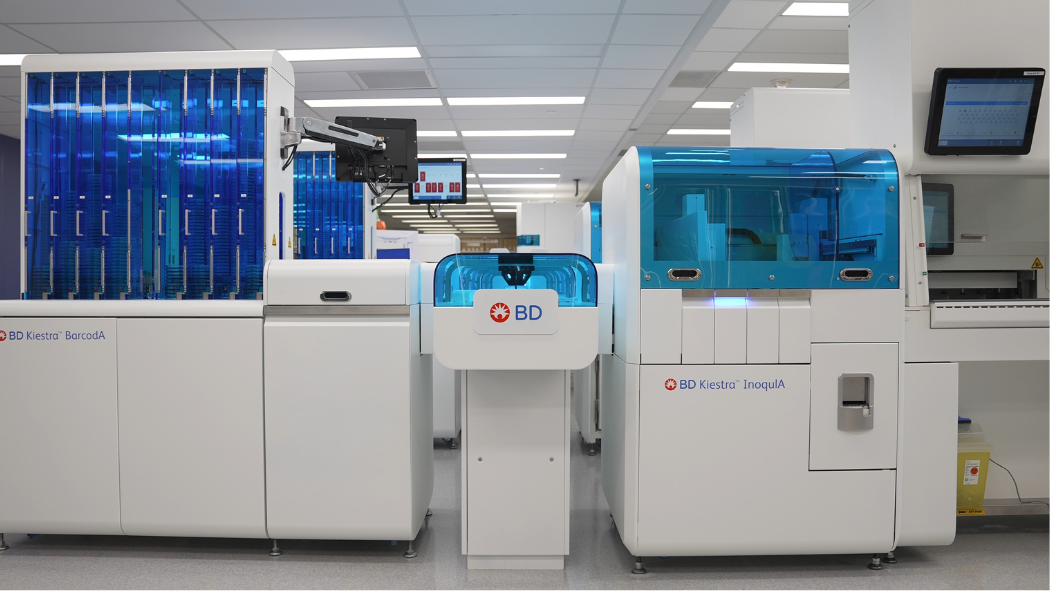 November 2, 2023
London Health Sciences Centre (LHSC) and St. Joseph's Heath Care London (St. Joseph's) are celebrating the installation of a Total Laboratory Automation (TLA) system within the clinical microbiology laboratory. The innovative and automated technology will assist highly skilled laboratory professionals, build lab capacity and enhance advanced detection of infectious diseases, generating high-quality results even faster. The TLA system is the first of its kind to be installed in the world, making London an international flagship site for innovation in clinical microbiology.
The clinical microbiology lab is part of the Pathology and Laboratory Medicine (PaLM), a joint venture of LHSC and St. Joseph's providing a comprehensive range of routine and specialized testing and clinical consultation for patient care within Southwestern Ontario and beyond.
"The automated system will allow us to accommodate increased volumes in diagnostic testing and innovations within the system will help optimize productivity of staff, test accuracy, and the time required to report a test result," says Dr. Jeff Fuller, Division Head, Clinical Microbiology. "The TLA system's innovative technology will facilitate the transformation of laboratory operations, allowing for future growth and sustainability."
The BD Kiestra™ 3rd Generation TLA system automates bacterial culture investigations on patient specimens to transform laboratory operations. With integrated work benches and a newly designed track mechanism, BD Kiestra™ solutions deliver end-to-end automated workflows from plate labelling to inoculation, incubation, imaging, culture reading and results reporting. Located at LHSC's Victoria Hospital (VH), the state-of-the-art microbiology lab and TLA system will serve hundreds of thousands of patients across London and Southwestern Ontario every year.
The importance of lab infrastructure was evident throughout the pandemic as a key enabler for health system readiness and future pandemic preparedness. The Microbiology Program, part of PaLM, provides advanced diagnostic services to LHSC, St. Joseph's, and several other regional partners in the referral area for detecting and treating infectious diseases.
"This investment supports our vision of transforming health together within our walls and for patients across our region," says John French, Clinical Diagnostics Executive, Laboratory Services and Medical Imaging at LHSC. "By making a targeted investment in the TLA system, LHSC is working to advance excellence in health care for better patient outcomes."
"At St. Joseph's, patient and resident safety is paramount and this state-of the-art technology is a vital investment in just that," says Karen Perkin, Vice President Patient Care and Chief Nurse Executive, St. Joseph's. "With growing demands on microbiology services, there is a tremendous need for innovative solutions. St. Joseph's is pleased to be part of this investment in London for faster, more accurate diagnoses, which will enhance the safety of those in our care, our community and our region."
Notable features of the BD Kiestra™ 3rd Generation TLA system include a covered two-way track design that allows plates to travel through the system at a faster rate and a higher resolution 25-megapixel camera for advanced image quality. The high-resolution camera, in combination with BD artificial intelligence imaging applications, evaluates urine culture and Methicillin-resistant Staphylococcus aureus (MRSA) screening plates. Samples with no growth can be resulted and released by imaging software without technologist intervention, allowing Medical Laboratory Technologists to focus more on complex tasks.
"We take great pride in our collaboration with London Health Sciences Centre and St. Joseph's Health Care London, to pioneer the installation of BD Kiestra™ 3rd Generation TLA System, making it the first of its kind in the world," said Ivy Parks, President of BD-Canada. "This cutting-edge laboratory optimizes lab space to automate and streamline the workflow of medical lab professionals so they can focus on what matters most – serving patients across Southwestern Ontario."

For media inquiries, please email media@lhsc.on.ca