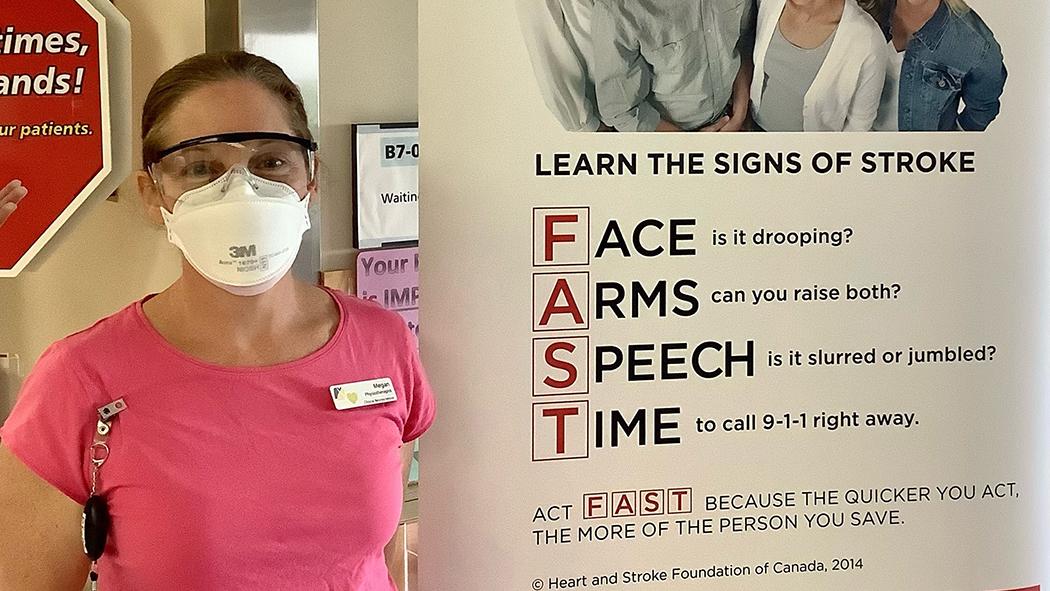 June 21, 2022
June is Stroke Awareness Month! One of the unique aspects of stroke care is the wide variety of staff and services involved in a patient's stroke journey. Care provided by the multidisciplinary team helps to improve patient outcomes, facilitates early discharge and increases the likelihood of patients regaining function and independence.
Our stroke multidisciplinary team consists of Physicians, Nurse Practitioners, Nurses, Personal Support Workers, Physiotherapists and assistants, Occupational Therapists and assistants, Speech and Language Pathologists, Social Workers, Dietitians and assistants, Pharmacists, Clinical Nurse Educators, and a Stroke Care Navigator.
Today we would like to introduce just a few of the members of the stroke team that make the London Health Sciences Centre's Regional Stroke Program great. Below are some highlights of our stroke team members and what stroke means to them:
Stroke Nurse Practitioner
Breeda O'Farrell
The Stroke Nurse Practitioner works with the MRP team caring for patients on the acute and hyperacute stroke units. The Nurse Practitioner assesses, diagnoses, treats, manages and discharges stroke patients. The role also supports the multidisciplinary team by acting as a resource, a consultant, and assisting in transition/disposition planning in accordance with Canadian best practice recommendations. The Nurse Practitioner is actively involved with decision-making and the flow of stroke patients through their journey.
Breeda reminisces about her years of experience and adds, "I have worked with patients who have had a stroke since 1992, and one of the most rewarding things I have experienced in 30 years is seeing individuals with stroke deficits make significant improvements. The newer interventions that can reverse a stroke-in-progress, and the care and therapy provided to patients and families is such an important element of these improvements. I am proud to be part of the team that provides this care to patients and their families."
Clinical Educators
Left: Lynda Ryall-Henke; Right: Julie Nauta
The Clinical Educators for the stroke program support nursing staff in learning about stroke best practice recommendations and managing stroke patients. The educators also support improvements in stroke services and care. Most recently, the educators have played a big role in updating our nursing swallowing screening process for acute stroke patients!
Here's what Julie has to say about working in stroke care: "Treating stroke patients is a unique experience. The successful care of a stroke patient requires quick assessment and effective interdisciplinary collaboration. Stroke care starts at home with individuals quickly recognizing the signs of stroke and calling 911 and continues all the way until they are discharged from hospital. It is rewarding watch how the timely care of patients based on stroke best practices contributes to positive patient outcomes."
Stroke Nurses
Left: Ryan Dorey; Right: Hyewon Ku
These are just two of our over 100 frontline nursing staff working in stroke care. These nurses receive orientation and education on the unique aspects of managing a stroke patient. The LHSC stroke program also offers specialty training in the Hyperacute Stroke Unit to manage clinically complex stroke patients, administer lifesaving medication (tPA) and help a patient recover post-endovascular thrombectomy (clot-retrieval). Nurses are involved in every step of the patient journey, from the Emergency Department to Rehabilitation!
Ryan feels passionate about working with stroke patients and shares: "I find it very rewarding working with stroke patients and watching them make progress every day on their road to recovery."
Hyewon adds, "I really do enjoy working in stroke with the amazing stroke team! We are here to prevent stroke patients from having long-term disability and provide patient-centred care. To not visit us as a patient, be aware of the signs and symptoms of stroke! This is the best key to lead your life healthy."
Physiotherapists
Megan Mayville
Physiotherapy is important to assist patients in regaining functional abilities after stroke. Physiotherapists help to restore most than just walking, including rehabilitating a patient's strength, coordination, sensation and balance. They also improve a stroke patient's quality-of-life, by helping them recover a sense of control and independence.
Megan highlights how gratifying stroke care can be by sharing: "Working as an acute stroke care Physiotherapist for 14 years has been a very rewarding experience. The resiliency and determination I see every day from my clients is inspiring. I take great pride in providing stroke best practice and evidence-based therapy to maximize a person's recovery."
Speech and Language Pathologists
From left to right: Allison Chen, Kerry Caleb, Suzanna Fox
Nearly one third of patients who have had a stroke develop aphasia – a condition that affects a person's ability to communicate. The Speech and Language Pathologists involved in stroke care are vital to support recovery after stroke, by helping these patients learn new ways to communicate. They also care for patients who have experienced swallowing difficulties following stroke, assessing their ability to eat and drink and individualizing treatment plans to ensure a patient is doing so safely.
Suzie, Allison and Kerry together agree that what they find most rewarding about working in stroke care is: "Getting to support patients and their families with communication and swallowing disorders – two areas which are so fundamental to being human. It is an honour to be involved in figuring out how to help patients express themselves or take their first bite or sip again."