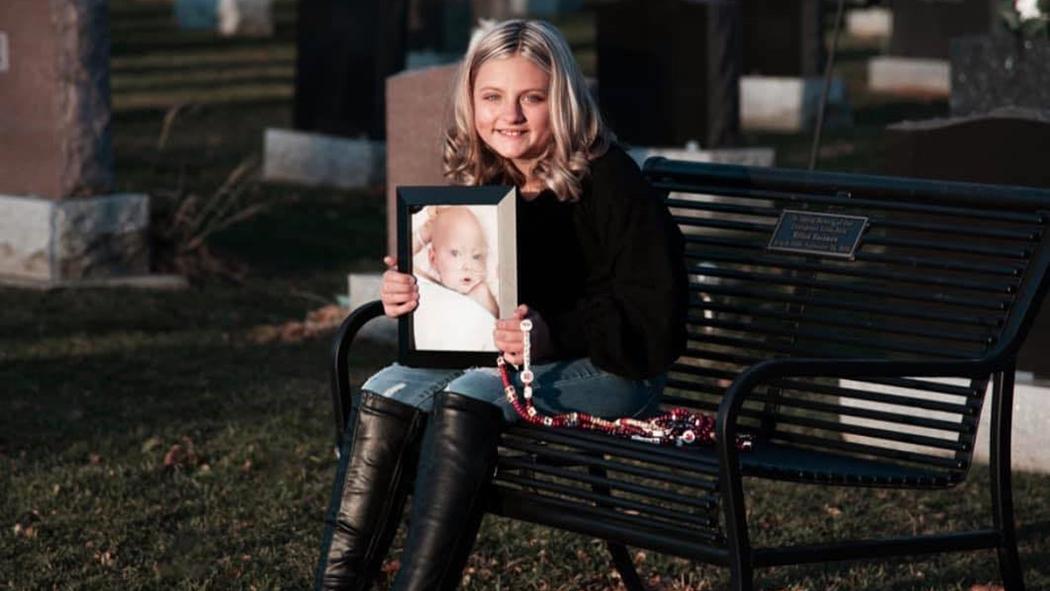 Melissa's daughter Paityn holding a photo of William with his bravery beads, on William's memorial bench at the cemetery where he is buried.
April 13, 2022
In her own words, Melissa Blackmore, Inpatient Clerk for Paediatric Inpatients and Administrative Assistant in Ambulatory Children's Mental Health at LHSC, describes the experience of losing her son to cancer, her struggles with grief, and her decision to use that grief and love for her son to raise money for children's cancer charities such as Campfire Circle. For children with cancer and for children with siblings who have cancer or who have died from cancer, the camp offers week-long summer camps and winter camps with lots of outdoor activities that are free for families – as such, the camp is heavily reliant on donors and volunteers. Campfire Circle also offers family weekend retreats and other small events throughout the year. Melissa's daughter has attended and has found meaning in the camp experience, and Melissa, in honour of what would have been her son's 16th birthday, is raising money so other children can attend this camp. She is hosting an event for the fundraiser in July.
In October 2007, at the age of one, my son William was diagnosed with a rare form of liver cancer. My son was so gravely ill that he spent two months unconscious on a ventilator. The doctors then started him on chemotherapy. Once the chemotherapy started to work, my son was able to be taken off the ventilator. Being so young and vulnerable, my son had to go through physiotherapy and occupational therapy to regain the ability to do simple tasks such as sitting up, crawling and walking.
In January 2008, my son's diagnosis changed. His diagnosis was a rhabdoid tumor of the liver with metastases to the lungs. Rhabdoid tumors of the liver are very rare and aggressive with terrible prognosis rates.
My son finished his chemotherapy protocol, then doctors switched him to the ICE protocol for a rhabdoid tumor, with the goal to be able to resect his liver tumor and shrink the lesions in his lungs.
In August 2008, my son's follow up scans revealed that his tumor had grown back to a bigger size than original presentation. They offered him a very intense chemotherapy that would in turn make him extremely ill. Due to the uncertainty, Help a Child Smile sent my family and I to Give Kid's the World Village in Florida. I knew my son was not well, and I hesitated to take him on the trip; even took him to the ER prior to leaving, but with his baseline being ill, it was hard to differentiate and I didn't want to ruin what could potentially be a good, but last, trip as a family. So - we went. The day we landed in Florida, my son was admitted to the Arnold Palmer Hospital. He was gravely ill. Our main goal at this point was to make our way home. We ended up being air transferred back to Hamilton.
Once back, I liaised with Toronto to see if there were any clinical trials suitable for William, but there were none. On September 9, 2008, the hospital team entered our ICU room to tell me that I needed to make a decision. They felt there was nothing more they could offer. My son was just too sick. They explained our options, indicating that my son was very weak. That even if I tried the next round of extensive chemotherapy, it was not going to cure him.
During William's treatment, although I was not naïve to cancer and what the outcome could be, I still held on hope. Never did I once accept the fate of death for my one-year old son. Never did I believe that he was not going to grow into a respectful young man and pursue a life of happiness and health. That day, my fears became a reality and I was told my son is going to die.
On September 20, 2008, the first worst day of my life, just 11 short days later, my son – William Richard Blackmore – took his last breath at just two years old. We held a beautiful funeral and tribute to his courageous soul.
Over the past 14 years, life has been everything but easy. After William's death, I entered a deep depression, alcoholism and profound sadness.
Then on March 17, 2010, I was blessed with another child, a daughter Paityn. She was sent to me from heaven, she has saved my life and continues to bring me so much joy and reason. She has incorporated William into her life, even though they have never met, and the closest we can get to a complete family photo, is the one taken at the cemetery.
With the help of my family, we were able to organize and become a team in memory of William, raising money for childhood cancer charities. This brought a sense of comfort doing something in honour of him. We have raised almost $100,000 dollars for those charities over the years thanks to the support of our community and friends.
It has been almost four years since our last fundraiser because of life and COVID-19. I can honestly say at this point now, I am happy, I am alcohol free, and living life to the fullest!
July 2 would be William's 16th birthday. In honour of this milestone he is missing, we are throwing a fundraiser. As in the previous years, our charity of focus is Campfire Circle, formally Camp Trillium and Camp Ooch, which merged to form the one camp.
Campfire Circle is particularly dear to our hearts, as William's sister has been able to attend camp and benefit from what it has to offer, allowing her to participate in a world where other people her age have been stricken with the same grief of losing their sibling. Campfire Circle relies heavily on donations and volunteers, and as I am sure one can imagine, this was greatly impacted through the pandemic. My family has been extremely fortunate enough to be able to attend week camps, family camps and participate in events with the camp since my son's diagnosis in 2007. Therefore, I am sure you can imagine why it is incredibly important for us to give back to Campfire Circle in memory of my son.
We have been extremely lucky in the past years, receiving tremendous support from businesses
and the community, and we are hoping to go above and beyond that this year. We will be grateful for any form of donation, whether financial or in-kind donations to be raffled or used for silent auction. The Charitable ID Number can be provided upon request.
Thank you so much for your time and consideration. Losing a child is a heartache that nobody
should ever have to experience. In doing these events it helps keep William's memory alive, and supports an organization that create normalcy in the lives of children with cancer and their families. For more information, please email me at: Melissa.blackmore@lhsc.on.ca.
There will be prizes, food, and dancing at the event. More information below:
Date: July 9, 2022
Place: Knights of Columbus Hall Brantford, ON
Time: 8:00 p.m. – 2:00 a.m.
Cost: $10/ticket.
This is an indoor and outdoor event. DJ services from Music Mania DJ Services.