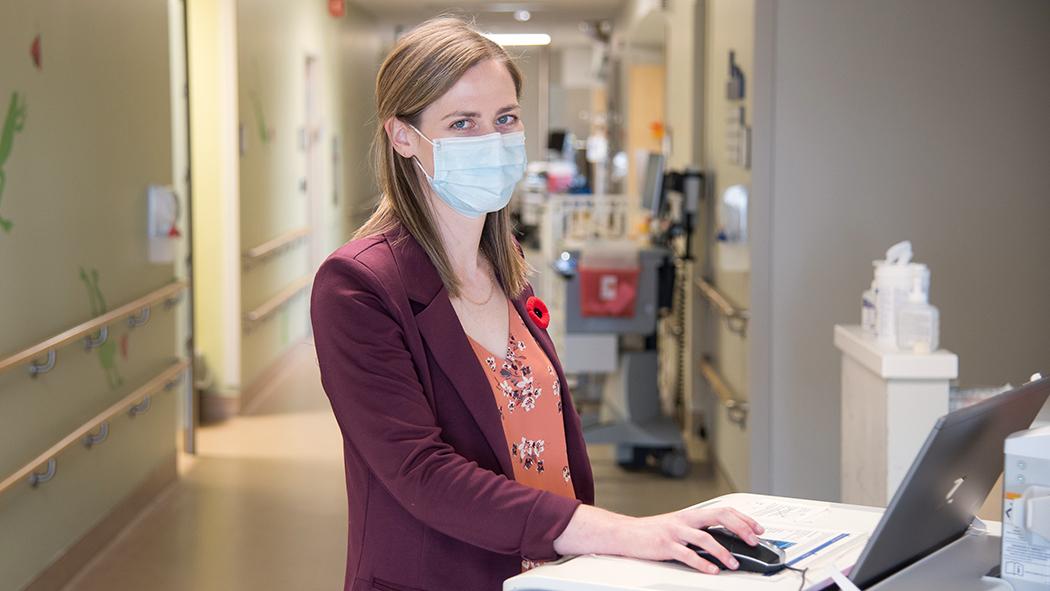 November 17, 2022
As part of a long-term campaign, we will be profiling LHSC's nurse practitioners to highlight their integral role within LHSC and within the health care system. Nurse practitioners play an important part in patient care and through profiling individual NPs, we hope to inform and enlighten those who may not know the specialized, wholistic and diverse knowledge and skillsets NPs bring to patient care and service delivery.
Did you know that NPs are involved in quality improvement projects within the hospital?
Emily Walser, MN, NP-PHC (Master of Nursing, Nurse Practitioner – Primary Health Care) in Paediatric Critical Care Services at London Health Sciences Centre (LHSC) is also an adjunct professor at Western University. Emily received her BScN at Nipissing University, her Masters of Nursing at the University of Toronto, and her NP certificate from Western University. She has a clinical background as a bedside RN in intensive care (from NICU to adult), in paediatric and cardiac critical care in Toronto, and in adult ICU at Victoria Hospital, LHSC.
Emily works in the Division of Paediatric General and Thoracic Surgery at Children's Hospital, LHSC. She works alongside four paediatric general surgeons and a wide variety of medical practitioners including medical students and residents, nurses, dietitians, social workers, and child life workers.
"I am involved in several quality improvement projects within my division," Emily explains. "A project that is currently ongoing is one that is aiming to reduce the amount of return visits to the emergency department (ED) after appendectomies and reducing length of stay through patient and family education tools and phone call follow ups within three days of discharge. Another project I am largely involved in is a Paediatric Critical Care Unit – Operating Room (PCCU-OR) initiative to reduce adverse events and improve communication during handover after surgery and admission to the PCCU." She is also currently working on creating several new policies for surgical interventions after recently publishing a policy on rectal irrigations.
Emily's role was brand-new to Children's Hospital when she filled it and was up for the challenge to make the role her own. Emily is proud of how she has encompassed all facets of an NPs professional competencies – leadership, education, clinical, and quality improvement – into the role. "I feel I have become an asset to my team, and have created meaningful relationships with our patients and health care team," she shares.
Emily wants to bring more awareness to the significant contributions NPs provide in patient care, nursing, and medical education.
"NPs are medical practitioners who are highly educated and skilled professionals who love our work and care deeply about our patients," Emily notes. "I love working with a multidisciplinary team that teaches me, grants me opportunities to become more involved in projects I am interested in, and support me in my own endeavors and always respects my knowledge."