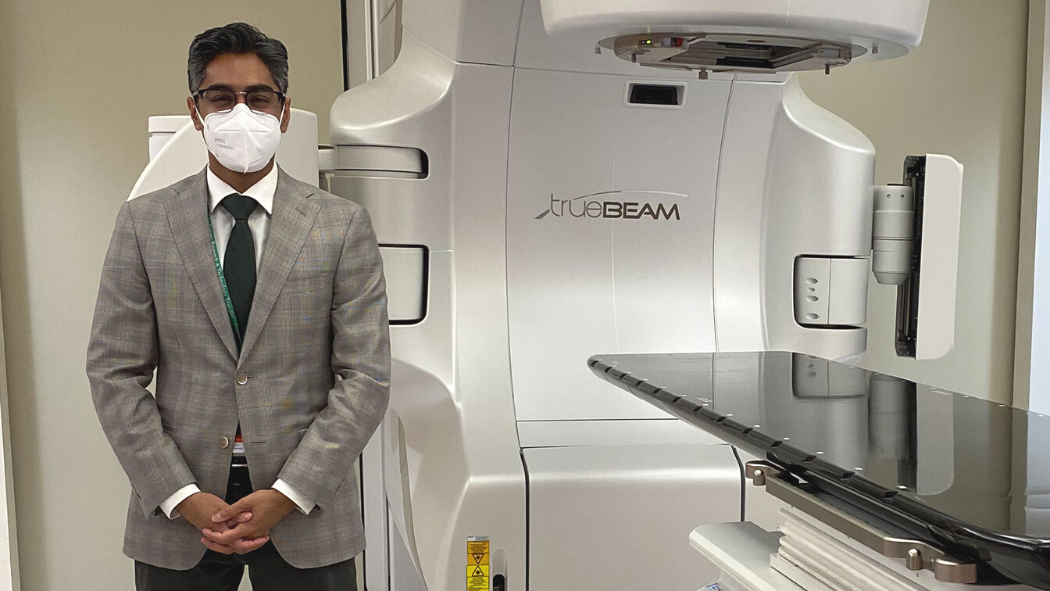 March 10, 2023
A new study published in The Lancet Oncology suggests that a very precise, high-dose form of radiotherapy called stereotactic ablative radiotherapy (SABR) may be a new treatment option for patients with inoperable kidney cancer. Lawson Health Research Institute was one of 12 participating centres from around the world with patients recruited from London Health Sciences Centre's (LHSC) London Regional Cancer Program (LRCP). 
The analysis, among the first to look at the long-term impact across multiple centres, included 190 patients with primary renal cell carcinoma, the most common type of kidney cancer. It found SABR to be effective and safe with a low rate of cancer recurrence and acceptable impact on renal function. Five years after treatment, kidney function was largely maintained and only 5.5 per cent saw their cancer return in the treated kidney.
SABR directs highly accurate and intense radiation to eradicate tumours while limiting the impact on surrounding tissues. The treatment is offered to patients who are unable or unwilling for various reasons to have surgical treatment.
Previous studies on the use of SABR for primary renal cell carcinoma have been encouraging, but this publication represents the first report of long-term follow-up from a large, international group of patients. 
"This study suggests that the positive outcomes seen in our prior studies are long-lasting," says Dr. Rohann Correa. "It shows that this non-invasive treatment is worthy of further clinical study in patients with kidney cancer."
Dr. Correa, a Lawson Scientist and Radiation Oncologist at LHSC, says this study was the result of many years of international collaboration.
"The International Radiosurgery Consortium of the Kidney (IROCK) brought together global experience with this completely non-invasive, pioneering way to treat localized kidney cancer," Dr. Correa explains. "Our study has shown that at five years, this technique appears to be safe and effective, giving us confidence to launch clinical trials that provide patients access to this promising treatment."
The study was led by Dr. Shankar Siva, a Radiation Oncologist at the Peter MacCallum Cancer Centre in Australia. Dr. Siva and Dr. Correa's teams are part of the collaborative IROCK group whose members include Surgical Oncologists and Radiation Oncologists from around the world. The team at Lawson and LHSC was a key contributor to this high-profile study, with local patients participating in the study and all international data housed and analyzed through Lawson. 
About Lawson Health Research Institute
Lawson Health Research Institute is one of Canada's top hospital-based research institutes, tackling the most pressing challenges in health care. As the research institute of London Health Sciences Centre and St. Joseph's Health Care London, our innovation happens where care is delivered. Lawson research teams are at the leading-edge of science with the goal of improving health and the delivery of care for patients. Working in partnership with Western University, our researchers are encouraged to pursue their curiosity, collaborate often and share their discoveries widely. Research conducted through Lawson makes a difference in the lives of patients, families and communities around the world. To learn more, visit the Lawson Health Research Institute website.