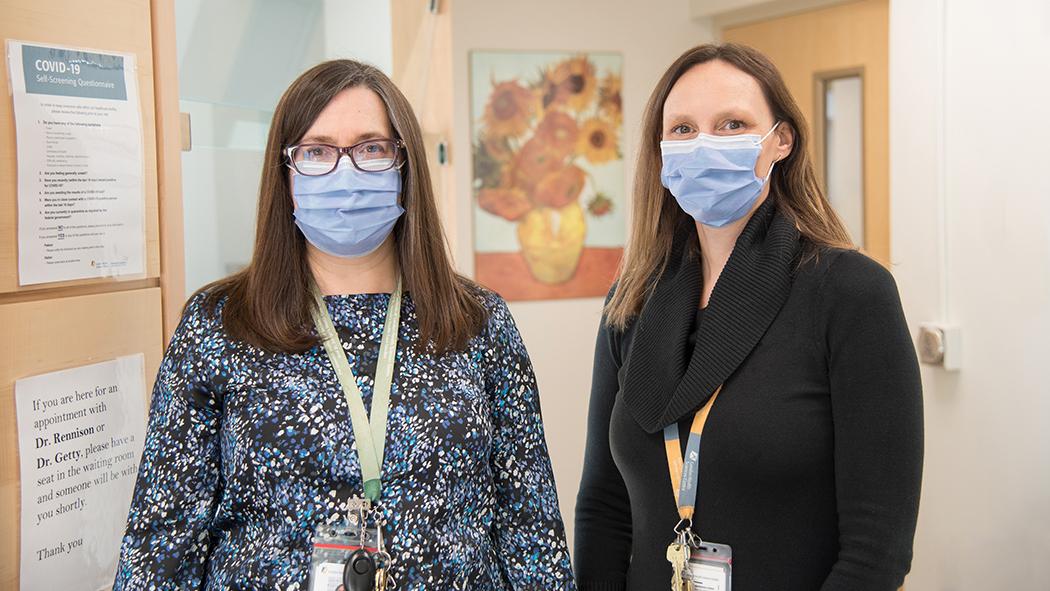 March 14, 2023
Dr. Heather Getty and Dr. Lynn Rennison, Psychologists at London Health Sciences Centre (LHSC), have been providing support for patients experiencing what has become known as long COVID. Patients with long COVID experience a wide range of persistent and sometimes disabling physical, cognitive, and emotional symptoms.
Their areas of focus
Dr. Rennison specializes in Clinical Neuropsychology and works with inpatients and outpatients with cognitive difficulties from a variety of departments at University and Victoria hospitals.
With regard to long COVID patients, Dr. Rennison, in collaboration with her colleague Sandra Zirul, psychometrist, evaluates those who are experiencing cognitive limitations in their daily life. Common cognitive concerns assessed include difficulties with attention, processing speed, memory and problem-solving skills. Once the patient's symptom profile is better understood, brief education on how to manage some of their symptoms is provided.
Dr. Rennison, Adjunct Scientist at Lawson Health Research Institute, has also conducted research with Dr. Cathy Chovaz, Clinical Psychologist, Affiliate Scientist at Lawson, and Associate Professor in the Department of Psychology at King's University College at Western University. Together, they examined the cognitive functioning of individuals who continued to experience symptoms after a COVID-19 illness, and analyzed associations between cognitive difficulties and mental health symptoms. Drs. Rennison and Chovaz have submitted their research for peer-review and are awaiting approval for publication.
Dr. Getty is a Clinical, Health and Rehabilitation Psychologist who helps people manage the challenges of illnesses that negatively affect their daily functioning. These conditions include inflammatory bowel disease, cancer, multiple sclerosis, chronic pain, and other illnesses. Since the emergence of the COVID-19 pandemic, she has supported people struggling with stressful long COVID symptoms.
While each psychologist addresses different needs among COVID-19 patients, they also work closely together.
How the services formed
As reports about lingering symptoms from a COVID-19 infection began circulating, Drs. Rennison and Getty noticed a gap in services for this unique patient population. They started offering cognitive and mental health support for long COVID patients in the spring of 2021.
It was with the passage of time, exposure to stories of individuals' lived experience, and with early research findings, that Dr. Rennison realized that long-term symptoms were possible in a subset of individuals. "We thought that it must be isolating to have this illness that no one fully understands, and it motivated us to provide this support," Dr. Rennison explains.
The psychological impact of long COVID
Drs. Getty and Rennison have observed that individuals with long COVID can experience mental health consequences including depression, anxiety, and/or posttraumatic stress symptoms related to events that occurred during the acute phase of their illness.
Lack of access to loved ones during intermittent lockdowns complicated their suffering. Misinformation about COVID-19 and community division about pandemic response measures also negatively affected patients' mental health.
Many patients with long COVID also fear reinfection as they return to work and other routines. "There is sensitivity and fear about how to navigate the workplace and other settings where others may not be as concerned about COVID as they are," Dr. Getty says.
What treatment looks like now
Dr. Rennison conducts neuropsychological assessments with individuals with long COVID and provides strategies to help them compensate for lingering cognitive symptoms. "Part of this treatment includes education on long COVID and what to expect, as well as education on co-occurring factors that can complicate recovery and how to manage these factors," Dr. Rennison explains.
Dr. Getty has developed a support and treatment group that helps people with long COVID learn strategies to manage symptoms and improve their quality of life.
Since there is still a great amount health care does not know about COVID-19 and its long-term symptoms, Drs. Getty and Rennison pull information related to other clinical diagnoses to inform how long COVID patients can manage their symptoms.
Drs. Getty and Rennison coordinate their services with other programs offered in the city and are committed to helping their long COVID patients improve their quality of life as much as possible.