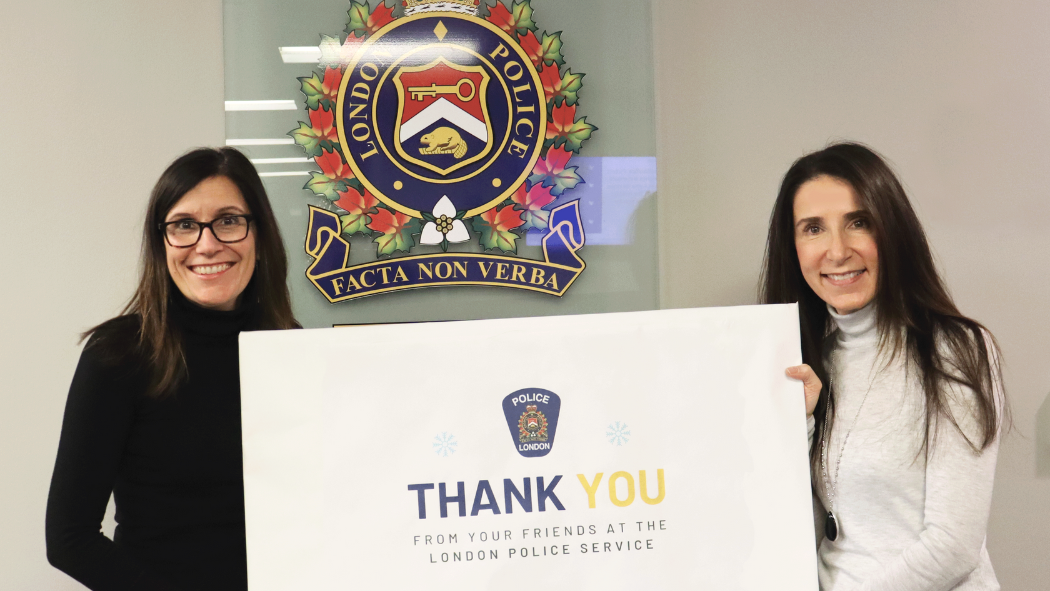 December 22, 2022
As patient volumes increase and high-acuity patients continue to present at our Emergency Departments (EDs), we want to thank the staff and physicians and the partner organizations who show up every day to ensure our patients get the medical care they need and deserve.
All areas of health care are experiencing unique challenges, and we are endlessly grateful for all of the excellent care provided to patients and families from every area within LHSC. We wanted to take this time, ahead of the holiday season, to share specific messages to the ED staff and physicians from partners and the public.
Thank you for all that you have done and continue to do for patients and families.
Messages of gratitude
London InterCommunity Health Centre
"As a primary care organization delivering services to London's most-marginalized populations, LHSC's University Hospital and Victoria Hospital emergency partners are incredibly important collaborators. Despite unprecedented illness and patient volume, we are seeing an increased interest in collaborative care in support of our community members that need it most. We know, especially headed into the winter months, that emergency departments aren't only a gateway into important tertiary health care but are also spaces where the folks we serve seek support through warmth, safety, socialization and basic needs. The attention to these needs on top of growing emergent health needs is critical and truly appreciated. We are thankful for your ongoing collaborative support, compassion and fortitude as you continue to be at the doorstep of so many co-occurring crises being experienced by our community. With gratitude, we wish everyone in your organization a healthy and safe holiday season."
London Police Service
"We know that 2022 has been a challenging year for many, including our friends in health care. To all of our LHSC Emergency Department partners, both at Victoria Hospital and University Hospital, thank you for all you do to keep our community safe and healthy. 
On behalf of everyone at the London Police Service, wishing you good health, happiness, and peaceful time with your loved ones during the holiday season."
Canadian Mental Health Association (CMHA) Thames Valley Addiction and Mental Health Services (TVAMHS)
From the public
"Having worked in the ED during part of my career nursing at LHSC I know how hard the job can be but it seems it's even more demanding now. Wishing you all well and thanks for your hard work!"
"Thank you seems insufficient for all you do. Nonetheless, thank you."
"Thank you to Pod C in emerg this weekend for taking great care of me and listening to my concerns. You're all ran off your butts and you deserve so much credit for all you do for the community"
"I cannot say enough about the exceptional people the provide care in our Emergency Department. Their professionalism, kindness, and care are unmatched, in the face of such stress and this current healthcare crisis. I'm so sorry you are being so stretched. Just know we are incredibly grateful for each and everyone of you, and we will continue to advocate for more supports, and fair wages so you can continue providing the amazing care with all the resources you need. - a grateful mother."
"I am so very grateful to the wonderful staff that are there to care for us during an emergency illness. I hope they take time for themselves during this hectic time and know they are very much appreciated."
Instagram Stories Responses
"Best damn nurses out there!!!"
"There's more people thinking of you daily and appreciating you, than you know! Thank you."
"Thank you for all that you do! The long hours, time away from your family! Thank you!"
"Thank you for your love and kindness with my kid the day we went there! God bless U."
"Excellent service tonight by the RN, Dr-Clinical Fellow, ECG tech, X-ray technologist and triage Nurses! Thank you for the great and important work you do! Emily and Lorenzo"
"Thank you so much for you do, you are much appreciated!!"
"Thank you to all the incredible staff in the ED ! You are amazing and our family is very grateful for what you do!"
"Thank you for all what you do every second!!!"
"Thank you for always treating our daughter quickly and getting her what she needed. With being immunocompromised she always got the care she needed quickly. Going through ED was always hard. Always ending with admitting. But the staff was always kind and helpful."
"Thank you for the long hours and devotion under the challenging stressful times. thank you for going into unknown territories risking your lives for our health. Thank you is not enough And much respect and gratefulness to the whole team."
"Thank you for being there when we need you!"
"I'm proud of our Healthcare teams. Everyone of you matter"
"Thank you for your life saving work."
"Endless thank you's to the hard working ED staff!"
"Never forget how awesome you are and although we may forget to tell you, you are special and needed for the work you do."
"We are so grateful for your strength and caring."
"This too shall pass and thank you to everyone who continously works to give their best care to patients. You are appreciated it!"
"Thank you for all you do. All your patience, care, and hard work. Very much appreciated. Grateful"
"THANK YOU to all ED staff members at LHSC! One of my family members had a care experience recently and we were so grateful for the care received. Thank you for all you do!"
"Always such good care for my little ones when needed in the ED! Both my own kids and my patients"
"Appreciate all your tireless work"
"Beyond exceptional staff at all hospitals in London. Sending strength to all staff working through the holiday season."
"Thank you so much for supporting individuals and families during these challenging times. My family acknowledges and appreciates all of your sacrifices. Please take care of yourselves. You are important too!"
"Thank you for your tireless service!"
"Thank you for the hard work!"
"Thank you ED staff! Let's all hold compassion in our hearts for those suffering and also the endless hours that staff are continuing to put in post pandemic"
"Know that you are loved,wanted,needed and valuable. Shine on you are all Diamonds."
Click on the social media platform titles to see the original posts.