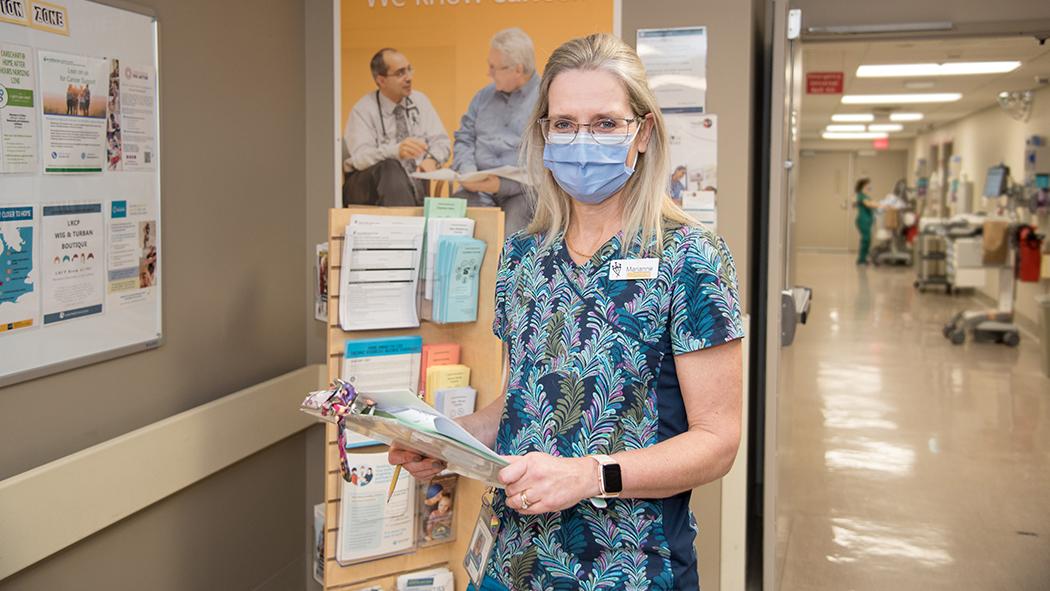 March 21, 2023
Dietitians provide the critical nutrition patients require during their care and recovery experiences. They consider the impact of acute or chronic conditions on nutritional status, as well as dietary restrictions, allergies and ability to eat. Dietitians, dietetic assistants and administrative dietitians each play a crucial role in ensuring patients get the nutrition they need to encourage best possible patient outcomes.
We spoke with three staff members to learn more about their roles and the unique skillset required for each.
Inga Berger, Clinical Dietitian
Inga has been a dietitian at LHSC for six years and has spent most of her career in clinical settings such as Medicine, Stroke and Neurosurgery, and Cardiac Care. She currently supports patients in Obstetrics/Gynaecology.
Inga supports inpatients and outpatients in her role. Some of her primary responsibilities include assessing, monitoring and tailoring education to patients for the nutritional management of their acute or chronic condition. 
"My outpatient role is varied and includes the young person's pregnancy clinic, nutrition counselling for women diagnosed with gestational diabetes and other various obstetrical nutrition concerns included in managing pregnancy symptoms," Inga explains. "I also help outpatients with healthy eating before and during pregnancy, and healthy weight gain in pregnancy."
In general, dietitians want to know how well or poorly their patients are eating, and they take into consideration many different factors when assessing nutritional status. Some of what dietitians examine when assessing a patient's nutritional needs include blood work, any medication a patient is taking for potential food and drug interactions, gastrointestinal status, cognitive issues, and physical status.
Dietitians also spend time researching and explaining why a certain diet or food may or may not be the answer to treat a specific condition. "Staying on top of all the latest diets, food trends and nutrition myths can be a challenge," Inga says. "There is an overwhelming amount of nutrition information available to everyone now and I find patients ask me if they should be following a certain diet or eliminating a certain nutrient. I am glad they ask because that provides an education opportunity to properly inform a patient on their specific nutrition needs and requirements."
When talking about what she finds rewarding about being a dietitian, Inga says, "Supporting patients as they work toward nutrition goals and brainstorming plans that help make them feel like these changes are attainable and sustainable for the long term are really rewarding. We make choices about food many times in a day and it's gratifying when patients feel they can implement the strategies we discuss when they get home and quickly see the changes in their health."
Marianne DenOtter, Dietetic Assistant
Marianne has been a Dietetic Assistant for almost 35 years at London Health Sciences Centre (LHSC). She has had the opportunity to work in a variety of departments within LHSC and has provided nutrition support for the unique needs of patients across the hospital. 
Generally, Dietetic Assistants are responsible for conducting follow-ups with patients the Dietitian has consulted, daily calorie counts, obtaining the food likes and dislikes of each patient, clarifying food allergies and intolerances, encouraging intake of food, perform supplement trials and follow up, helping with menu marking, and providing some diet teaching and charting under the supervision of the Dietitian.
Marianne is currently working with patients in outpatient dialysis and inpatient oncology. 
"For my oncology patients, they are dealing with a lot of treatment and often a sense of lack of control, so from a nutrition perspective, we try to offer menu choices with alternates that they can choose from, and get their food preferences to maximize their intake within dietary restrictions and needs," Marianne explains. 
"For my dialysis patients, they come into the hospital a few times a week for a few hours each session. I gather information from the Dietitian about the patient including blood work documentation, previous medical conditions, and gather information from their three-day intake – which is where they write down what they ate for three days at home, and I may be asked by the Dietitian to adjust certain nutrients in the patient's diet" Marianne says.
Marianne has seen many changes in practice during her time as a Dietetic Assistant. One of the most significant changes is the computerization of some processes. "When I started in 1988, diet compliancy checking was done manually for each patient. Now that's done on a computer and there is software that's used to make sure patients get the food they need that follows their dietary restrictions and needs," Marianne says. 
Overall, Marianne has found being a Dietetic Assistant very fulfilling. "In those moments when I understand and provide for a patient's dietary needs and I see them benefit from that, it's so rewarding to know that I've made a difference in their care and recovery." 
Krista Peraza, Administrative Dietitian
As an Administrative Dietitian, Krista is the system administrator of software used in patient food services that's used to provide menus and trays to patients. 
Krista helps ensure that data within the system is accurate and consistently updated, reviews food items for ingredient and nutritional compliance to the therapeutic diets and allergens, liaises between Patient Food Services and the Clinical Nutrition team, and oversees day-to-day operations of the Diet Office as part of the Patient Food Services administrative team.
Patient Food Services serves all inpatient trays and nourishments and provides stock items to outpatient areas. They also prepare and deliver enteral (tube feeding) and supplement products to patients. 
"Something many may not know about Administrative Dietitians, is that along with an education background in Nutrition and Dietetics, we have to learn a lot about different software applications and work extensively with Information Technology Services to help support the needs of our department," Krista explains.
While it may be difficult to meet everyone's food preferences, as administrative dietitians, they do try to ensure that quality, safety, nutrition, allergies and therapeutic needs are met.
"Some of the most rewarding aspects to my role is knowing that food provides comfort and medicine to patients," Krista shares. "I also enjoy teaching new dietetic students in the field all about food procurement and food service in a hospital setting."