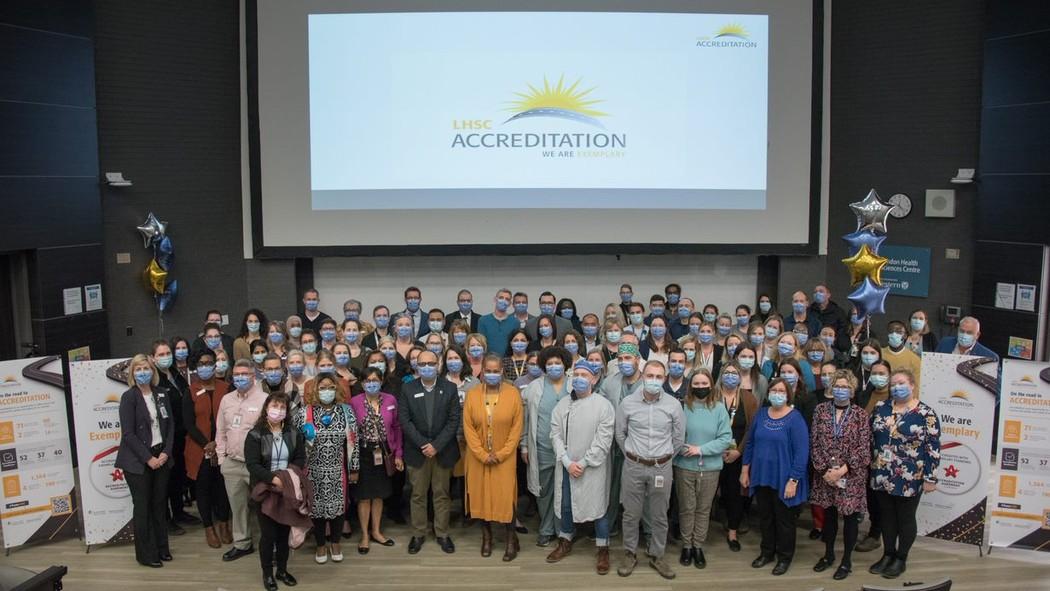 March 29, 2023
The results are in! London Health Sciences Centre (LHSC) has received its final report from Accreditation Canada. 
LHSC has been awarded Accreditation with Exemplary Standing, the highest level of performance, having exceeded all requirements of the hospital accreditation program. Patients and families accessing care at LHSC can be confident they are receiving the highest quality and safest care as measured against a set of nationally recognized standards.  
LHSC was able to maintain the Exemplary Standing it received in 2018. 
In its report, Accreditation Canada commended LHSC for its areas of strength, which include engagement with patients and families, the hospital's collaborative and integrated care delivery model, and its ongoing work to integrate quality improvement into operations to improve the quality and safety of its programs and services. 
Some of the highlights from the report include:
Meeting 100 per cent of the Required Organizational Practices, 99.2 per cent of the Service Excellence Standards.
Meeting 99.2 per cent of the Quality Dimensions. 
LHSC's delivery of care is exceptionally well done across the board.
LHSC's commitment to interdisciplinary, team-based care is evident in staff interactions with patients and families.
LHSC staff report feeling very supported by one another, especially since the start of the pandemic.
LHSC's commitment to employee wellness and well-being is backed up by a comprehensive program.
The region served by LHSC is fortunate to have a dedicated and intentional team of capacity management experts who have been invaluable in ensuring patients continue to have access to inpatient care when needed.
Together, Team LHSC has demonstrated resiliency, excellence and most importantly, commitment to patient safety. This would not have been possible without the exceptional work the physicians, staff, learners and volunteers demonstrate each day.  
Accreditation is a voluntary process. LHSC pursues this designation in order to ensure it continues to improve and provide the highest quality care and safety to its patients. 
Many people played a role in this achievement, including patient and family advisors along with community partners who provided valuable input to the Accreditation Canada surveyors. While crucial for LHSC's success during accreditation, it is also incredibly valuable for the organization's learning and ongoing improvement. 
You can read more observations in the Accreditation Executive Summary.