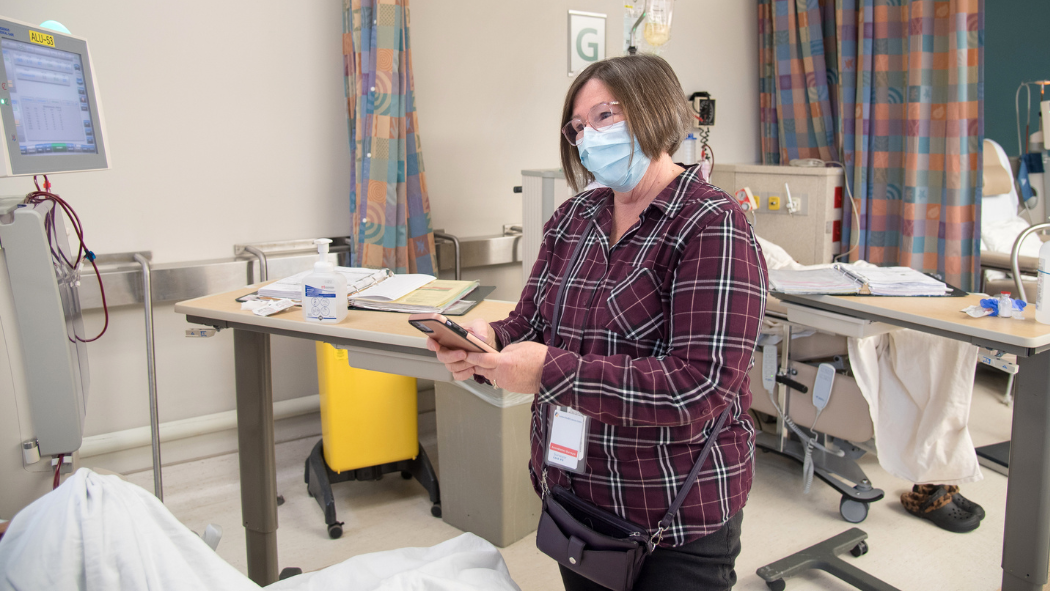 February 2, 2023
An important part of the accreditation process, tracers are a way to evaluate our hospital against accreditation standards. Performing tracers allows us to better prepare our staff and our hospital for accreditation.
Patient and Family Partner, Maggie Perquin, has performed over 30 tracers since starting in September 2022. Before this she participated in training with Accreditation Canada to qualify her to perform tracers.
Maggie visits both inpatient and outpatient areas asking staff and patients questions they may get during the Accreditation survey. All the answers are recorded electronically for quality purposes.
"It's important that accreditation be authentic and not simply a requirement to "conform" to regulations every four years while the hospital is being evaluated. Doing tracers means I meet the staff and hear their stories and bring those learnings forward. That is the part that can contribute to change," Maggie says.
What sort of questions can patients expect?
Have you been treated with courtesy and respect?
Are you being listened to by the staff?
Is your safety around slips and falls being addressed?
Are you receiving the information you need?
How do you explain your role and tracers to patients?
Maggie lets patients know that she is a former patient and understands their experience. "I'm a volunteer, not staff, so I'm most interested in what the patient has to say," she explains "I welcome any feedback, positive or negative."
What does accreditation mean to you?
"It keeps the hospital 'in check' to make sure they are being the best they can be, and invites the executive level of the organization to evaluate and create a plan to move forward," Maggie says. "It's the time when feedback is sought and the voice of staff and patients is heard to some degree. It's a time for celebration, reflection and creativity to meet changing requirements."