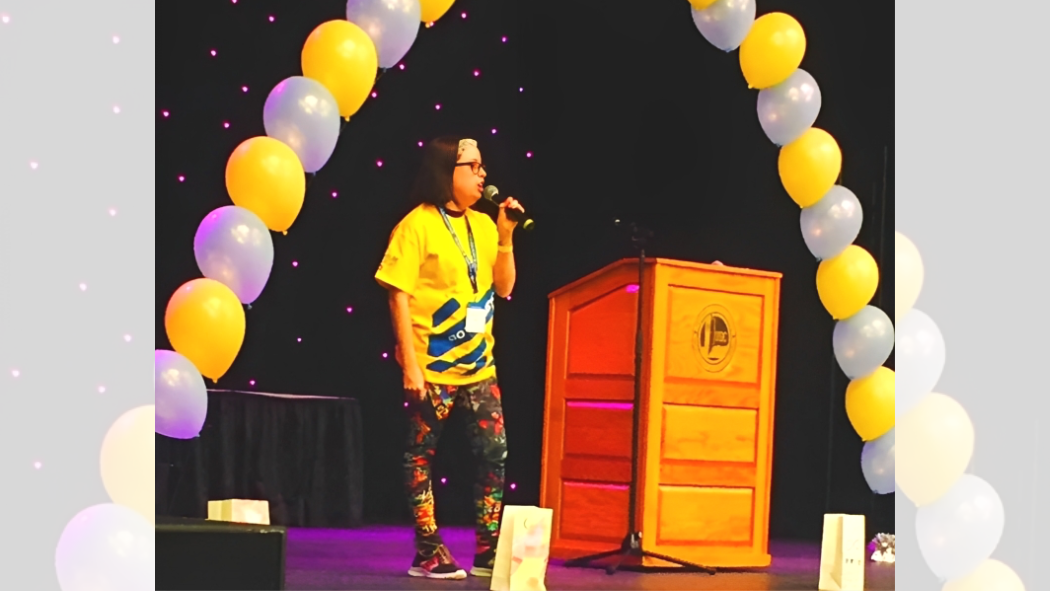 February 3, 2023
February 4 is World Cancer Day. World Cancer Day provides an opportunity for health care providers around the world to put a spotlight on access to cancer care services and how they can continue to improve.
Deana Ruston is a twin born at 25 weeks. Her and her sister spent four and a half months in the Neonatal Intensive Care Unit (NICU) creating a solid foundation of medical system familiarity that would later inform her experiences as a young adult. Having cerebral palsy, scoliosis and a leg length discrepancy, the medical system was already a significant part of her life before her cancer diagnosis at 22 years old.
Finding a mass
In December 2014, Deana was in the middle of her undergraduate studies in Thanatology (the study of loss, grief and bereavement) at King's University College at Western University. When Deana attended a follow-up appointment at LHSC to discuss the results of an MRI taken of her spine in relation to her scoliosis, Deana received surprising news. "I went in by myself because I was only expecting to discuss the curve in my spine, but when the doctor said that the MRI had revealed a four centimetre mass on my thyroid, located in my neck, I didn't know what to feel or think. All I could think was that I wanted them to take it out as soon as possible."
For further follow-up about the mass, she was advised to connect with her primary care provider. She went to Western University Health & Wellness Services and they referred her for further testing. Only a few months earlier, she ended up securing a family doctor in London. "I knew I wanted to stay in London after I graduated, so I had put my name on a waitlist for a family doctor a little while before. I had no idea how much I was going to need them so soon," Deana says.
Undergoing surgery
After receiving test results, including a neck ultrasound, blood work and a biopsy indicating the thyroid cancer diagnosis, it was clear that they were going to need to remove the mass.
"I was worried about school, my exams and assignments, but my surgeon booked my surgery during Reading Week which meant so much to me. I didn't even ask, but he knew I was a student and the consideration of my situation was an incredible surprise. I was able to have my surgery, recover enough and then complete my midterm exams about a week after the surgery. Looking back on it, I'm amazed at my ability to persevere and keep going. Having cancer surgery certainly would have permitted the deferral of my exams or arrangements for completion of alternative assignments," Deana shares. School gave her something to focus on instead of thinking about her cancer.
In February 2015, Deana had her thyroid and 95 lymph nodes removed – 51 of which had cancer. In May 2015, she received radioactive iodine treatment to assist in destroying any cancer cells that may have been left behind after the surgery.
Deana's second surgery
Six months after completing the radioactive iodine treatment, where she received two injections of a medication that was prescribed as part of the radioactive iodine treatment to help destroy any lingering cancer cells following the surgery, she went for her first set of follow up tests for monitoring and going forward every six months after that. Unfortunately, they found a new two centimetre mass. This led to a second surgery in May 2017 where one lymph node was removed with a second round of radioactive iodine treatment that followed a few months after that.
The cancer spreads
"One of my worst fears since diagnosis was that the cancer was going to spread," Deana says. "During the pandemic we were monitoring my condition when a PET scan showed a new spot in one of my legs that was about one centimetre." At this time, she was referred to the London Regional Cancer Program (LRCP) to meet with a medical oncologist and radiation oncologist as her care was being managed by a nuclear medicine specialist at LHSC who specializes in thyroid cancer up until that point.
Getting treatment during the pandemic was challenging with some in-person follow-up appointments moving to phone calls and changing visitor and supporter guidelines that prevented a support person joining Deana at her appointments.
After being referred to the LRCP, she received targeted radiation sessions for ten days, alternating between the two spots in her neck with five sessions each.
Ultimately, the spots are still there.
"Thyroid cancer can be persistent and more aggressive in younger patients, and I was told I probably won't go into remission due to the uniqueness and complexity of my situation. But I've made peace with that," Deana shares. "Not to say it hasn't been hard. But it's part of who I am, and not all of who I am. I am able to work full time, and am in school part time and am involved in various community initiatives, however I recognize cancer diagnoses and situations are vastly different and unique, while many patients lives are drastically changed as a result of their diagnosis."
Her focus on life
Deana goes for ultrasounds, bloodwork and an MRI of her leg every six months to monitor her condition. Much like how she wanted to keep persevering with her school responsibilities after her first surgery, Deana graduated with her Thanatology degree in 2017 and continues to work full time for a homeless shelter in London. She has been a patient and family partner at LHSC since 2018 and is a member of the LRCP Patient and Family Advisory Council (PFAC) since June 2021. Deana is also a member of other advisory committees and involved in many community initiatives in London and is connected with Young Adult Cancer Canada, a cancer charity for young adults with cancer from across Canada. Young adults and their caregivers can connect with one another, share their experiences and support one another as they face cancer.
"Being involved in the community, advocating for myself and others and working to create change and encourage inclusivity in spaces where that hasn't been the case – that's what's important to me. Along with recognizing who isn't in the room and whose voice isn't being heard," Deana says. "The care I've received throughout the years has been fantastic. The nurses, physicians, surgeons, everyone has provided such good care and even though the pandemic has provided challenges, I know everyone is doing everything they can with what resources are available."
Deana continues to monitor her still active cancer with her care team, but makes sure she doesn't focus on something she can't change. Instead, her focus is on living her life in a way that positively impacts the communities she's a part of.