Gastroenterology, Hepatology and Nutrition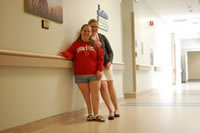 Zone B, Level 1, B1-200
Paediatric Medical Day Unit (PMDU)
Children's Hospital
800 Commissioners Rd. East
London, ON.
Driving and Parking:
Driving Directions to Children's Hospital
Park in P8 located on the north side of the hospital.  This lot is accessible at the Wellington and Baseline Road entrance.
Contact:
Contact for Referrals:
Paediatric Gastroenterology and Nutrition Section
Dr. Kevin Bax
Telephone: 519-685-8177
Fax: 519-685-8105
Short Bowel Rehabilitation and Post-liver transplant Follow Up
Dr. Paul Atkison
Telephone: 519-685-8354
Fax: 519-685-8156
Contents
Our Program
The section of Gastroenterology, Hepatology and Nutrition offers comprehensive care for a variety of paediatric gastrointestinal diseases. Our physicians work in collaboration with surgeons, dieticians and other specialties to provide patient and family centered evaluation and treatment.
We now offer the Inflammatory Bowel Disease Clinic that provides a team approach to comprehensive, individualized diagnosis and treatment for patients with Crohn's disease and ulcerative colitis. This allows your experience with Inflammatory Bowel Disease to be managed by a team each visit you make to Children's Hospital.
We are committed to:
Keep the patient's best interest in mind in everything we do
Generously educate our young patients and their families about their illnesses and coping mechanisms
Remain at the forefront of all the recent scientific developments and healthcare delivery methods in the field
Remain connected to the community we serve
Our Team
| | |
| --- | --- |
| Dr. Paul Atkison | Physician, Hepatology/Transplant |
| Dr. Andréanne Zizzo | Physician, GI/Hepatology/Nutrition |
| Dr. Kevin Bax | Physician, GI/Hepatology/Nutrition |
| Dr. Dhandapani Ashok | Physician, GI/Hepatology/Nutrition |
| Dr. Erica Gold | Psychologist, GI |
| Melanie Watson | RN (EC), Paed Nurse Practitioner |
| Patti Geurtjens | RN, Case Manager |
| Sandy Williams | RN, MScN., NP, Post-Transplant Nurse Practitioner |
| Suzanne Ratko | Registered Dietitian, Short Bowel Syndrome and TPN Dependent Patients |
| Jessica Cane | Registered Dietitian |
| Darlene Kristiansen | Unit Clerk |
| Brandy Straub | Child Life Specialist |
| Erika Clements | Child Life Specialist |
| Carol Walton | Administrative Assistant, GI / Nutrition |
| Samantha Brocksom | Administrative Assistant, GI / Nutrition |
What to Expect
We are a family-centred program. We rely on our partnerships with you to provide the best care possible. 
Each patient is scheduled for the expected amount of time your condition will take to assess and arrange appropriate treatment. Sometimes, unforeseen circumstances could cause delay to you. We apologize if you are made to wait, however we do our best to ensure the clinic remains on time. As courtesy to other patients and families, please aim to be on time for your appointments.
Tips to get the most out of your clinic visit:
Bring a list of questions or concerns
Bring a list of medications and supplements your child is taking with the dose requirement
Check if you need any prescription refills
When checking in, notify us if you are coordinating your appointment with another health care professional.  Ie.  Dietitian, Child Life Specialist, Social Worker.
What to bring to my appointment?
Your child's Ontario Health Card, blue Hospital Card, and a list of any medications they are taking including dosages.
Tip:  Bring nut-free food and snacks as well as things to do for your children as you wait for your appointment.
Who should attend?
Your child is the patient of the program. It is a requirement that your child come to every clinic appointment.  If you want to meet with a physician as a non-patient, please recognize that this is not covered by OHIP and a separate appointment for counseling can be arranged.
When you arrive, you will be assessed by a variety of health care team members. Each team member should introduce themselves to you. This team may include a dietician, a social worker and/or a psychologist. We are also recognized for advancing clinical care. You may be asked to volunteer to participate in clinical research.
To get to know us better, here is a description of each team member's role.
Paediatric Gastroenterologist
Dr. Kevin C. Bax, MD joined the Department of Paediatrics at the Children's Hospital London Health Sciences in February 2009.    He was born in Thunder Bay, Ontario.  He moved to Michigan to complete his undergraduate training at Calvin College, Grand Rapids, Michigan. He then graduated from Indiana University School of Medicine. He served as pediatric resident, as well as a pediatric gastroenterology fellow at James Whitcomb Riley Hospital for Children.

Dr. Dhandapani Ashok, MBBS, MD, FRCPCH (UK) joined the Department of Paediatrics at the Children's Hospital, London Health Sciences Centre in October, 2012.  Dr.

Ashok graduated from Madras University and completed postgraduate pediatric training in Dr. MGR Medical University, Chennai, India. Since 1999, he trained as a pediatric resident in United Kingdom and completed pediatric gastroenterology / hepatology fellowship in Birmingham Children's Hosptial in 2008.  He served as a consultant pediatric gastroenterologist in UK for two years before moving to Canada

.

Dr. Andréanne Benidir obtained her Bachelor of Health Sciences at McMaster University in Hamilton, Ontario. She graduated medicine from the University of Ottawa and pediatrics from Western University in London, Ontario. Her training in pediatric gastroenterology at the Hospital for Sick Children was combined with a Master's in Clinical Epidemiology at the University of Toronto.   She replaces Dr. John Howard who has retired this April 2016.
Psychologist
Paediatric psychologists specialize in working with children and adolescents and their families who are dealing with a medical condition that affects the young person's psychological adjustment or with psychological adjustment issues that affect the young person's health.
The psychologist is available by referral from the team to provide treatment to assist children, adolescents and their families with:
medically-related stress and anxiety

adjustment to medical conditions and treatment

management of physical symptoms  such as pain and nausea

behaviour problems at home or in hospital related to the child's medical condition or treatment.
Paediatric GI Nurse Case Manager
The Nurse Case Manager is a University prepared Registered Nurse who has additional  expertise is in Pediatric Gastroenterology  

Actively participates in your child's Gastroenterology team by acting as a liaison between you and your child's Gastroenterology team members

Coordinates your child's Endoscopy, testing and consultations to ensure they are carried out in the best possible time frame

Provides information to you and your child about Endoscopy preparation along with what to expect during your child's scope day

Identifies the health needs of your child and provides information and education regarding GI issues such as constipation and cecostomy tube care

Provides guidance to families navigating the healthcare system

Partners with community agencies to assist in addressing your child's relevant needs in the community
Paediatric IBD Nurse Practitioner
Masters prepared Registered Nurse with additional expertise in pediatric Inflammatory Bowel Disease (IBD)

Provides health services to pediatric IBD patients in collaboration with the Pediatric Gastroenterologists

Coordinates timely access to health care via telephone triage and rapid access to clinic appointments when necessary

Education and ongoing support for disease management

M

edication information

Disease prevention

Troubleshooting symptoms

Disease monitoring via laboratory services and other tests

Navigating the health care system

Link to community and hospital resources
Nurse Practitioner/Transplant Coordinator
The nurse practitioner/transplant coordinator is involved in your child's care before and after the transplant

The nurse has experience working with children and adults who need liver, bowel or multi-organ transplants

The nurse practitioner works with the transplant team to assess and treat your child's condition and provides your family with the information you will need throughout the transplant process
Paediatric Dietitian
Each Paediatric Dietitian is registered dietitian (RD) with a university degree in clinical nutrition and a member of the College of Dietitians of Ontario and the Dietitians of Canada

The RD provides nutrition support for acute and chronic illness, and the ongoing nutrition education to caregivers and patients for normal growth and development

The dietitian can assess, treat and prevent disease/physical conditions using food, vitamin/mineral supplements, and/or nutrition support

The RD provides dietary advice and information to patients and families with conditions, such as ulcerative colitis, Crohn's disease, Celiac's disease and constipation, and also address the nutrition issues of our transplant recipients.
Clerk
The clerk willmake any clinic appointments that you require.  Make sure you book your next appointment each time before you leave the PMDU (Paediatric Medical Care Unit)
If you need to reschedule a clinic appointment, call the clerk.
Social Worker
The social worker is available to provide emotional support and counselling to patients and their families
You may find it helpful to discuss personal, financial and family concerns that arise. The social worker can give you information about community resources to help with living expenses and the cost of medications.
Child Life Specialist
Child Life Specialists Strive to support the emotional, developmental, and cultural needs of our patients and families.
Child Life Promotes effective coping through play, self-expressive activities, age-appropriate medical preparation, and procedural support.
Resident, Fellow, MD
We are a teaching hospital so a resident or fellow is often a part of our team and may participate in your care.
They will be taking the patient's medical history and will be doing an initial assessment.
Links & Resources
Kid's Tummies, Paediatric Gastroenterology website designed to help children and their parents understand some of the common problems that affect their gut.