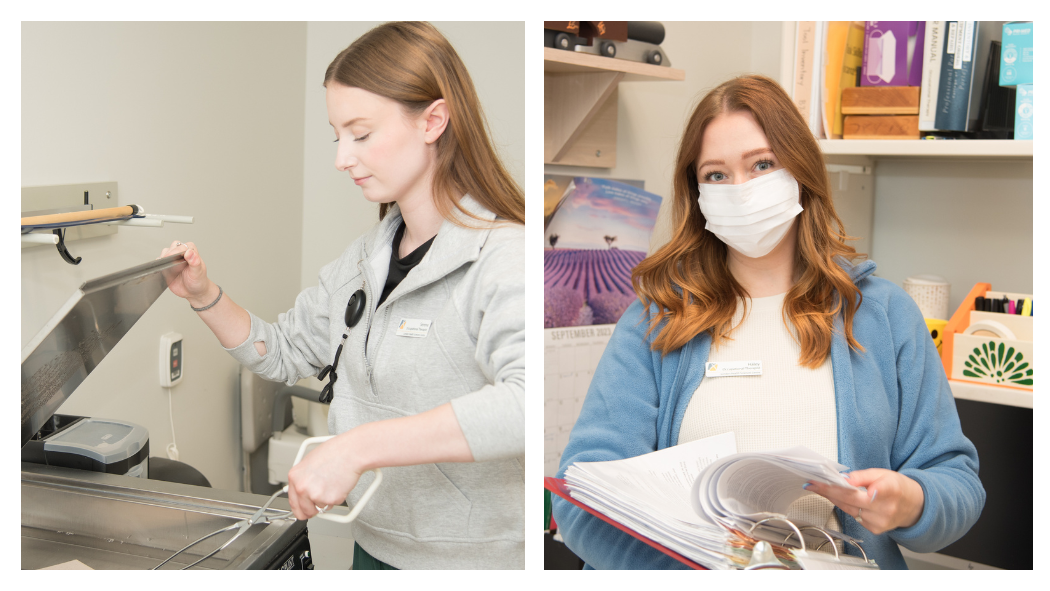 Image: From left, Serena Campbell and Haley Sweet, Occupational Therapists.
October 19, 2023
Learners are valued members of the teams at London Health Sciences Centre (LHSC) and play an integral role in the delivery and continuous improvement of patient care.
As they build their skillsets and put their education into practice, learners are guided by members of Team LHSC who are committed to excellence in patient care and to ensuring that the healthcare leaders of tomorrow receive the best possible practical learning experience during their time within the organization.
Recently, two learners became full-time team members. Serena Campbell and Haley Sweet, both occupational therapists, share their experiences as learners and their journey to becoming full-time members of Team LHSC. 
You can also learn more about how occupational therapists support patients in an acute care setting.
Serena Campbell, Occupational Therapist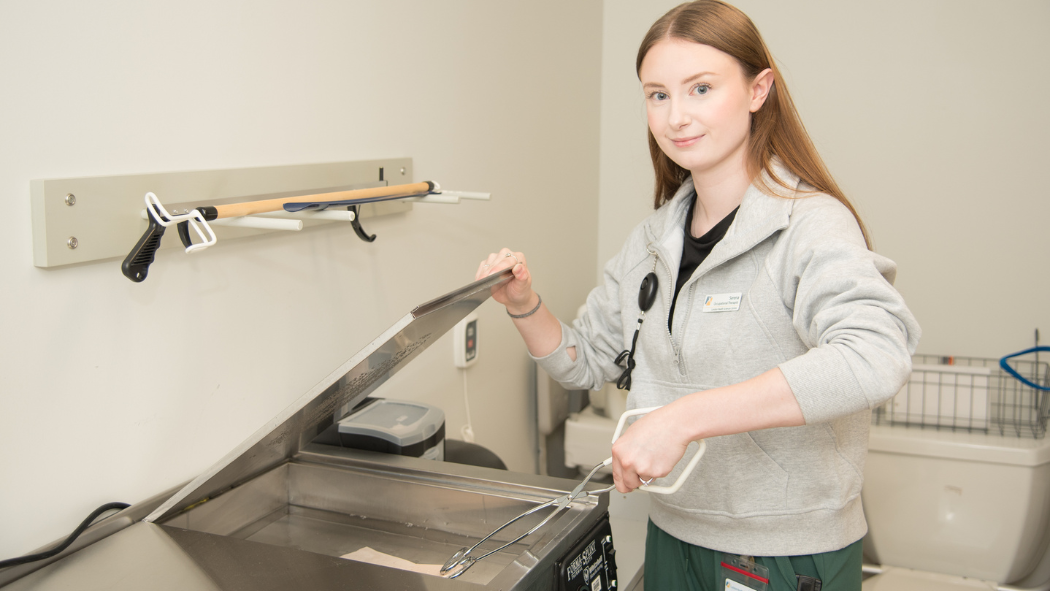 "I've always wanted to work in healthcare and help people," Serena Campbell, Occupational Therapist (OT), explains. "But, in my undergraduate studies, when I was introduced to occupational therapy, I just knew that was the path I wanted to take."
Campbell was drawn to how OTs view people holistically, understand how people are shaped by their environment and experiences and are creative in their problem solving when treating the individual.
A Master's degree is needed to become an occupational therapist. When Campbell was in her Master's program, she knew she wanted to work in a hospital and she knew she wanted to have her learning experience at LHSC because of its reputation for excellence in research, student development and patient care.
"My time as a learner was a great experience. I was welcomed and felt like part of the team right away," Campbell shares. "Everyone I encountered, even outside the team I worked with directly, was so willing to help out students and go above and beyond."
Campbell did two eight-week placements, first in neurosurgery, and then most recently as a float between different programs/services. 
"The learning experience solidified what I wanted and this is the practice I've dreamed about working towards," Campbell says. "The transition from learner to permanent staff has been seamless."
Her time as a learner provided the opportunity to put education into practice, but it also showcased Team LHSC's teamwork and commitment to patient care and that is what helped encourage Campbell to apply to be a permanent member of the team.
From learner to permanent member of Team LHSC
Campbell is currently a float occupational therapist and enjoys working with a variety of patients. Currently, she primarily works with patients in surgical and medicine services. 
In Vascular Surgery, Campbell supports patients with their functional goals. Post-surgery, it is often working with them on how to get dressed and function independently in their day-to-day activities after going through a major surgery. For example, if the patient had an amputation, she may work with them on wheelchair mobility. 
In Medicine, many of Campbell's patients experience memory or cognition impairments and she performs assessments to determine the functional level of a person's memory and attention. She helps determine if the person will be safe in their home and connect them with community services as needed. 
Campbell appreciates the interprofessional collaboration in surgical and medicine services at LHSC. OTs in these areas work on teams that include social workers, physiotherapists (PTs), nurses, a home care coordinator and others. They all work together to ensure the patient is meeting their goals" 
Working as part of an interprofessional team, Campbell notes, creates opportunities for in-the-moment collaboration and creative problem-solving between OTs and other disciplines to help patients reach their functional goals.
Haley Sweet, Occupational Therapist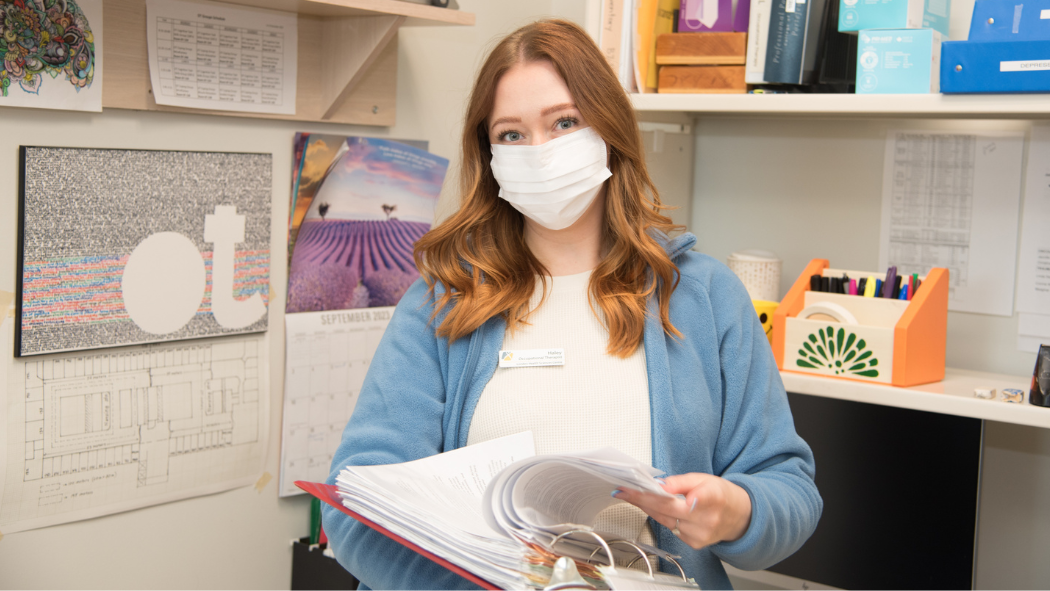 Like Serena Campbell, Haley Sweet, Occupational Therapist (OT) knew she wanted to work in healthcare, but it wasn't until her undergrad studies where she learned about occupational therapy. Sweet says, "When I had the fortune of meeting OT students in my undergrad, I knew it was a perfect fit. I participated in volunteer opportunities to explore OT further, and through that experience, I decided to fully pursue occupational therapy."
Sweet shares that LHSC placements were very desirable in her class and was not sure she was going to get the placement when so many others had put LHSC as their top pick.
"I was hoping to have my final placement in a hospital because it was a gap in my knowledge since all of my other placement and volunteer experiences were in community settings," Sweet explains. "I ended up getting one of the coveted placements at LHSC and I love working in a hospital setting!"
When Sweet arrived at LHSC, she felt it was a good fit and loved the team. They proved to be great supports and mentors when she was a learner. "Staff treated me like a colleague. It was clear that they value learners on their team," Sweet shares.
Sweet was an OT learner in Adult Mental Health Inpatient/Outpatient Services, and split her time between a general mental health patient population and a specific patient population in the Geriatric Behaviour Unit (GBU). "In my time as a learner, I was really able to use the assessments and treatments I learned about in school and put it into practice. It was a great opportunity to put that knowledge to work," she says.
From learner to permanent member of Team LHSC
In the mental health programs, OTs support patients in both their physical and mental health concerns. This breadth of practice in a hospital setting is part of what made Sweet want to apply to be a permanent Team LHSC member.
"During my two-month learner placement at LHSC, I got a snapshot of the patient population and their needs and concerns," Sweet explains. "Now, as a full clinician, I am able to see the full complexity of the role. I am thankful for the continued support from my team too. It shows that we're all committed to our responsibility of providing patients with excellent care."
Sweet works as part of an interprofessional team that includes psychiatrists, hospitalists, nurses, social workers, pharmacists, OTs and occupational therapist  assistants (OTA). OTAs work alongside OTs and are assigned tasks within their scope of practice by an OT they work with closely.
"The most important aspect of interprofessional practice in elevating patient care in adult mental health is the collaboration," Sweet says. "Patient conditions can change quickly, and good communication among team members – during rounds and in the moment – is important to everyone to ensure patients receive appropriate care."
When a patient requires mental health support, they may have comorbid physical health concerns. OTs help assess patients with mental health and addiction illness, help with discharge planning and also work with patients on use of walkers, wheelchairs, mobility, and upper or lower body exercises, as some examples.
Sweet shares that she enjoys working in a hospital, especially being able to support patients with mental health and addiction illness on the same units she had her placement. "In a hospital, there is so much going on and it puts into perspective how big the health system is. I feel connected to so many resources to help patients."