September 25, 2023
London Health Sciences Centre (LHSC) hosted its inaugural Teaching Awards ceremony on Friday, September 15, as part of the organization's first-ever Education Week. The Teaching Awards were designed to celebrate members of Team LHSC who have been instrumental in driving LHSC's education mandate forward and creating exceptional learning experiences for more than 4,000 learners at LHSC each year.
"The passion and commitment to academic excellence that our learners, educators and preceptors show each day is nothing short of remarkable," says Jatinder Bains, Corporate Academic Executive. "These individuals are playing a crucial role in the transformation of our health-care system in real time, and it was such a delight to be able to celebrate them in this way."
A call for nominations under the categories of Preceptors, Educators and Innovators was sent out earlier this summer. Of the more than 70 nominations received, 26 individuals were awarded at the in-person ceremony, which took place in Victoria Hospital's Sumner Auditorium.
Outstanding Preceptors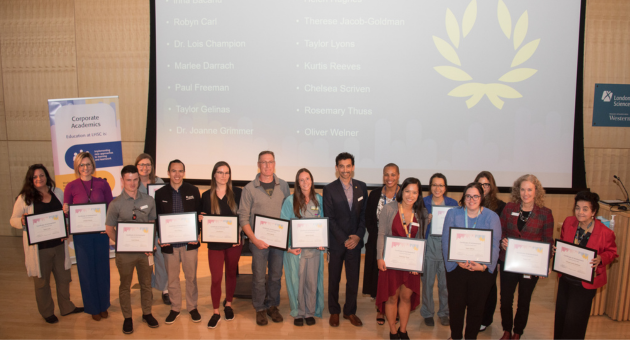 Outstanding Preceptors are individuals who are dedicated to providing a safe and high-quality learning environment for all. They advocate for learners, always adapting to meet them wherever they are in their learning journey and ensure their educational experience at LHSC is robust and patient-centred. This year's recipients are:
Irina Bacanu: Medical Lab Technologist, Pathology & Laboratory Medicine
"Irina is enthusiastic about promoting laboratory science at every opportunity she gets. She has taken high school students on tours of PaLM, been an active participant in Take Your Kid to Work Day, presented to interns in the Transformation Trailblazers program, and provided an immersive experience at Trauma Career Bootcamp." – Sue Milburn, Director of Pathology & Laboratory Medicine
Robyn Carl: Team Project Associate, Nursing Professional Practice
"Robin is an outstanding preceptor. She volunteered to take on two administrative health science students from Fanshawe College who were doing their final placement at LHSC. She made sure they were able to build their skills in real time by completing tasks across a vast number of competencies. Because of her, they were fully immersed in the administrative partner experience." – Karen Goldrick, Manager of Administrative Serivces
Dr. Lois Champion: Anesthetist, Anesthesia & Perioperative Medicine
"Dr. Champion was nominated because she has been a fierce advocate for teaching and learning for over 25 years. Throughout her career, she has been recognized with numerous external teaching awards and is currently serving as Associate Dean, Postgraduate Medical Education at Western University's Schulich School of Medicine & Dentistry. Dr. Champion is undeniably an esteemed teacher and mentor." – Jatinder Bains, Corporate Academic Executive
Marlee Darrach: Registered Nurse, Inpatient Surgical Services
"Marlee embraces her role as a preceptor for new nurses and nurses new to the operating room. She is also a wonderful advocate for her students, often discreetly letting surgeons know where they are in their learning process, which helps everyone manage their expectations and puts them at ease. We are very fortunate that Marlee is in our department, passing on her knowledge in such a kind and compassionate way." – Rebecca Tompkins, Clinical Educator
Paul Freeman: Registered Practical Nurse, Inpatient Surgical Services
"Paul is a pillar of our Orthopedic Trauma and Spine Surgery training program. He is one of the kindest, most patient preceptors and is quickly able to assess a learner's capabilities so that he can adapt his teaching to meet the learner where they are. We are all incredibly fortunate to have Paul on our team, preparing new staff for the operating room environment." – Rebecca Tompkins, Clinical Educator
Taylor Gelinas: Pharmacist, Inpatient & Ambulatory Oncology
"Taylor (and Oliver Welner) always goes above and beyond to take on students and ensure they have the best and most well-rounded experience in oncology pharmacy. Despite not always having dedicated time to take them on, Taylor and Oliver work together to help students realize the importance of advancing the practice of pharmacy." – Kaylee Goodman, Pharmacy Manager
Dr. Joanne Grimmer: Nephrologist, Paediatrics
"Dr. Grimmer is a career educator who has had a substantial impact on the lives of the medical students who rotate through LHSC. As the London clerkship lead for the Academy of Educators, which guides undergraduate medical education, she oversees the entire medical clerkship curriculum and develops individualized learning plans for all medical students to ensure they're successful." – Dr. Craig Campbell, Physician Executive, Paediatrics at Children's Hospital at LHSC
Helen Hughes: Registered Practical Nurse, Inpatient Surgical Services
"Helen is one of my favourite people to pair with new staff in the operating room. She is one of the best ortho scrub nurses around and she exemplifies everything it means to be an effective preceptor. Helen is patient, kind, knowledgeable and hard-working, and is well respected by our students and team." – Rebecca Tompkins, Clinical Educator
Therese Jacob-Goldman: Social Worker, Health Disciplines
"It's hard to estimate the impact Therese has on the social work students completing their placements at LHSC. On top of the 20+ staff members Therese supervises, she also mentors upwards of 3 students at one time. She is a strong advocate for education, always ensuring social work students have diverse opportunities to grow and feel confident in their practice. Our students often say she truly taught them what it means to be a social worker." – Craig Cunningham, Manager of Health Disciplines
Taylor Lyons: Occupational Therapist, Health Disciplines
"Taylor has long demonstrated her commitment to occupational therapy education at LHSC. From her breadth of knowledge and supportive teaching style to her passion for the profession, Taylor consistently receives positive feedback from the students she mentors. She also goes above and beyond the standard practice for preceptors by providing LHSC's non-clinical orientation to students and has always volunteered to support requests to job shadow an occupational therapist from those interested in learning about the profession." – Karen Tomlin, Manager of Health Disciplines
Kurtis Reeves: Clinical Educator, Nursing Professional Practice
"Kurtis has always shown his excitement for working with students and new hires and relishes the opportunity to guide and educate them. He is especially appreciated for working hard to create a warm, welcoming environment in which students feel comfortable asking questions and sharing their ideas or concerns. We're grateful for the passion and energy he brings forth." – Kelly Taylor, Clinical Educator
Chelsea Scriven: Registered Nurse, Critical Care & Trauma
"Chelsea is a student-centred preceptor who is friendly, approachable and clear about the high standard of practice she expects will be met. She is always seeking opportunities for students to observe various procedures and highlights the role nurses play in the process. She continually tailors her teaching toward students' learning goals and provides constructive feedback that enables them to reflect on their own practice." – Adrienne Wakabayashi, Registered Nurse
Rosemary Thuss: Manager, Support Services
"Rosemary is almost single-handedly responsible for onboarding and training members of our expanding emergency management team, and thanks to her, it has become one of the strongest health care emergency management programs in the province. She also mentors students from Fanshawe College and various master's programs, and has done this since back when she was the only person on the team." – Andy Rombouts, Director of Support Services
Oliver Welner: Pharmacist, Inpatient & Ambulatory Oncology
"Oliver (and Taylor Gelinas) always goes above and beyond to take on students and ensure they have the best and most well-rounded experience in oncology pharmacy. Despite not always having dedicated time to take them on, Taylor and Oliver work together to help students realize the importance of advancing the practice of pharmacy." – Kaylee Goodman, Pharmacy Manager
Exceptional Educators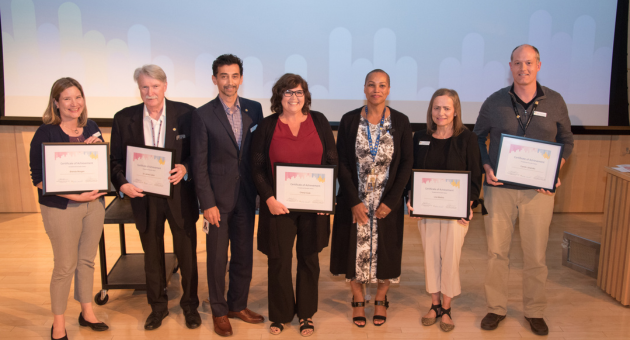 Exceptional Educators are individuals who share their knowledge with others through formal and informal education, coaching and mentoring. They are passionate about LHSC's education mandate and have dedicated their time to bringing out the best in our next generation of health care workers. This year's recipients are:
Dr. James (Jim) Calvin: Physician Executive, Medicine
"Dr. Calvin was nominated because he is an exceptional teacher in the area of quality of medical care. With an emphasis on collaboration and innovation, Dr. Calvin empowers and supports health care faculty as they continue to raise the standard of patient-centred care. We're grateful for his steadfast commitment to teaching and learning at LHSC." – Jatinder Bains, Corporate Academic Executive
Cheryl Cook: Charge Nurse, Nursing Professional Practice
"Cheryl has an undisputed passion for commitment to frontline education. She has been instrumental in the creation of LHSC's vascular access, central line and PICC line guidelines, and was the one responsible for building our highly skilled, city-wide VAST team. Cheryl incorporates teaching and learning into everything she does, and we can't thank her enough for the wisdom she shares with us." – Tara Murdock, Clinical Manager of Ambulatory Medicine
Camilo Jaramillo: Clinical Educator, Nursing Professional Practice
"Camilo is a long-standing educator who is passionate about ensuring our emergency department staff have the knowledge, resources and support they need to provide the highest standard of care for our patients. Camilo is an innovative leader within LHSC and at a regional level, always seeking out new, engaging and cost-effective approaches to continuing education. He is an invaluable member of our team." – Julia Manning, Director of Emergency Medicine
Lina Martins: Clinical Nurse Specialist, Nursing Professional Practice
"Lina has devoted her career to educating patients, families and other health care providers about skin health, wound healing and ostomy care. Whether she is helping a new nurse change a complex dressing for the first time, supporting a patient with a new ostomy appliance change, or teaching a new resident about a best practice, Lina demonstrates patience and professionalism at all times."  – Sarah Smith, Director of Nursing Professional Practice
Brenda Morgan: Clinical Nurse Specialist, Critical Care & Trauma
"Brenda continuously works to ensure everyone in the Critical Care Trauma Centre is up to date on all aspects of the care they provide. She is always looking for new, evidence-based ways to advance patient care delivery and exhibits a notable passion for helping nurses at all levels of their critical care careers. Her supportive presence is appreciated at LHSC." – Ines De Campos, Director of Critical Care and Trauma
Pamela Waschenko: Infection Control Professional, Infection Prevention & Control
"Pamela has a passion for teaching and mentoring students and other members of Team LHSC about infection prevention and control. She is known for her unique ways of documenting important information (e.g. "learning trees), always ensuring it's easy to access, read and understand. Pamela also participates in various education initiatives, such as the hand hygiene program, across the continuum of care." – Binod Baral, Infection Control Professional
Innovators in Education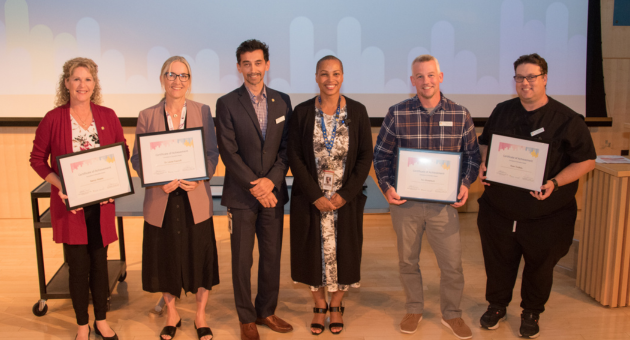 Innovators in Education are individuals who are always looking for new and unique ways to educate others. From educational research to testing new models of education delivery, they are united in their unwavering commitment to helping members of Team LHSC be the best they can be. This year's recipients are:
Dr. Amrit Kirpalani: Physician, Paediatrics
"Dr. Kirpalani is a dynamic paediatric nephrologist known for his approachable nature, sense of humour and focus on medical education. He has experience with evidence-based curriculum design and has studied equity, diversity and inclusivity in medical education. Dr. Kirpalani has already won teaching awards and a national undergraduate medical education award from Western University and is simply one of the most promising early career educators and education scholars at LHSC." – Dr. Craig Campbell, Physician Executive, Paediatrics at Children's Hospital at LHSC
Dr. Laura Foxcroft: Physician, Emergency Medicine, and Dr. Andrea Lum: Diagnostic Radiologist
"Dr. Foxcroft and Dr. Lum were nominated because they're celebrated educators who have been recognized by their peers and the wider medical community for their outstanding contributions to the development of medical education. In ther roles as Assistant Dean, Faculty Wellbeing (Dr. Foxcroft) and Vice Dean, Faculty Affairs (Dr. Lum) at Western University's Schulich School of Medicine & Dentistry, Drs. Foxcroft and Lum are champions for physician wellness and have been instrumental in the creation of the 'Peers to Peers' program, which has been described as the best physician well-being program in the country." – Jatinder Bains, Corporate Academic Executive
Michelle Stephens: Registered Respiratory Therapist, Critical Care & Trauma
"Michelle provides respiratory training to the adult operating room team, ensuring everyone is up to date on mechanical ventilation best practices. During the pandemic, she developed a hybrid training model (alongside Ryan Trudeau), that combines virtual learning using didactic presentations, online modules and vent simulators with hands-on, high-fidelity simulation. Michelle also offers outreach training through Critical Care Services Ontario, where she shares her expertise in respiratory care with smaller community hospitals working to increase their capacity to manage critically ill patients." – Andre Boisvert, Manager of Critical Care and Trauma
Nancy Howes: Physiotherapist, Health Disciplines
"Nancy is a valued team member with a long track record of collaborating on many research and quality improvement initiatives at LHSC. Most recently, she assisted with one aimed at understanding patient and physiotherapist experiences with virtual physiotherapy and has helped develop a virtual pre-operative education class for patients undergoing total hip or knee arthroplasty. Nancy is also a lecturer in Western University's Master of Physical Therapy program and has taught various professional development courses through the Cardiorespiratory Division of The Canadian Physiotherapy Association." – Tania Larsen, Manager of Health Disciplines
Ryan Trudeau: Registered Respiratory Therapist, Critical Care & Trauma
"Ryan provides respiratory training to the neonatal and paediatric teams, ensuring everyone is up to date on mechanical ventilation best practices. During the pandemic, he developed a hybrid training model (alongside Michelle Stephens), that combines virtual learning using didactic presentations, online modules and vent simulators with hands-on, high-fidelity simulation. Ryan also offers outreach training through the Maternal Newborn Child Youth Network, where he shares his expertise in respiratory care with smaller community hospitals working to increase their capacity to manage critically ill patients." – Andre Boisvert, Manager of Critical Care and Trauma
Tim Winterburn: Registered Respiratory Therapist, Critical Care & Trauma
"Tim provides ongoing respiratory education to Team LHSC members at University Hospital and assists with Canada-wide fellowship training in CSTAR. He has also helped redevelop the orientation process to include high-fidelity simulation training at the six-month mark for new hires, which allows staff to get comfortable with day-to-day processes before challenging them with more complex clinical scenarios." – Jason Gibson, Manager of Intensive Care