Welcome to the Perioperative Patient Blood Management Program (PPBMP) website. This website has been designed to answer your questions about blood transfusions and alternatives, and to give you information about our program.
The purpose of PPBMP is to help patients who will be having an operation to decrease, or completely avoid, the need for blood transfusion. The PPBMP at London Health Sciences Centre uses a team approach to create a plan of care for each patient.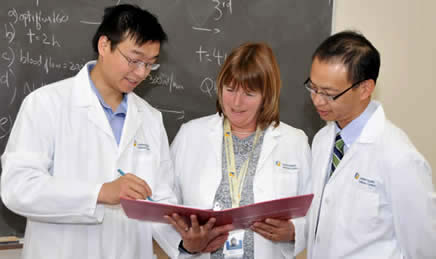 Dr. Cyrus Hsia, Dr. Fiona Ralley & Dr. Ian Chin-Yee
The PPBMP team works through the Pre-Admission Clinic at both University Hospital and Victoria Hospital.
We have information for Patients, Families & Visitors and for Health Professionals. We hope you will use this site to find information about patient blood management.