Waste and materials account for 21.1% of our ecological footprint. The waste portion of this footprint is broken down as follows: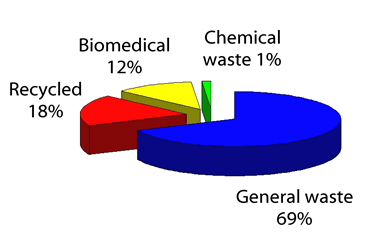 There are a variety of waste streams leaving LHSC. Along with general waste there is also chemical, biomedical, radioactive, pharmaceutical as well as our recycled waste.
Last year, over 5 million pounds of general waste was transported from LHSC to landfill. 18% of all our waste was recycled, 12% of our waste was biomedical and 1% was chemical.