Location
Music therapy is offered on the Paediatric Inpatient Units, Paediatric Critical Care Unit (PCCU), Paediatric Day Surgery, Paediatric Emergency, Paediatric Medical Day Unit (PMDU) and Neonatal Intensive Care Unit (NICU).

Patients are seen by referral only. Any health professional can refer a patient to the music therapy program. Family members can also inquire with a staff member about the appropriateness of music therapy interventions during their stay in hospital.

Contact
Karina Charczuk, MMT, RP, MTA, NMT, NICU-MT
Music Therapist
Telephone: 519-685-8500, Ext 50244
Pager: 17187
Email: Karina.Charczuk@lhsc.on.ca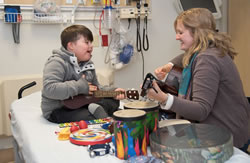 Content
About Music Therapy
How Can Music Therapy Help?
What to Expect in a Session
Links and Resources

About Music Therapy
Music therapy is a research-based practice and part of the multidisciplinary team. An Accredited Music Therapist uses music, within a therapeutic relationship, to support patients in improving areas of their health, functioning and well-being. Sessions can be individual or group. Music therapy can support any patient regardless of age, musical skill, severity of illness, ability or culture.
How Can Music Therapy Help?
Music therapy can help a patient in a variety of ways including:
Providing a distraction during procedures

Supporting pain management

Providing a sense of normalcy

Supporting coping with the hospitalization or illness

Providing an opportunity for self-expression

Encouraging verbal and non-verbal communication

Supporting relaxation/sleep

Providing developmental support

Supporting parent/infant bonding

Decreasing feelings of anxiety, anger, sadness and agitation

Aiding in physical and cognitive rehabilitation

Supporting the patient/family during end-of-life care
What to Expect in a Session
You do not need any musical skill in order to participate in music therapy. There are many activities that can take place in a music therapy session. Depending on the patient's need, sessions can include:
Music listening/song sharing
Music-based discussion
Instrument playing
Singing
Song writing
Guided relaxation with music
Music-based play
Recording/mixing music tracks
Therapeutic instrumental tuition
Improvisation
Rehabilitation exercises
Links and Resources
Canadian Association for Music Therapy is the professional association for music therapists in Canada
Music Therapy Association of Ontario is the professional association for music therapists in Ontario
College of Registered Psychotherapists of Ontario regulates Registered Psychotherapists practicing in Ontario