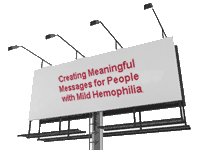 Are you a young man between the ages of 18 and 30 with mild hemophilia? The Canadian Physiotherapists in Hemophilia Care (CPHC) are interested in talking to you. We are aware that young adults with mild hemophilia often postpone seeking treatment after an injury which results in a bleed. These bleeds may take weeks or months to totally resolve. We believe that to address this problem, it is important to shape educational information specifically for people with mild hemophilia. To do this, we feel that we must gain a greater understanding of the experiences of people living with mild hemophilia and about the choices that they make in accessing medical care after injury resulting in a bleed. We hope to determine the messages, information and knowledge that motivate people with mild hemophilia to seek care in a timely manner.

We would like to interview you about your experiences of living with mild hemophilia; and about the choices you make in deciding when and how to access medical care after an injury. These interviews will take about sixty to ninety minutes, and will be conducted in Sarnia, Windsor and London. They will be carried out by Dr. Candice Schacter, a physiotherapist on staff at the University of Saskatchewan; and will involve unstructured, open ended questions, designed to focus on your experiences of living with mild hemophilia. Interview data will be handled in a manner which will ensure confidentiality and anonymity, and participants may refuse to answer any question or withdraw from the study at any time. There will be a small stipend provided to all participants ($100) to assist with any expenses incurred.
If you are interested in participating in this research study, please contact Mary Jane Steele, clinic physiotherapist, at (519)685-8700, extension 50145 to arrange for an interview time. Thank you.
Mary Jane Steele, Physiotherapist