Welcome to the Child and Youth Advisory Council (CYAC)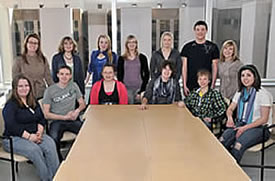 Contact:
Jill Sangha, MSW RSW CTC
Patient and Family-Centred Care Specialist
519-685-8500, Extension 50102
Email: pfrc@lhsc.on.ca
Join our council and make a difference at Children's Hospital! If you're 12-18 years old, and have a connection with Children's Hospital, we want your ideas! Get involved and help make changes at Children's Hospital!
Our Program
The Child and Youth Advisory Group is made up of youth, aged 12 – 18 who have been a patient at Children's Hospital or have a family member that has been treated at the hospital.
What We Do
The Child and Youth Advisory Council brings fresh, new, helpful and creative ideas to Children's Hospital. Our vision is to enhance patient and family-centred care by looking at the health care experience through the eyes of children and youth patients.
What to Expect
The Council meets every six weeks to work on projects, hear guest speakers and discuss feedback from patients. Members share their own health care experiences so that we can teach others what it is like and use this knowledge to improve care.
As a Council member, you will be part of a team of young people and health care professionals – all with different ideas, challenges and issues on how care can be improved. Your involvement will show adults and other young people what a positive and important contribution we can all make to our hospital and the health care system.
"I am with the CYAC because I was once in the hospital myself and have experienced what those kids go through. I think that myself and other kids could change the hospital for the better."
"I have plenty of experience to share with the younger patients and I know what needs to be done and how to do it. I am glad that I can be a part of the future care provided by the Children's Hospital."
How to Join
Contact us at 519.685.8500 ext. 50102
Our Accomplishments
Added child-friendly murals to the Inpatient Treatment Room
Created a Bill of Rights for Children and Teens in the Hospital
Wrote and produced a song and DVD for health care students and professionals titled: Sincerely, A Child
Provided long stay patients a 'Kits Helping Kids" bag
Raised money for Children's Health Foundation as Change Bandits
Provided recommendations for the Paediatric menu choices
Consulted on new Children's Hospital North Tower designs
Provided input on patient pajamas and food services
Provided input on Healthy Eating and Activity Program initiatives
Presented on a Youth Panel for 2008 Canadian Association of Paediatrics Health Centres - 'Transforming Services: The Healthcare System through the Eyes and Ears of Our Youth'
Created a Children and Youth Advisory poster presentation for the 2007 Canadian Association for Paediatric Health Centres (CAPHC)