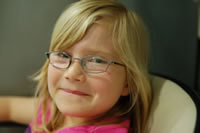 Location:
Diabetes Clinic:
Zone B, Level 1
Paediatric Medical Day Unit
Children's Hospital
800 Commissioners Rd. East
London, ON  N6A 5W9
Directions and Parking:
Driving directions to Children's Hospital.
Park in Visitor Parking Garage P8 located on the west side of the hospital. This lot is accessible at the Wellington and Baseline Road entrance.
Contact:  
Please call switchboard at 519-685-8500, ext. 0.
Ask to be transferred to your specific nurse educator, dietitian, or physician.
Contact for Referrals: 
Fax: 519-685-8105
Tel: 519-685-8138 or ext. 8139
Contents    

About Diabetes 

What is Diabetes?
You have just been told you have Type I Diabetes. You may be feeling worried, confused, and even afraid. You may wonder why you have diabetes, and whether it is something you did.
Your parents may also be upset and wonder if it is their fault you developed this condition. It is normal to feel this way. Although no one knows for certain why diabetes occurs, we do know it is not your fault or your parents fault.
Nothing you did caused this. You could not prevent this from happening.
Learning about Diabetes
Although we do not know why diabetes happens, we do know it is important for you to learn about this condition. In learning more about it, you will feel less worried, confused and frightened.
It may be a while before these feelings go away completely. Children with diabetes lead happy and active lives. This information has been developed to help you and your family learn more about diabetes.