On Nov. 30, 2016 the Canadian Institute for Health Information (CIHI) released Hospital Standardized Mortality Ratio (HSMR) results for eligible acute care hospitals across Canada. The HSMR compares a hospital's expected mortality rate with the overall standard.
The HSMR for London Health Sciences Centre in 2015/2016 is 96 and is not considered statistically different from national teaching hospitals. London Health Sciences Centre welcomes the opportunity to participate in the CIHI initiative. This HSMR data provides yet another indicator for measuring and monitoring quality of care, examining our performance and continuously improving the care we provide our patients and the community.
London Health Sciences Centre is serious about providing the best possible patient care. Patient safety is the top priority of the dedicated health care professionals at LHSC.
LHSC's HSMR Performance compared with the National HSMR
Note:  all years in the trend have been recalculated with the updated baseline year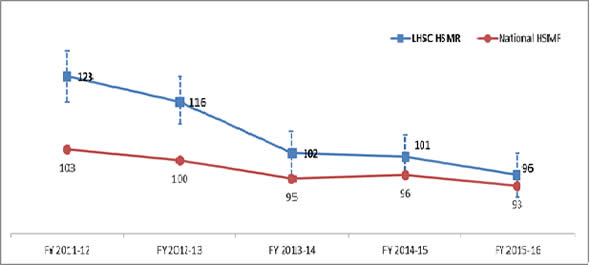 Canadian Institute for Health Information website Your Health System reports on HSMR and other hospital performance indicators.