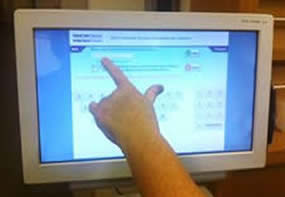 Symptom screening is a provincial tool that helps patients rate their symptoms and determine how cancer is impacting their daily life. All patients at the London Regional Cancer Program are required to complete a symptom screen after registering as part of every clinic or patient review appointment.
As a patient, your symptom screening results are kept confidential and stored in your electronic medical record. Your health care team will review your scores before they meet with you. During your appointment, they will ask about the symptoms you have flagged as a concern to you. Ask about any symptoms of concern that are not part of the symptom screen.
Completing the symptom screening is the first step to help manage your symptoms to help you feel better. There may be changes that can be made to your care plan or other health care team members (e.g., social workers, dietitians) who can help.
For more information on the symptom screening tool, please see the resources below:
Symptom Screening Overview
Provides an overall of the symptom screening tool, including instructions on how to use the symptom screening kiosks and definitions of symptoms that commonly cause confusion
Complete your Symptom Screening
Provides information on how to complete symptom screening from home, or on your device. Includes instructions, as well as a link to the site.
Symptom Screening Key Messages
Provides information on what symptom screening is, who completes it and when and where, how the information is used and why it is completed
Symptom Screening Frequently Asked Questions
Provides answers to common asked patient questions about the symptom screening tool
VIDEO - Improving Symptom Management
A Cancer Care Ontario video which provides an overview of how the symptom screening tool helps give patients a voice in their care
How to Manage your Symptoms – Guides for Patients
These guides have been written for patients, family members and caregivers. Use them to learn:
What causes symptoms
How to manage symptoms
When your symptoms should be discussed with your health care providers

Always speak to your health care provider if you have questions or concerns.