Students completing their Masters' Degrees in Speech-Language Pathology at the University of Western Ontario or the University of Toronto may participate in clinical placements at London Health Sciences Centre. Requests for clinical placements or observations by students from these programs must be made through their clinical coordinators, who then contacts the manager of speech-language pathology at LHSC.

Two types of clinical placements for students enrolled in an academic program in speech-language pathology are offered at LHSC. While the part time clinical work exposes students to a wide range of communication and swallowing disorders, the full time placements serve to broaden skills with opportunities for consolidation of knowledge and experiences. The latter also affords greater interaction with other members of the interprofessional team, participation in team meetings and opportunities to witness a patient and family's entire course in hospital, with its ensuing impact.

Students in undergraduate programs who are hoping to pursue a career in speech-language pathology have played important roles in our Service. Some of their activities have included entering and storing data for research projects, preparation of power point presentations for patients and cataloguing inventory of tests and equipment. These sponsored learners in return are afforded opportunities to meet patients and learn about the various roles of a speech-language pathologist.

Individuals interested in "sponsored learning" opportunities should contact: Robin Magri, Administrative Assistant, Speech-Language Pathology, London Health Sciences Centre: 519-685-8500, Ext. 33517.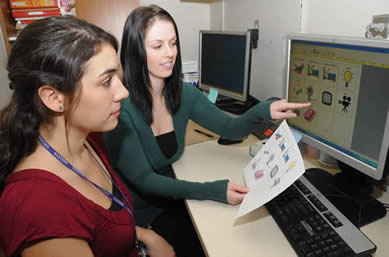 The speech-language pathologist (from right) teaches a student about alternative communication strategies.