We commonly see patients with communication and swallowing problems related to:
Complications of Acute Illness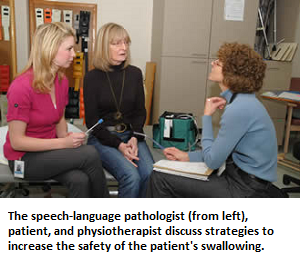 Neurological Conditions
Speech-Language Pathologists are often involved with people who have sustained changes to their brains. Conditions like stroke can affect areas of the brain used for thinking, communicating ideas and forming words. In addition, problems with swallowing can be encountered.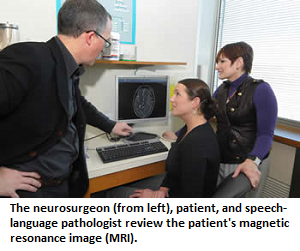 Neurosurgical Conditions
A number of conditions such as, tumours, aneurysms, brain hemorrhages, epilepsy and trauma to the head or spine may require neurosurgical intervention. The Speech-Language Pathologist may begin an assessment before surgery occurs to better understand how swallowing and communication might be affected during the early and later stages of recovery. Information is shared with family and other members of the health care team in order to find ways of making communicating and eating as effortless as possible.
Helpful Resources: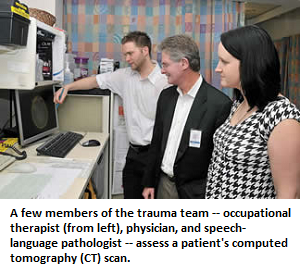 Traumatic Brain Injury
If a person sustains injury to the brain as a result of a motor vehicle collision or fall a Speech-Language Pathologist becomes involved early in the admission even in cases where responsiveness is minimal. A program called coma stimulation/sensory awareness can be initiated by the Speech-Language Pathologist if deemed appropriate.
As a person's level of responsiveness improves, a cognitive communication assessment as well as an evaluation of swallowing function will be completed.
Following a head injury, even subtle changes in cognitive communication can have an impact on an individual's function at work and at home. Some individuals will require admission to a rehabilitation facility while others may receive ongoing services through the trauma clinic and in the community.
Helpful Resources:
Stroke
A stroke can have devastating effects on a person's ability to understand, speak, read, write or even swallow. The types of deficits following a stroke depend on the area of the brain that has been injured. Individuals are often left with muscle weakness on one side of the body, and this can include face, tongue and mouth muscles that are used for speaking and swallowing. Assessments are completed to establish initial treatment goals and to assist with discharge planning.
Helpful Resources:
Motor Neuron Diseases
The motor neuron diseases (MND) are a group of neurological disorders that affect the cells that control voluntary muscle activity including speaking, walking, breathing, swallowing. One common motor neuron disease is Amyotrophic Lateral Sclerosis (ALS) or Lou Gehrig's disease. As part of the interdisciplinary team for the Motor Neuron Diseases Clinic, the Speech-Language Pathologist helps these patients manage any speech or swallowing deficits.
Helpful Resources:
Movement Disorders
Movement disorders are neurological conditions that affect an individual's speed, fluency, quality, and ease of movement. Some common movement disorders include Parkinson's disease, Huntington's disease, ataxia, and Multiple Systems Atrophy. Speech-Language Pathologists are consulted by the Movement Disorder specialists in the Movement Disorders Clinic when speech and swallowing are impacted by the disorder. Service can be provided during an existing appointment to the clinic or during a separate outpatient appointment in the Speech-Language Pathology department.
Helpful Resources:
Neuromuscular Disorders
Muscle and nerve diseases, such as Myasthenia Gravis, Muscular Dystrophy, and Myopathy, can result in weakened throat, face, mouth and tongue muscles. This can affect a person's ability to chew and swallow food, as well as speak.

Speech-Language Pathologists are consulted by the Neurologists in the Neuromuscular Clinic. These patients often receive continuous outpatient management, in the form of ongoing assessment, management and education regarding their speech and swallowing difficulties.
Helpful Resources:
Multiple Sclerosis
Different parts of the body are affected in Multiple Sclerosis (MS), depending on the type and severity of the disease. When muscles involving speech and swallowing are affected, patients are seen on an on-going basis by the Speech-Language Pathologist. Patients are referred to the Speech-Language Pathology service through the MS Clinic. The goals are to provide assessment and management of communication as well as to maintain safe and adequate nutrition.
Helpful Resources:
Epilepsy
Abnormal electrical activity in the brain can cause seizures and a condition known as epilepsy. There are many causes of epilepsy and different patterns of seizures. When the language areas of the brain are affected by epilepsy, some problems with communicating ideas can be found. Speech-Language Pathologists evaluate listening, speaking, reading and writing to determine how these skills and what language areas of the brain might be affected. A patient undergoing epilepsy surgery often has this assessment completed before and after the operation so that help can be provided, when needed, in returning to work or school.
Helpful Resources:
Dementia
Dementia is not a specific disease, but a group of symptoms caused by a number of different disorders that affect the brain. People with dementia may experience difficulties remembering things, performing every day activities, interacting with others, as well as controlling emotions. These individuals may also experience personality changes.

Speech-Language Pathologists often provide education about the disease process and the changes an individual may experience once dementia is suspected. We also make recommendations to aid individuals and family members with communication and/or to maximize the safety of the individual during meals by modifying diet textures.
Helpful Resources:
Complications of Acute Illness
Speech-Language Pathologists often work with individuals who have swallowing and communication difficulties caused by extended and severe illness that results in prolonged fatigue, decreased endurance and muscle weakness. One can imagine that a patient meeting these descriptions might have difficulty walking; similarly the muscular mechanisms used for swallowing and speech can be affected.
Helpful Resources: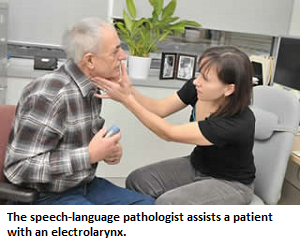 Head and Neck Cancer
Individuals with head and neck cancer may undergo various surgeries, including total laryngectomy.  Speech-language pathologists are able to see these patients pre-operatively to education and provide information regarding what one might expect following surgery involving structures that impact communication and swallowing function. 
Speech-language pathologists often become involved with both surgical, as well as non-surgical patients to educate individuals, provide voice therapy, to provide swallowing assessment, or to introduce new methods of communication.  Part of the post-operative care includes the alaryngeal voice restoration program, which allows us to offer electrolaryngeal speech, tracheo-esophageal speech, and esophageal speech.
Helpful Resources:
Laryngeal Disorders
When an individual undergoes structural changes to the areas of the throat, mouth or larynx there are often consequent changes to that individual's ability to speak or swallow.
 
Patients who have experienced trauma or pathology to the larynx may require assessment and treatment of the voice. Those who are admitted to hospital with severe breathing impairments may undergo intubations or tracheotomy. These medical procedures involve significant manipulation of an individual's mouth, neck, or throat and these patients may experience speaking and swallowing difficulties as a result.
Helpful Resources:
End of Life Care
End of Life care or palliative care is directed toward pain and symptom management and improving quality of life for those individuals living with serious illnesses. This service is also referred to as comfort or supportive care. Palliative care has a very interdisciplinary focus, concentrating on physical, psychological, and spiritual well-being. Individuals with progressive, illnesses often have difficulty swallowing and communicating. The Speech-Language Pathologist can complete assessments as well as provide recommendations and communication aids to improve the quality of life of these individuals.
Helpful Resources: