February 1, 2018
"You are here for a week, you can't save the world. But if you can make a difference in one person's life, you've accomplished your mission."
With these words a group of LHSC ortho nurses and physicians were greeted at their arrival in Port-aux-Prince. Over the next seven days the group made a difference in many lives in the country still devastated by the 2010 hurricane.
"There were so many trauma patients," RN Linda Kuska recalls. "Between orthopedic trauma, spine and paediatric patients, we provided surgical care for about 30 patients altogether."
The trip was the vision of orthopedic resident, Dr. Supriya Singh, who has been on several missions in Africa, including Ethiopia, and Ecuador in South America. 
"Global health and global surgery is near and dear to my heart. Team Broken Earth provided a framework and foundation to build upon for our group in London and we had an excellent team of nurses and doctors to work with, as well as the entire hospital community support to help make our trip to Haiti quite successful," says Dr. Singh.
The poverty in Haiti is profound. People have no money and don't seek medical care, waiting instead for organizations such as the LHSC team to come because the treatment and medications are at no cost to them, says Kuska.
Even bathing and food is provided by the families of the patients.
"I remember one patient who was brought back to his bed at the end of a late evening surgery. I asked him if he was hungry, and he replied that he would not be eating because his family was too far away to bring food," says Kuska.
The LHSC team was having a late supper that night, so they put together a plate for the patient as well.
"We lived right in the hospital compound with locked gates and guards at the gates. There was rubble everywhere in the streets, everything was very run down," says Kuska. "But for a small hospital, they had an adult and paediatric emergency department, an intensive care unit, three operating rooms, and radiology."
The group brought 15 duffle bags of donated medical supplies.
"I was amazed by the generosity and altruism of my colleagues and hospital staff . Everyone was very willing to help us with this mission," says LHSC Spine Surgeon Dr. Parham Rasoulinejad.
"The department of radiology provided us with storage space, employees of HMMS gave us their time and expertise to help acquire supplies, my urology colleagues donated surgical headlights and the operating room staff helped me collect surgical instruments. Our industry partners were generous in providing expensive equipment that simply does not exist in Haiti, and the list goes on. I am very great-full to all of these people for showing such open-handedness and warmth." 
The LHSC Fitness team put together a kit with videos with stretching exercises and meditations, along with small equipment like exercise bands.
"It felt like a community effort to get us to Haiti. It was such a great experience," says Kuska.
Each member of the group needed to raise $2,000 to cover their costs for the travel and stay. The group held bake sales, raffles, paint nights, asked family and friends for donations, and raised a total of 34,000. It was a good team building exercise, says Kuska.
To Dr. Singh this work is very meaningful. "If I can help even one person, then that brings a lot of meaning to me and I think together we can make such a powerful difference. We all can put our skills to work and give back to our local and global community when given the chance."
The fourth year orthopedic surgery resident assisted with surgeries, helped serve as translator as she speaks French, and assisted with logistics.
"I had many memorable moments on this trip. We met a lot of amazing people and got to help people through our surgery. In particular there was one spine patient who came in with a broken neck and paralyzed arm who, after surgery regained function and sensation, and was able to walk out of the hospital. To that one person it meant his whole world was changed," says Dr. Singh.
For Kuska most memorable was the team building. The group often worked on the fly and usually found a way to make it happen.
"I'll always remember the 11 of us bonding and the team building week when we did everything together. We brought back that team building and talked about it with the others on our ortho team," says Kuska. "It has made us closer as a group."
This too was most memorable for Dr. Rasoulinejad. "During this trip, I was most impressed by the people around me. We came together and worked as a team and worked very hard in very difficult circumstances."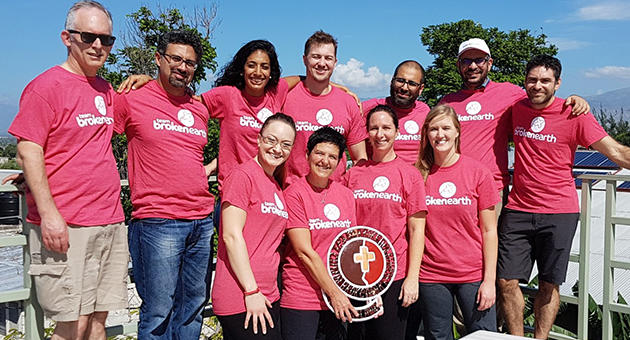 LHSC Victoria Hospital nurses and physicians, and an anesthesiologist from Quebec, participated in a one-week medical mission to Haiti. The group included (front row, from left) Liz Mazepa RPN – OR, Linda Kuska RN – Ortho clinic, Nancy Tuttle RN – OR, Andrea Berkmortel RN – OR, and (back row, from left) Dr. Gary Simon – Anesthesiologist, Dr. Parham Rasoulinejad – Ortho Spine, Dr. Supriya Singh – Ortho Resident, Dr. Colin Maclean – Ortho Fellow, Dr. Abdel Lawendy – Ortho Trauma, Dr. Waleed Kishta – Ortho Paeds, and Dr. Pierre-Yves Anctil – Anesthesiologist.