November 19, 2014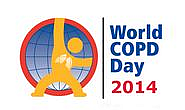 A program that helped a Halifax health centre to decrease hospital visits, emergency room visits and days spent in hospital by more than 70 per cent in chronic lung disease patients, is coming to London. With today being World Chronic Obstructive Pulmonary Disease (COPD) Day, and November lung month, the significance of this work becomes all the more relevant.
Chronic obstructive pulmonary disease (COPD) is a long-term incurable lung disease, which includes chronic bronchitis and emphysema, that slowly damages the airways making them swollen and partly blocked with mucous, while also damaging the tiny air sacs at the tip of the airways, ultimately making it hard to move air in and out of the lungs. COPD is a primary cause of hospital admissions in Canada, and second only to chest pain as a medical cause for emergency room visits.
Through one time INSPIRED grant funding from the Canadian Foundation for Healthcare Improvement (CHFI), London Health Sciences Centre (LHSC) in partnership with St. Joseph's Health Care London and the South West Community Care Access Centre, will be one of 19 regional centres to build on the Halifax pilot project that leveraged home health care for patients suffering from COPD. The collaborative project, which will focus on patients with COPD who are frequent users of emergency and inpatient hospital services, aims to improve the coordination of care for these patients across the continuum, through the provision of efficient service both in the community and at home.
"Moving forward with the INSPIRED Outreach COPD pilot project is an important first step to making significant improvements to the coordination of care across the community for patients with COPD," says Laurie Gould, Chief Clinical and Transformation Officer at London Health Sciences Centre.
More specifically, the pilot project will provide follow-up to patients with COPD post-hospital discharge by an outreach educator who will:
Develop an individual action plan for patients and caregivers

Deliver education about how to best manage COPD at home

Refer COPD patients to the appropriate services in the community

Consult with patients on an end of life plan as appropriate
"What makes the role of the outreach educator unique compared to many of the other navigation roles we currently have in London hospitals is it will include in-home follow-up with patients," says Karen Perkin, Vice President, Patient Care and Chief Nurse Executive at St. Joseph's Health Care London. "Providing that home-based evaluation, education and link to other services in the community will be a critical component of keeping people well and out of the hospital."
Another key aspect of the role will be to help inspire confidence in patients, so they in turn feel empowered to better manage their condition and lead improvements in the quality of their life.
The pilot project is also another step toward better collaboration among health-care providers in the region. "It's really great to see that we are looking at the provision of care from the wider system perspective," says Donna Ladouceur, Senior Director Client Services at South West Community Care Access Centre. "It's inventive solutions like these, where we come together in order to wrap our services around the patients who need them, that will have the greatest impact."
For LHSC, this INSPIRED project is just one of a number of initiatives underway that are aimed at improving care for patients with COPD. Other efforts include our Quality-Based Procedures (QBP) work to implement a process for an early consult to Respirology following an acute exacerbation, and the development of a standardized care pathway.