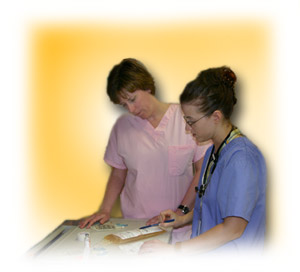 Registered nurses in the Cardiac Surgery Recovery Unit (CSRU) work closely together as part of the team providing care to our patients. To be considered for employment in CSRU, we prefer 2 years of medical-surgical nursing experience and a keen interest in the critical care patient population.
The CSRU is under the umbrella of critical care. As a member of the critical care team, you will spend 50% of your time with the cardiac surgery patients and the other 50% will be devoted to medical-surgical ICU patients. Working between the two units offers variety for our nurses and provides them with a good critical care skill mix. Patients will be assigned to you on a one-to-one or one-to-two basis.
New staff attend a 10-week critical care orientation. This is a phased orientation using a preceptorship model, self-directed learning, and is tailored to each nurse's experience. Certifications acquired include the following:
ECG monitoring
12-lead ECG interpretation
hemodynamic monitoring
ACLS
pacemaker adjustments
defibrillation
ICP monitoring
chest tube removal
PA catheter removal
Optional certifications include:
continuous EEG monitoring
intra-aortic balloon pump
continuous renal replacement therapy
CNA certification in critical care and in cardiovascular care is highly valued.
See how working at LHSC can impact your career by browsing through the Nursing at LHSC section. Also, please visit the LHSC Nursing Career Opportunities section to explore the many ways in which you can become part of our team. To view our current nursing career opportunities, click on the following image: