Video updated: September 30, 2011
Bonnie Adamson, LHSC President and CEO, and Peter Johnson, Board Chair, hosted the official opening ceremony for the North Tower. "This new building is the product of eight years of planning and collaboration between many of our partners across London, the region and the province. Today it stands fully occupied after the many successful program moves and transfers that have taken place from locations across the city."
The North Tower has provided the new, larger spaces needed in order to consolidate a number of areas of acute care, meet today's hospital building codes and infection control standards, and allow for the decommissioning of inpatient care at the aging South Street Hospital.
"Thank you to the numerous LHSC teams and the many other external contributors for your support, commitment and hard work," said Johnson.
During the opening event, the North Tower time capsule was sealed by Bonnie Adamson and Peter Johnson, Board Chair. Each program that calls the North Tower home has contributed unique and inspiring items for the capsule that are representative of this point in time. The capsule is to be opened 50 years from today, two generations from now on September 27, 2061. It will be kept in the display case on the second floor for all to see.
As a surprise element, members of the Amabile Choir of London closed the ceremony by singing "What a Wonderful World."
"The opening of the North Tower represents the future of this acute care delivery in London and the region and provides a new backdrop for the realization of LHSC's vision of exceptional experiences, extraordinary people and engaging partnerships," said Adamson.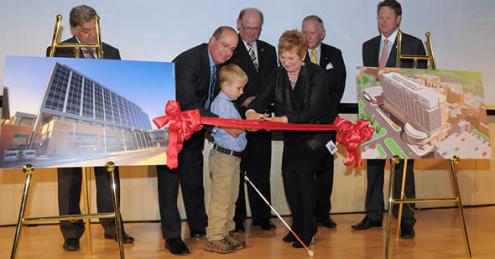 The North Tower was officially opened with the ribbon cutting by Travis Cudney, joined by London Mayor Joe Fontana; Michael Lerner, CHF Board Chair; Peter Johnson, LHSC Board Chair; Bonnie Adamson, LHSC President and CEO; Terrence Donnelly; and Kirk Baines, LHSF Board Chair.