December 20, 2017

Three special trees are helping to bring some holiday smiles and festive sparkle to the patients and staff of the paediatric inpatient unit at LHSC's Children's Hospital. 
Decorated by Donna Yundt, the trees have become an anticipated tradition on the unit each year. 
Yundt has been decorating trees for the paediatric inpatient floor since 2009 when her son Baydon, now 22, was a patient himself over Christmas. Baydon has cystic fibrosis and has spent a great deal of time at Children's Hospital.
"Over the years, the staff became like family to us," says Yundt. The tree—which in 2009 was decorated in blue to represent the awareness colour of cystic fibrosis—was so welcomed that Yundt returned each year to continue the tradition. After a few years a staff member asked Yundt if she'd be interested in decorating a tree for the main hallway off the elevators, and soon after, the opposite side of the paediatic unit requested a tree for their area as well. So for the past four years, Yundt has created three unique and highly stylized trees.
Each tree is different every year, with changing themes and colours. Yundt admits to a sizeable collection of ornaments at her home; somewhere from 25-30 bins. Each tree at Children's Hospital uses about three bins. The trees, with their individual colours and themes, are different every year.
"When the kids walk by, I want them to go 'oooh!'" says Yundt, "so I try not to put too many of the same things on each tree. That way every time they look at the tree they see something different." Over the years Yundt has discovered letters to Santa tucked into the branches of her trees, as well as homemade ornaments which she lovingly packs away to include on the tree the following year. 
For staff, the trees are a welcome addition each year. "We are fortunate and grateful that Donna is willing to donate her time and supplies every year to make such a bright spot for kids and their families. It just brightens everybody's day," says Amanda McMurray, a registered dietitian on the unit.
The trees are even used as part of patient therapy. Physiotherapist Natasha Nunes will use the trees to get her patients up and out of bed. "I use each tree as both a motivator and distraction, and we'll walk to each tree and then see what new elements we missed on our last visit!"
Baydon, who underwent a successful double lung transplant this past summer, helps his Mom to decorate. And supporting Children's Hospital goes beyond the trees for Yundt and her family. Every year her sports team collects toys at their local Santa Claus parade and donates them to Children's Hospital patients at Christmas. And last year Yundt's granddaughter Ebonnee sold homemade bows, using the $1,000 she collected to buy toys for the kids and make a cash donation to Children's Hospital.
To see more photos, visit our Facebook album.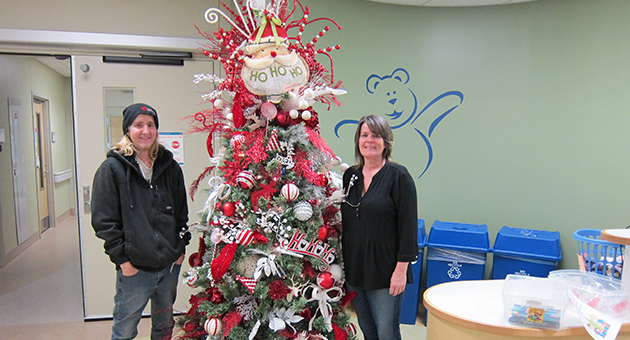 Donna Yundt and her son Baydon pose by one of this year's three decorated Christmas trees on the paediatric inpatient unit at LHSC's Children's Hospital.