Orthopaedic Physiotherapy at University Hospital provides direct patient care to our surgical orthopaedic inpatients and delivers physiotherapy services in our ambulatory clinic.  Additional support is extended to the Surgical Day Unit (SDU), Post Anesthetic Care Unit (PACU), Rorabeck Bourne Joint Replacement Clinic (Ortho Clinic) and Emergency Department.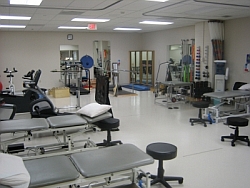 On the Inpatient Orthopaedic Unit on the 9th floor, Orthopaedic Physiotherapy provides care to patients who have had joint replacement surgery, hip fractures, and emergent and elective sports medicine procedures.  Seven days a week, our physiotherapists address functional and mobility impairments and facilitate the coordination of our patients eventual discharge from the hospital.  
In our ambulatory clinic, Orthopaedic Physiotherapy offers specialized care to a wide variety of patients including those who have had surgery, back and neck pain, shoulder and knee injuries, ankle injuries and WSIB cases. Our physiotherapists offer a detailed assessment and prescribe an individualized treatment program to maximize our patient outcomes.
To access our clinic services, you must have a written referral from an LHSC physician or a Sports Medicine physician from the Fowler-Kennedy Sports Medicine Clinic. We do not accept referrals from family physicians.
Orthopaedic Physiotherapy is located in the basement of University Hospital and our clinic hours are 7am to 5pm, Monday to Friday, and we can be reached at 519-663-3503.  Referrals can be faxed to 519-663-3475. 
For more information, please click here for our patient handout.