Location
Zone B, Level 6, Room 300 (B6-300)
Children's Hospital
800 Commissioners Road East
London, Ontario
Contact
Telephone: 519-685-8144
Fax:  519-685-8393
Our Program
Our Psychology staff provides service to children cared for as inpatients or outpatients by many Children's Hospital teams such as:
Acquired Brain Injury (ABI)
Diabetes
Gastroenterology
Neurology
Oncology
Neurosurgery
Metabolics/Genetics
Epilepsy Surgery
All of our service providers have graduate level training in Psychology. Our Psychologists and Psychological Associates are registered members of the College of Psychologists of Ontario.  As a teaching hospital we train residents from the London Clinical Psychology Residency Consortium, and practicum students who are undertaking graduate studies in Psychology.
What do we do?
Assessment and Diagnosis
We offer Neuropsychological and Psychological assessment and diagnosis
Neuropsychological assessments:
can be completed for a child with an injury or disease of the central nervous system
focus on language, problem solving, attention, memory, and academic skills, as well as behavioural and emotional functioning
are used to monitor the effects of brain injury or medical treatments
assist with academic, rehabilitation and vocational planning
Psychological assessments:
can be completed for a child and/or parent who is experiencing cognitive, emotional, and/or behavioural symptoms related to the child's medical condition
Intervention
We offer psychological treatment to assist children and families with:
illness-related stress and anxiety
managment of physical symptoms such as pain and nausea
adjustment to illness and treatment
behavioural problems at home or hospital related to the child's medical condition or treatment
bereavement
Consultation
We offer:
consultation for hospitalized children whose cognitive, emotional, and/or behavioural symptoms are affecting their medical care
education for staff and trainees about neuropsychological, cognitive, emotional and behavioural issues in children with chronic illness and their families
collaboration with schools and community agencies to address the needs of children with serious and chronic medical conditions
Research
Some of our staff have developed research programs and participate in research studies.  Examples of research include psychological and neuropsychological late effects in survivors of childhood cancer; social skills development in children with cancer; quality of life in children with brain tumors at end of life; and neuropsychological sequelae in children with acquired brain injuries
How to Obtain a Referral
Talk to your Children's Hospital physician or treatment team member.  Some services may have a waiting list.

Children who have mental health concerns not related to a medical condition may be eligible for services through the Child and Adolescent Mental Health Care Program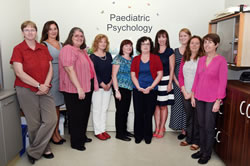 Our Team
| | | |
| --- | --- | --- |
| Name | Title | Specialty |
| Dr. Danielle Cataudella | Psychologist | Inpatient Consultation Liaison, Oncology |
| Dr. Jennifer Crotogino | Psychologist | Chronic Pain |
| Dr. Andrea Downie | Neuropsychologist | Oncology, Neurology, Neurosurgery |
| Dr. Erica Gold | Psychologist | Neurology, Gastroenterology, Diabetes/ Endocrinology, and other medical outpatients |
| Ms. Lorraine Janzen | Psychometrist | Oncology, ABI, Neurology, Neurosurgery, Genetics/Metabolics |
| Ms. Ann Klinck | Psychological Associate | School Liaison for Oncology |
| Dr. Cathy Maan | Psychologist | Inpatient Consultation Liaison, Oncology |
| Dr. Ellen Vriezen | Neuropsychologist | ABI, Neurology, Neurosurgery, Genetics/Metabolics |
| Ms. Alexandra McCreery | Medical Secretary |   |
Resources & Links
Canadian Psychological Association for public information and quick facts
College of Psychologists of Ontario
Ontario Psychological Association
Ontario Association of Psychological Associates
London Regional Psychological Association
Psychology at London Health Sciences Centre
London Clinical Psychology Residency Consortium