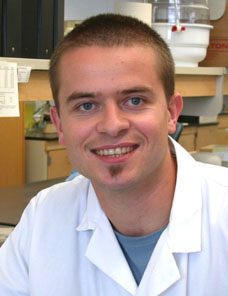 Bekim Sadikovic, a third year graduate student and first year PhD student in the Department of Biochemistry at The University of Western Ontario, is the recipient of the first Hike for Hope Studentship in Breast Cancer Research.

Under the direction of his PhD supervisor, Dr. David Rodenhiser, Sadikovic performs research within the London Regional Cancer Program.

The funds for the studentship, which will suppport Sadikovic for one year of his research, were raised over the past two years from the proceeds of the annual Hike for Hope fundraiser for breast cancer research and care.

Sadikovic's research, entitled "Environmental Exposures, DNA Methylation and Breast Cancer," aims to identify potential targets for therapeutic intervention and lead to refinements in current breast cancer treatment regimens.
Sadikovic, who is originaly from Bosnia, graduated on the Dean's Honour List from The University of Western Ontario with a Bachelor of Science Degree in Genetics (Honours) and has been the recipient of two special university scholarships.
He spent three summers as a research assistant under the supervision of Rodenhiser before he began his Masters of Science in September 2002. In April 2004, he successfully transferred in to the PhD graduate program in Biochemistry. His current research deals with the role of environmental toxins, specifically benzopyrene (B(a)P), a potentent carcinogen found in tobacco smoke and automobile exhaust, in damaging DNA related to breast cancer.
Please contact Dr. Ann F. Chambers for more information.
This article first appeared in the Page,
London Health Sciences Centre staff newsletter.
Used with permission.