No Decision About Me Without Me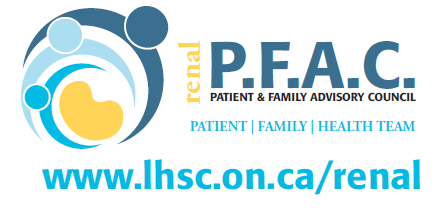 The Renal Patient & Family Advisory Council is passionate about improving the quality of the health care experience and has a strong desire to enhance the success of patient and family-centred care principles and services within the hospital. They volunteer their time to provide perspectives of patients and families towards the planning, development, implementation and evaluation of policies and programs that affect care and services delivered to patients and families in the Renal Program.
---
---
---
---
Council Achievements
---
Emergency Preparedness
---
Patient and Family Council Members
Bonnie Field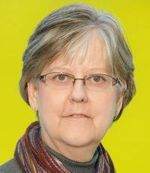 Bonnie was diagnosed with kidney disease in 2004. She had a failed transplant in 2010 and then started dialysis, first in hospital and then at home until 2012 when she had a second transplant. Bonnie is most grateful for the excellent care that she has received and looks forward to having a part on the Renal PFAC where there will be the opportunity to give something back, and have others benefit from the experiences that she has had.
Nancy Wilder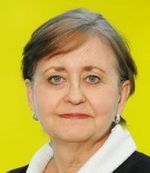 Nancy is wife to Bob, a dairy farmer and mother of 4 girls and one granddaughter. She is a former elementary school teacher with the Thames Valley Board of Education. In her spare time she is very active with the local curling club, gardening and the art centre as a potter. Nancy has been on hemodialysis since June 2009 and on home hemodialysis since November of 2009. She had originally tried PD but it was not successful. While dialyzing at the satellite clinic in Tillsonburg, a nephrologist suggested trying home hemodialysis and she hasn't looked back since. As a home patient, Nancy is very involved in her treatment and recognizes the importance that information and knowledge should play for all renal patients.
Nikki Anderson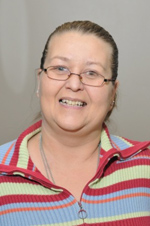 Nikki was 12 years old when she started dialysis. She was very lucky that London's Victoria hospital took her on for they had never performed hemodialysis on a child before. Since then she has had three transplants and is back on the transplant list again. This time she is dialyzing at home on PD and enjoying the freedom it brings with it. Nikki is 42 and has two dogs, a cat and a loving husband at home. She loves to read, paint, knit and the outdoors when not volunteering. Nikki joined PFAC in 2014 within that time she has joined many subcommittees including transportation, communications, recruitment, newsletter and one or two more. She is also involved with OPAC which is Oxford Poverty Action Coalition in Woodstock On. She loves life and lives by the moto Live, Love, Laugh.
Deb Beaupre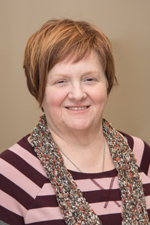 Deb has had diabetes for more than 35 years. Her kidneys failed in 2013 and she received a kidney transplant in 2015. Deb wants to talk about chronic kidney disease. More importantly, she wants people to listen to what she and other CKD patients have to say. She wants her healthcare providers to understand how surprised she was when her kidneys suddenly failed as the result of diabetes-related complications and how frustrated she was at having to crash start hemodialysis instead of being able to go straight to peritoneal dialysis. Deb wishes she knew earlier about the complications of diabetes. For Deb, her volunteer work, including participating in the Patient and Family Advisory Committee and speaking to community groups about organ donation, has been tremendously empowering. "It is very healing to speak and have people hear what I have to say."
Robert Barnicoat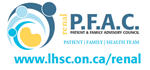 Robert Barnicoat was born and raised in London, Ontario. After high school he joined the US Navy and spent several years in Hawaii on various ships. After his Military service was complete he spent many years working in sales, and was named the Federated Department Stores Super Star in 2003. Robert returned to London in 2009 when he started hemodialysis to be near family. He decided to join the Renal PFAC after learning what it was all about, and hoped that he cold bring something to the organization that would benefit patients on dialysis.
Don Smith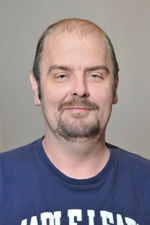 I have been a patient of the renal program since the age of 19. I started hemodialysis the first time in 1999, and had my first kidney transplant in 2001 which lasted 9 years. I did a further 4 years of hemodialysis and received another kidney transplant in September 2014. I decided to join the PFAC in 2014 because I have a lot of experience as a patient in the renal program, and I think patient and family centred care is very important to help and educate patients, families and staff in the renal program.

Betty Clinton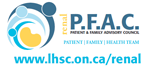 Cathy DuVal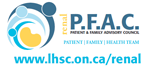 Cathy was officially diagnosed with Polycystic Kidneys (PKD) in the early 90's and has been attending the Kidney Clinic since that time.  She appreciates the support received from the doctors, nurses and staff over the years.  In 2014 her health deteriorated to the point where it was recommended that she look at the possibility of dialysis.  After having discussed her situation with staff who were most helpful about the decisions she would have to make, she chose Peritoneal Dialysis.  She has been on dialysis for two years and now feeling the benefits.  She feels fortunate with the wonderful assistance through the PD Clinic and the nurses from the home community support.  Thank goodness there are different options to choose for each individual case. She wants to be able to help others with the change that occurs in their lives which affected her on many different levels at the beginning.  She feels by joining The Renal Patient Advisory Council, this is one way to help.
Staff Members
Dr. Faisal Rehman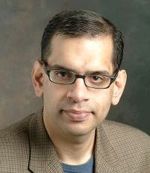 Dr Rehman is an Associate Professor of Medicine at the University of Western Ontario. He is the Clinical Clerkship Coordinator and Site Chief for Internal Medicine at LHSC - University Hospital. Dr. Rehman is actively involved in teaching nephrology and internal medicine to medical students, residents and clinical fellows at the Schulich School of Medicine and Dentistry at Western University, and he also runs a very busy clinical practice in his specialty of Nephrology. Dr. Rehman is an avid philanthropist, having established his own charity for the betterment of patients with kidney disease. The charity is aptly titled - Knock Out Kidney Disease.
Angela Andrews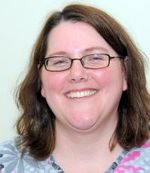 Angela is a Registered Nurse in the Hemodialysis Unit at University Hospital. Recently she has become involved with the concept of patient and family centred care, and is acting as a resource for the Renal PFAC. Since becoming a nurse, Angela has worked with renal patients, and has thoroughly enjoyed the bonds that are formed when working with patients who have a chronic illness. Through the Renal PFAC, Angela wants to gain insight from patients and families about the care they receive, and plans to alter her practice to become truly patient centered, which she hopes will help to improve the care of kidney patients.
Michele Ivanouski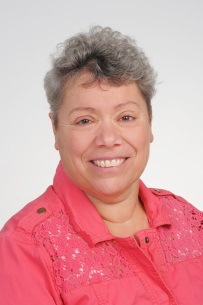 Upon receiving her RN diploma, Michele started her career at Toronto East General Hospital in pediatric surgery and medicine. The sudden death of her father had Michele return to the London area to be near family and she found work at Victoria Hospital. She has been employed in several areas including critical care, medicine, surgery, urology and nephrology. She has fielded calls from Ontarians during her time with Telehealth. Today, Michele works in peritoneal dialysis, pre-dialysis clinics and hemodialysis. She belongs to a narrative medicine group where patient stories are studied to improve practice. She has written about empathy in a personal story entitled, "From The Other Side of the Fence" in the book of the same name. Throughout the years, Michele has had the privilege of being coached by some excellent teachers, especially, her patients and their families! Michele looks forward to working with PFAC members to help contribute to positive patient experiences.
Contact Information
For more Information or to request an Application package, please contact:

Angela Andrews, BScN, RN
Renal PFAC Facilitator
(519) 685-8500 ext. 34411
renaladvisor@lhsc.on.ca

Helpful Links
Institute for Patient & Family Centered Care
http://www.ipfcc.org/

Canadian Foundation for Health Care Improvement
http://www.cfhi-fcass.ca/