Driving Change for Patients and Families, from Patient and Family Experience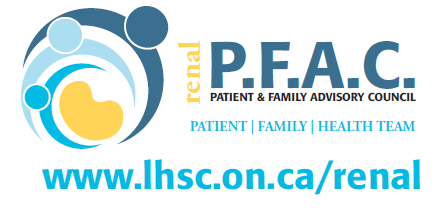 The Renal Patient & Family Advisory Council is passionate about improving the quality of the health care experience and has a strong desire to enhance the success of patient and family-centred care principles and services within the hospital. They volunteer their time to provide perspectives of patients and families towards the planning, development, implementation and evaluation of policies and programs that affect care and services delivered to patients and families in the Renal Program.
---
---
---
---
---
---
Emergency Preparedness
---
Patient and Family Council Members
Deb Beaupre: Committee Member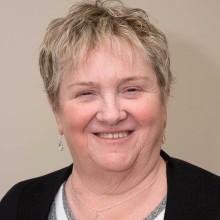 Deb has had diabetes for more than 35 years. Her kidneys failed in 2013 and she received a kidney transplant in 2015. Deb wants to talk about chronic kidney disease. More importantly, she wants people to listen to what she and other CKD patients have to say. She wants her healthcare providers to understand how surprised she was when her kidneys suddenly failed as the result of diabetes-related complications and how frustrated she was at having to crash start hemodialysis instead of being able to go straight to peritoneal dialysis. Deb wishes she knew earlier about the complications of diabetes. For Deb, her volunteer work, including participating in the Patient and Family Advisory Committee and speaking to community groups about organ donation, has been tremendously empowering. "It is very healing to speak and have people hear what I have to say."
Betty Clinton: Current Chair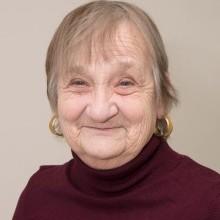 My son David was a dialysis patient for 15 years before passing. As his mother, I spent my time with him in dialysis and any and all other appointments he had.  After his passing, I joined the Renal Patient Family Advisory Council which I have been part of for 3 years
Although I am not a renal patient I was welcomed to this council. I hoped as a family member I could contribute in a small way to this hard-working committee that  works very hard  to help all Renal Patients who have to learn a new way of life.
Cathy DuVal: Committee Member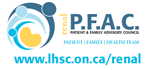 Cathy was officially diagnosed with Polycystic Kidneys (PKD) in the early 90's and has been attending the Kidney Clinic since that time.  She appreciates the support received from the doctors, nurses and staff over the years.  In 2014 her health deteriorated to the point where it was recommended that she look at the possibility of dialysis.  After having discussed her situation with staff who were most helpful about the decisions she would have to make, she chose Peritoneal Dialysis.  She has been on dialysis for two years and now feeling the benefits.  She feels fortunate with the wonderful assistance through the PD Clinic and the nurses from the home community support.  Thank goodness there are different options to choose for each individual case. She wants to be able to help others with the change that occurs in their lives which affected her on many different levels at the beginning.  She feels by joining The Renal Patient Advisory Council, this is one way to help.
Bonnie Field: Committee Member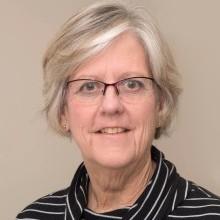 Bonnie was diagnosed with kidney disease in 2004. She had a failed transplant in 2010 and then started dialysis, first in hospital and then at home until 2012 when she had a second transplant. Bonnie is most grateful for the excellent care that she has received and looks forward to having a part on the Renal PFAC where there will be the opportunity to give something back, and have others benefit from the experiences that she has had.
John Witteveen: Committee Member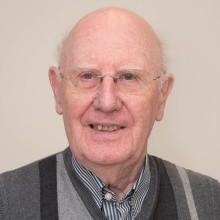 John was born in the Netherlands and immigrated to Canada at age 14 with his parents and 5 siblings. He grew up on a large dairy farm on Vancouver Island and graduated from BCIT in 1969 in accounting. For 5 years he worked as an accountant in Vancouver until accepting a new job in Toronto in 1973, moving to the GTA with his wife and their three boys. John retired in 2002, moving to London where their families Renal journey began. His wife Wiepie was diagnosed with a chronic kidney condition, which led them to hemodialysis 3 times a week for the last 8 years at our Westmount Kidney Care Centre.  It was actually another patient who encouraged John to join PFAC in 2016. Bob was an active PFAC member at the time and saw the value in hearing the family's perspective in addition to the patients. Unfortunately, Bob recently passed away, but his legacy lives on in the continued advocacy and growth of the PFAC committee.  John feels as though he has learned a lot since joining, and has been able to take part in many positive changes driven to improve patient care. 
Staff Members
Dr. Faisal Rehman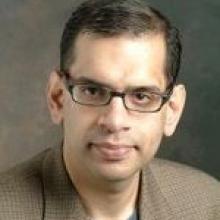 Dr. Rehman is an Associate Professor of Medicine at the University of Western Ontario. He is the Clinical Clerkship Coordinator and Site Chief for Internal Medicine at LHSC - University Hospital. Dr. Rehman is actively involved in teaching nephrology and internal medicine to medical students, residents and clinical fellows at the Schulich School of Medicine and Dentistry at Western University, and he also runs a very busy clinical practice in his specialty of Nephrology. Dr. Rehman is an avid philanthropist, having established his own charity for the betterment of patients with kidney disease. The charity is aptly titled - Knock Out Kidney Disease.
Ashley Papathanassiou: Renal Facilitator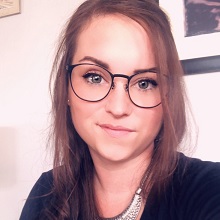 Ashley is a Registered Practical nurse working within the hemodialysis unit at University Hospital. Ashley has worked in various areas of the pre-dialysis clinics over the years, providing her with wholistic understanding of LHSCs Renal program. Prior to joining the renal team, Ashley provided bedside inpatient care to general medicine patients at the Victoria Hospital campus. Throughout her career as a nurse, she has always focused her practice on the patient experience, strongly believing in patient centered care. She has been fortunate to have been involved with patients at many different stages of Chronic Kidney Disease, and has had the privilege of witnessing a variety of patient journeys. As the Renal PFAC Facilitator, Ashley hopes to gain greater insights from patients and families about the care they receive and plan ways to help improve the day-to-day care of kidney patients. 
April Mullen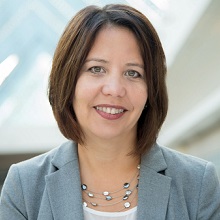 April Mullen, Director of the Renal Program, has been a Registered Nurse for 23 years.  Throughout this time period, she has worked in a variety of clinical settings including Mental Health, Complex Care, General Medicine and Surgery, and Oncology.   April achieved her Bachelor of Science in Nursing in 2002, and a Business Masters in Health Management in 2017. 
April's approach to patient-centered care is based on the philosophy that the planning, delivery and evaluation of health care is based on partnerships with patients and families to ensure that we deliver care outcomes that are patient centered.  April is excited to champion patient and family centred care throughout the Renal Program.
Contact Information
For more Information or to request an Application package, please contact:

Ashley Papathanassiou RPN
Renal PFAC Facilitator
(519) 685-8500 ext. 34411
renaladvisor@lhsc.on.ca

Helpful Links
Institute for Patient & Family Centered Care
http://www.ipfcc.org/

Canadian Foundation for Health Care Improvement
http://www.cfhi-fcass.ca/