Welcome to the London Regional Cancer Program (LRCP) at London Health Sciences Centre (LHSC), a world-class cancer care facility. For more than 50 years providing the highest quality care to patients and their families from across the region of Southwestern Ontario. Our catchment area includes the counties of Middlesex/London, Elgin, Oxford, Perth, Huron, Grey, Bruce, Lambton and Kent.
For more information on a variety of topics for all stages of cancer care, please visit the Patient Information Zone.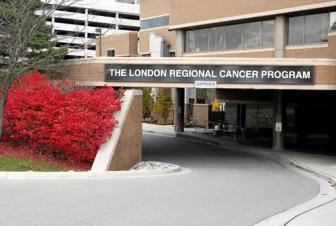 LRCP provides inpatient and outpatient cancer care including radiation therapy and chemotherapy as well as a full range of support services to help cancer patients and their families throughout the treatment process.
Support services at LRCP include social workers, diet and nutrition counselling, spiritual care, a pharmacy, patient education programs, and a Patient and Family Resource Centre.
Our hours of operation are Monday to Friday: 8:00 a.m. to 6:00 p.m. Some services such as support groups may meet outside these hours. Refer to Contact LRCP for detailed information about how and when to contact us.
LRCP is the cancer services program of London Health Sciences Centre (LHSC) . The Ministry of Health and Long –Term Care provides partial funding to LRCP through Cancer Care Ontario.
Through fundraising efforts and the generosity of our community members, the London Health Sciences Foundation ensures LRCP/LHSC remains on the leading edge of medical advances and maintains its mission of excellence in patient care, education and research.
As a research and teaching hospital, LRCP strongly supports the education of people who choose a career in cancer care. One or more health profession students may be involved in your treatment under the direct supervision of LRCP staff members.
Community healthcare professionals are important members of your healthcare team and work closely with staff at LRCP to plan and coordinate care for cancer patients across Southwestern Ontario.
Helpful Links:
University of Western Ontario (UWO)