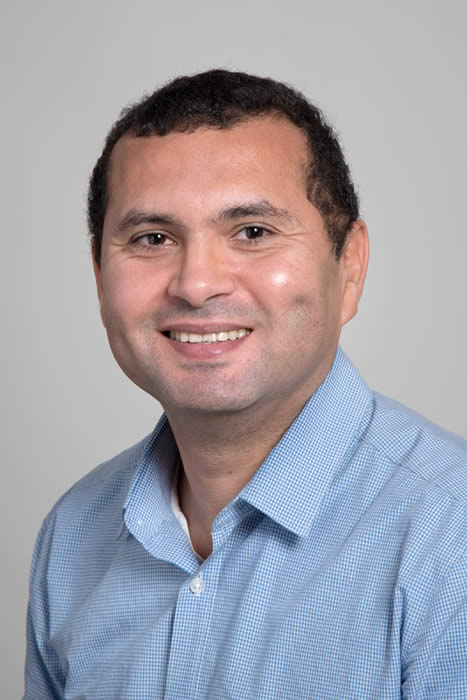 Medical Physicist, London Regional Cancer Program
Assistant Professor, Department of Medical Biophysics, Schulich School of Medicine & Dentistry, University of Western Ontario.
Contact information:
Physics and Engineering Department
London Regional Cancer Program
790 Commissioners Rd E
London, ON N6A 4L6
Tel: 519-685-8300 Ext 54523
Fax: 519-685-8658
Email: hatim.fakir@lhsc.on.ca , hfakir@uwo.ca
Clinical interests:
Frameless cranial stereotactic radiosurgery (SRS)
Image guided stereotactic body radiation therapy (SBRT) with special focus on VMAT treatments of the brain, prostate and lung.
High dose rate brachytherapy
Research interests:
Stochastic modeling of cancer progression and tumour control probability (TCP)
Biology based optimization of radiation therapy protocols
Treatment planning and quality assurance for linac based multiple lesion SRS treatments
Education and background:
Ph.D., Ibn Tofail University (Morocco), Nuclear physics.
PostDoc, Institut de Radioprotection et de Sûreté Nucléaire (France): development of a Monte Carlo code for the microdosimetry of alpha particles in the lung.
PostDoc, Institute of Physics and Biophysics (Salzburg, Austria): Mathematical modeling of radiation-induced DNA damage and oncogenic transformations.
PostDoc, Center for Pure and Applied Mathematics, UC Berkeley (USA): Biologically-based mathematical modeling of radiation-induced carcinogenesis with focus on tumor progression and factors that modulate it such as dormancy and angiogenesis.
 Selected publications:
Fakir H, Hlatky L, Li H, Sachs R. Repopulation of interacting tumor cells during fractionated radiotherapy: stochastic modeling of the tumor control probability. Med Phys. 2013, 40(12):121716.

Fakir H, Hofmann W, Sachs RK. Modeling progression in radiation-induced lung adenocarcinomas. Radiat Environ Biophys. 2010 May; 49(2):169-76.

Fakir H, Tan WY, Hlatky L, Hahnfeldt P, Sachs RK. Stochastic population dynamic effects for lung cancer progression. Radiat Res. 2009 Sep; 172(3):383-93.

Fakir H, Gaede S, Mulligan M, Chen JZ. Development of a novel ArcCHECK(™) insert for routine quality assurance of VMAT delivery including dose calculation with inhomogeneities. Med Phys. 2012 Jul; 39(7):4203-8.

Fakir H, Hofmann W, Tan WY, Sachs RK. Triggering-response model for radiation-induced bystander effects. Radiat Res. 2009 Mar; 171(3):320-31.

Fakir H, Sachs RK, Stenerlöw B, Hofmann W. Clusters of DNA double-strand breaks induced by different doses of nitrogen ions for various LETs: experimental measurements and theoretical analyses. Radiat Res. 2006 Dec; 166(6):917-27.

Sachs RK, Shuryak I, Brenner D, Fakir H, Hlatky L, et al. Second cancers after fractionated radiotherapy: stochastic population dynamics effects. J Theor Biol. 2007 Dec 7; 249(3):518-31.