Garden of Life - a tribute to donors and their families
During the 2010 National Organ and Tissue Donation Awareness Week, the Multi-Organ Transplant Program invited the public and media to the unveiling of the Garden of Life's new dedication rock. Speakers at the unveiling included Jaynel White, representing donor families, and John Neal, a heart transplant recipient. This year's effort to refresh the Garden, located in Ivey Park at the Forks of the Thames, was truly collaborative with support from a number of community groups and businesses including the City of London, Fanshawe College Horticulture Class of 2010, Old Navy (3329) Wellington Road location as well as Parkway Gardens.
Since 1973, almost 5,000 organ transplants have been done at London Health Sciences Centre and the Children's Hospital. In London, we are fortunate the organ donation rate is almost twice that of anywhere in Canada and is the highest in the province. However, this is still not enough to meet the needs of our patients.
At this very moment, nearly 4,500 Canadians are on a waiting list to receive a new organ and a second chance at life. Thousands more are waiting for a tissue transplant. The decision to donate organs and tissues after death is a personal one. Once you have made your decision, it is important to make your family aware of your donation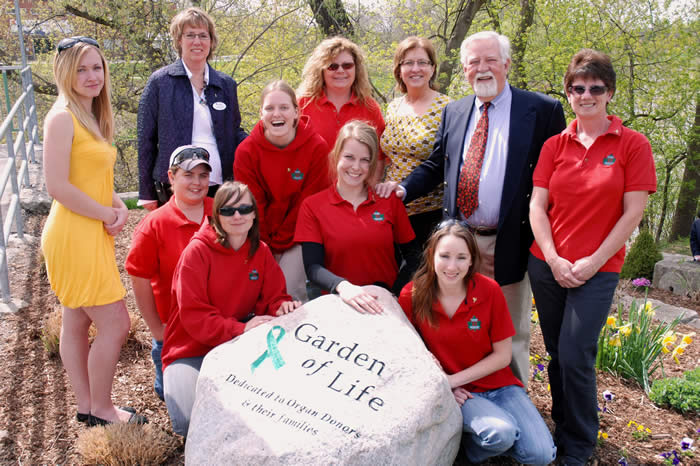 wishes. You can also register your wishes on the Be a Donor website.
Students of Fanshawe College's Horticulture Technician Program (in red) joined in the unveiling of a new dedication rock in the Garden of Life along with (from left) Jaynel White (donor family), Jennifer Cross (nurse practitioner, Multi-Organ Transplant Program), Cate Abbott (information & resources, Multi-Organ Transplant Program) and John Neal (heart transplant recipient). Many thanks to Natalie Gerstsmar, liver transplant recipient, and her co-workers at Old Navy for donating the engraved rock, which was installed to help improve the garden's visibility alongside one of the park's walking paths.
Background:
In 1999, White Rose Home & Garden sponsored a provincial-wide campaign, generously offering to create a garden dedicated to a worthwhile cause in every White Rose community. LHSC's Transplant Awareness Committee was already well aware of some gardens in other communities, all of which highlighted organ and tissue donation and transplantation.
This seemed the perfect opportunity to submit the Committee's ideas, in the hopes that our cause would be selected from the many worthwhile applications received. The garden would symbolize the chance for new life resulting from organ and tissue donation, yet also serve as a tribute to donors and their families. Committee members and transplant staff were delighted that the new garden to be created would be called the "Garden of Life."
Jennifer Cross, nurse practitioner for the kidney transplant program and also a member of the Committee, contacted the City of London. They gave their full support, offering a selection of sites in public parks. The Committee chose a beautiful area at the Forks of the Thames, overlooking the Thames River. The garden was planted in late August by White Rose staff. Along with two small trees, the garden has 100 perennial flowers and shrubs, all donated by White Rose. Thanks goes to Dr. Norm Muirhead, a nephrologist at University Hospital, LHSC for arranging the donation of a large rock from Global Stone in Ingersoll. A plaque, donated by Forest Lawn Memorial, is affixed to the rock. The plaque says "This garden is dedicated to organ and tissue donors and their families. Transplantation saves lives - Help life bloom eternal."
On September 23, 1999, the Garden of Life was dedicated to organ and tissue donors and their families. Dr. Bill Wall, transplant surgeon, thanked the generous sponsors: White Rose Home & Garden for planting the garden; City of London for granting the park space and for maintaining the garden; Global Stone for donating the rock and Can-Tario Precast Limited for delivering it; and Forest Lawn Memorial Gardens for donating the plaque. Susan Morrison spoke as a representative of donor families. When Susan's husband, Bill, died in August 1998, she donated many of his organs and tissues so others could live. Transplant recipients and their family members also attended along with some Transplant Program staff.
In 2006, the City of London, with their beautification project, made changes to the Forks of the Thames area. The Garden of Life was relocated a small distance from its original site to a more visible location. Members of the Transplant Awareness Committee and other volunteers have helped to maintain the garden, which is enjoyed by thousands  throughout the year as they walk through this downtown parkland.