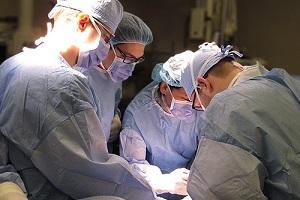 Welcome to the Multi-Organ Transplant Program at London Health Sciences Centre (LHSC) in London, Canada. This website provides information about the donation and transplantation process in London and the surrounding area.
Important Information for Our Recipients:
The Multi-Organ Transplant Program at LHSC is one of the leading transplant programs in Canada, performing about 200 transplants annually. More than 6,000 Canadians have received transplants, including kidney, liver, heart, kidney-pancreas, pancreas, and multi-organ transplantation.
The London region has one of the highest organ donation rates across all of Canada. Yet, in order to continue helping our patients, we need to continue increasing public commitment to discuss organ donation wishes with family members and also register consent through ServiceOntario: https://beadonor.ca/lhsc.
Just one organ donor can save up to eight lives, but at any given time there are more than 1,500 people in Ontario waiting for a life-saving organ transplant, and every three days one of them dies while waiting. The green ribbon is the international symbol to show support for organ donation and transplantation.