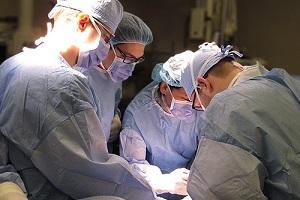 Welcome to the Multi-Organ Transplant Program (MOTP) at London Health Sciences Centre (LHSC) in London, Canada. This website provides information about the donation and transplantation process in London and the surrounding area.
The MOTP is one of the leading transplant programs in Canada, performing about 200 transplants annually. More than 6,000 Canadians have received transplants, including kidney, liver, heart, kidney-pancreas, pancreas, and multi-organ transplantation.
The London region has one of the highest organ donation rates across all of Canada. Yet, in order to continue helping our patients, we need to continue increasing public commitment to discuss organ donation wishes with family members and also register consent through Service Ontario: https://beadonor.ca/lhsc.
Just one organ donor can save up to eight lives, but at any given time there are more than 1,500 people in Ontario waiting for a life-saving organ transplant, and every three days one of them dies while waiting. The green ribbon is the international symbol to show support for organ donation and transplantation.
Important Information for Patients on LHSC Transplant Waiting Lists or Being Assessed at LHSC for a Transplant:
As you know, COVID-19 is currently a major public health problem. Transplant patients are at a higher risk than the general public of becoming very ill or dying from COVID-19 if they become infected. After transplant, transplant patients have a much lower response to the COVID-19 vaccine than the general public because of the anti-rejection drugs. Therefore, it is very important for your health and the best chance for success after transplant that you get your vaccine before your transplant. The COVID-19 vaccine is safe and effective. It has been given to millions of people including those waiting for transplants. For these reasons, the Multi Organ Transplant Program at LHSC has a procedure requiring patients to have at least two doses of a Health Canada approved vaccine before they are active on the transplant waiting list. You will be asked for proof of vaccine – a copy of your vaccine receipt can be emailed to your Transplant Team at motslhsc@lhsc.on.ca. If you are not vaccinated, you will be placed on hold until one week after your second dose. Every patient case is unique and we know that there may be situations where you are not able to get the vaccine. These include medical exemptions, the need for urgent transplant or other specific situations. Exemptions to this are the same as those recommended by the Ontario Ministry of Health and will be considered on a case by case basis and must be approved by your Transplant Team. If you think that you qualify for an exemption, you need to discuss this with your Transplant Team.
Important Information for Our Recipients:
updated 2021 Sep 21
As you may have heard in the news, Ontario has announced that vulnerable individuals including organ transplant recipients will be eligible to receive a third dose of a COVID-19 vaccination. The LHSC Transplant Physicians, Surgeons and Infectious Diseases Specialists all recommend receiving a third dose. Canada's National Advisory Committee on Immunization (NACI) also recommends the 3rd dose for immunocompromised individuals including transplant recipients.
The following are the directions from the Middlesex London Health Unit (MLHU):
A referral form will be required. It will be available on the MLHU website.
The referral form is your proof of eligibility. Anyone arriving for a 3rd dose without the form will be turned away from the Vaccine Clinics in MLHU region.
Providers (people who can sign the referral form for the 3rd dose) include Physicians, Nurse Practitioners and Pharmacists.
Primary Care Physicians in the MLHU region will be notified by the MLHU that you are eligible and will have the referral form.
The Ministry of Health is notifying all Pharmacist in MLHU region of 3rd dose process. It is suggested that you contact your Pharmacist to assure that they are set up to offer the 3rd dose.
Effective August 30, 2021 the London Agriplex Vaccination Centre as well as ALL other Middlesex London Vaccine Clinics will accept transplant recipients with a 3rd dose referral form. Walk-ins are welcome. If you wish to make an appointments, you can only do this by phone 226-289-3560 (9:00 AM to 5:00 PM Monday to Sunday).

Note Vaccine Centres have reduced hours and are open on different days of the week. For hours of availability, check the MLHU website: www.healthunit.com/covid-19-vaccine-eligibility#hours
The Agriplex Vaccination Centre (845 Florence St, London):Thursday to Monday, 11:00 AM to 6:00 PM (both Pfizer and Moderna)

There are new on-site Vaccination Clinics at University Hospital and Victoria Hospital - no appointment is required but you will need a signed referral form. If you have an appointment at the hospital, you can get a signed referral form in the Transplant Clinic.

University Hospital - B3 (third floor by the auditorium, the old library) Monday-Friday, 8:30-13:00 (Pfizer only)
​​​Victoria Hospital - B1 (by the Foundation Offices) Monday-Friday, 9:00-17:00 (Pfizer only)

mRNA vaccines are interchangeable - you may choose to have the same vaccine as your 2nd dose but if it is not available, you can accept either. 
What are Health Units in Ontario doing? With your help, we would like to let our recipients across the province know how to get their dose locally if possible. Please let us know about your region. Email - motslhsc@lhsc.on.ca
Middlesex London Health

Signed referral form required
Walk ins at Vaccination Centres
Vaccination Clinics at University Hospital and Victoria (hours above)

Lambton Public Health

Register for your 3rd dose or call 226-254-8222 Monday to Friday 9:00AM to 4:00PM
Walk-in accepted at most clinics - Clinics are listed here
Require proof of transplant - accepting letters from LHSC Transplant Program or Referral Form

Southwestern Public Health
Require a signed referral form from their health care provider (e.g. primary care provider, specialist, or hospital specialty program). Will accept MLHU referral form. 
Clinic locations and hours can be found here.
Windsor Essex Health Unit
Call to book an appointment
Require proof of transplant - accepting letters from LHSC Transplant Program or Referral Form
Huron Perth Health Unit

Required documentation from your healthcare provider, or you will be asked to attest to your medical condition that makes you eligible and that you have received direction from your HCP to receive a third dose.
- Bookable clinic locations and dates 
- Walk-in

Grey Bruce Health Unit
Chatham Kent Health Unit
CK Public Health is currently planning 3rd dose distribution.  Specialists, primary care and Public Health will be able to provide more information soon about how people can get their 3rd dose for those that are currently eligible. For more information on 3rd dose eligibility, please see here.

3rd dose available at MLHU Vaccination Clinics or LHSC - signed referral required
Niagara Health
Eligibility letters are required for third doses and must include:
- Dated and on letterhead
- Contact information for physician, specialist or medical practice of individual completing the form
- Patient's name (typed/generic letters will not be accepted)
- List of specific criteria required for patient eligibility
- Patient's eligible condition for third dose
Available at:
- St. Catharines Site as walk-in only between 8 am and 3 pm (closed between 12 and 1 pm) on a first-come, first-served basis
- any Niagara Region Public Health Vaccination Clinic
- Clinic schedules can be found here
Public Health Sudbury & Districts
Health care providers will contact eligible individuals to provide a third dose or to provide individuals with a referral form to get their third dose. The referral form is required and must be brought with individuals to a clinic in order to get a third dose. In addition to health care providers' offices and pharmacies, individuals can access a third dose at Public Health led vaccination clinics provided they have a completed referral form in hand.
Algoma Public Health
3rd doses are not offered at the 'no appointment necessary' clinics
Consult your healthcare provider (Nephrology Clinic or Family Doctor)
Thunder Bay District Health Unit

Health care providers who are currently providing the COVID-19 vaccine will administer third doses to their patients.
Health care providers that are not able to provide vaccination must identify eligible patients and complete a referral form for the patient to bring to their vaccination appointment or walk-in at either the TBDHU CLE Coliseum clinic or, for those living in a District community, their local Family Health Team.
Patients must present a completed referral form, signed by their health care provider, at the time of vaccination. Without this form, a third dose will not be given. Please contact your health care provider to obtain a signed referral form. If you have any questions please contact the TBDHU at 807-625-5900 or vaccines@tbdhu.com with any questions.
Referral forms from other Health Units are acceptable.
Finally and most importantly, please remember to continue to practice safe COVID-19 preventative measures including physical distancing, mask wearing while indoors and hand washing. Please stay safe!
Please do not hesitate to contact your transplant team if you have any questions or concerns.
If you are an LHSC transplant recipient and would like to be notified by email as soon as we have new information, please provide your name, type of organ transplant and preferred email to motslhsc@lhsc.on.ca.
LHSC Transplant Program Resources:
Other Resources:
Great Lake Swim
August 3, 2021

New!!! - The Great Lake Swim

Congratulations to Jillian Best, liver transplant recipient - successful in her swim across Lake Ontario!!!

August 3, 2021 - As London's Damien Warner had the eyes of the world on him with the start of his successful quest for Olympic gold in the decathlon, London's Jillian Best set out to conquer her own challenge with the support of family, friends and staff. Setting off from the shores of Niagara on the Lake and completing her 52km swim across Lake Ontario the next day, Jillian was successful in both her missions: raising awareness about organ donation and transplantation and raising funds for the LHSC Transplant Program. You can read more about Jill's story on the Move for Life Foundation website.

If Jill's story inspires you, please consider supporting this worthwhile cause by donating. Go here to donate.