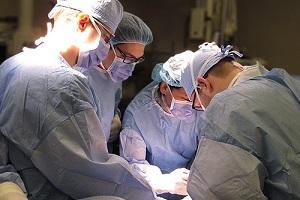 Welcome to the Multi-Organ Transplant Program at London Health Sciences Centre (LHSC) in London, Canada. This website provides information about the donation and transplantation process in London and the surrounding area.
Important Information for Our Recipients:
Organ transplant recipients are now eligible to receive their COVID-19 vaccination. In addition, one (1) primary essential caregiver is also eligible to receive the vaccine. Primary essential caregivers are individuals who provide regular and sustained assistance with personal care and/or activities of daily living.
LHSC has mailed out vaccination booking instructions for Middlesex London Health Unit (MLHU) to all recipients being followed by our Transplant Program. If you do not live in London or Middlesex County, and it is difficult to come to the area to receive the vaccine, please contact your local public health unit for details on how to receive the vaccine in your region.
According to provincial recommendations, transplant recipients are exempt from the extended wait period between doses. Some of our recipients are having difficulty scheduling their 2 dose appointment through their local health units - these units may not have been directed as of yet to shorten the time. We will keep you updated as we learn more. The Ontario Ministry of Health has provided the following documentation:
"Recommended Dose Interval: Transplant recipients (including solid organ transplants and hematopoietic stem cell transplants) should receive the COVID-19 vaccine at the dose interval as indicated in the product monographs for COVID-19 vaccines."
Please see the letter about the vaccine from our Transplant Medical Directors as well as the Frequently Asked Questions sheet below. Do not hesitate to contact your transplant team if you have any questions or concerns.
New!!!
Join our Transplant Pharmacist for an online/virtual medication class. The class offers a refresher of your medications and a chance to have your questions answered. Classes are held every Wednesday at 2:00 PM. If you are interested, email us here and someone will get back to you with a link to the next class.
The Multi-Organ Transplant Program at LHSC is one of the leading transplant programs in Canada, performing about 200 transplants annually. More than 6,000 Canadians have received transplants, including kidney, liver, heart, kidney-pancreas, pancreas, and multi-organ transplantation.
The London region has one of the highest organ donation rates across all of Canada. Yet, in order to continue helping our patients, we need to continue increasing public commitment to discuss organ donation wishes with family members and also register consent through Service Ontario: https://beadonor.ca/lhsc.
Just one organ donor can save up to eight lives, but at any given time there are more than 1,500 people in Ontario waiting for a life-saving organ transplant, and every three days one of them dies while waiting. The green ribbon is the international symbol to show support for organ donation and transplantation.