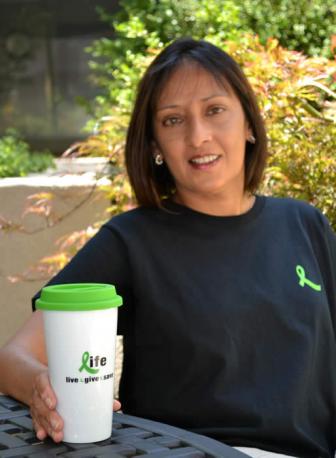 For more than 25 years, the transplant program's Transplant Awareness Committee has worked to increase awareness about the need for organ donation and the success of transplantation.
As well as taking part in various campaigns and community events, this small committee has developed some merchandise to help spread the word! They want everyone to consider organ and tissue donation, and talk with their family about their donation wishes. Transplants save lives.
Your support can make a difference! This e-store is a non-profit initiative with all proceeds from sales going towards further promotion of organ donation and transplantation.
Along with clothing (jackets, t-shirts, ball cap), we have lots of accessories, including blank notecards, water bottles, mugs, fleece blankets, and license plate holder that feature our new slogan "Life .... live, give, save" as well as the green ribbon.  
Visit the online store to see the new women's jacket with embroidered green ribbon (also available in men's).
Our newest t-shirt encourages everyone to 'Talk about it...'. Available in both ladies and unisex.
We are still offering the ever-popular t-shirt ("Don't take your organs to Heaven, Heaven knows we need them here") in Irish green and navy.