Currently, the Multi-Organ Transplant Program has Fellows in kidney transplantation (both surgery and nephrology) and liver transplantation (surgery and hepatology). Kidney transplant Fellows will also gain experience with kidney-pancreas transplantation.
The Fellowship Program is accredited with the American Society of Transplant Surgeons for surgical training in kidney and liver transplantation. Fellowships are usually two years in duration; after training, Fellows are competent in all aspects of transplantation including multi-organ procurement, pre-transplant assessment, operative and perioperative care (including immunosuppression), and long-term followup.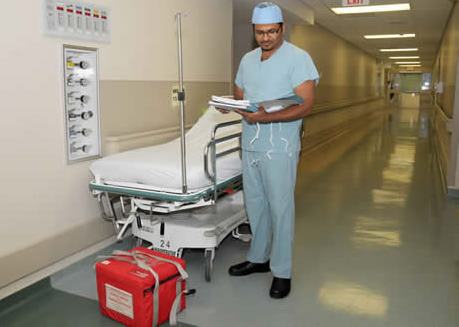 Many of our Fellows are Canadian, although doctors come here for training from many other countries, including Australia, China, England, India, Ireland, Japan, Pakistan, Saudi Arabia, Turkey, and the United States among others.
Clinical Fellows are categorized as physicians who are acquiring post-certification training. By definition, these physicians are recognized specialists in their given field who are obtaining a purely educational experience beyond certification requirements. Applicants who are graduates of acceptable, unaccredited medical schools (outside of North America), must hold approved temporary work authorizations for the duration of their appointment, which cannot exceed a 24-month period.
All positions will be funded by non-Ministry of Health funding sources and physicians who will be strictly engaged in clinical functions will hold a certificate of registration on the educational registry with the Ontario College of Physicians and Surgeons. It is recognized that these physicians will not add to the physician resource pool as they are required to provide an annual signed waiver indicating their intentions to return to their country of origin upon completion of their training program. As clinical functions will not be pursued during research fellowship appointments, no certificate of registration authorizing postgraduate training is required. There is a minimum of six months lead time required which should allow for the necessary procedural and regulatory requirements to be completed.
Postgraduate Medical Education at Western University takes care of the initial appointment of Fellows:
Postgraduate Medical Education
Medical Sciences Building, Room MSB 103
Schulich School of Medicine & Dentistry, Western University
London, Ontario, Canada, N6A 5C1
Tel: 519.661.2019 • Fax: 519.850.2492
In addition to the Clinical Fellows, residents in the gastroenterology and nephrology sub-specialty programs at Western have two to three month rotations in transplant hepatology and nephrology, respectively. In addition, a urology resident rotates through the Transplant Program. Because of the interdisciplinary involvement of transplantation, residents in other Western training programs also receive education by exposure to transplant patients. The most obvious examples are critical care and anesthesia residents.