Disclaimer to the On-line Edition

This Manual has been designed for use in the NICU at London Health Sciences Centre (LHSC), London, Ontario, Canada, and represents clinical practice at this institution. The information contained within the Manual may not be applicable to other centres. If users of this Manual are not familiar with a drug, it is recommended that the official monograph be consulted before it is prescribed and administered. Any user of this information is advised that the contributors, Editor and LHSC are not responsible for any errors or omissions, and / or any consequences arising from the use of the information in this Manual.
HYALURONIDASE
Indication
the management of IV extravasations (leakage of an IV fluid out of a vein and into surrounding tissue).
NOT for the management of extravasation due to vasoactive medications (eg. dobutamine, dopamine, epinephrine, norepinephrine, phenylephrine).
Pharmacology
hyaluronidase is an enzyme that breaks down hyaluronic acid, which is a major component of the normal interstitial barrier of the body's connective tissues
this results in the diffusion of the extravasated fluids, causing a dilution effect and a reduction in tissue destruction
the interstitial barrier is reported to be completely restored within 24 to 48 hours
first described in 1929 and referred to as a "spreading factor"
hyaluronidase has been shown to be effective with extravasation of calcium, parenteral nutrition, penicillin, gentamicin, aminophylline, potassium, radiographic dye, sodium bicarbonate and mannitol
most effective if administered within 1 hour of the extravasation, but may still be beneficial as long as 12 hours later
in less than 10 minutes hyaluronidase use results in diffusion of the extravasated fluid over an area 3 to 5 times larger than if the injury was left untreated.
Side Effects
possible side effects include tachycardia, hypotension, erythema, vomiting, urticaria
Warning
NOT the agent of choice for management of extravasation of vasoactive medications
do NOT inject around infected or inflamed areas
Dose
Reconstitute and then dilute to a final concentration of 15 unit/mL using 0.9% NaC1
 
Reconstitution and dilution directions:

Reconstitute a 1,500 unit ampoule with 1 mL 0.9% NaCI
(concentration = 1,500 units / mL)
Draw up 0.1mL (of 1,500 units/mL solution) and add to 9.9 mL 0.9% NaCI
(concentration = 150 units / 10mL = 15 units / mL)

may be given by 2 methods
Directly through IV catheter

leave IV catheter or needle in place
aspirate the infiltrated IV fluid, if possible
pull back the IV catheter or needle 1-2 mm to remove it from the vein, but leaving it in the subcutaneous tissue
inject 1 mL (15 units/mL of hyaluronidase through the catheter, then remove the catheter
 

Subcutaneous (sc) injection around affected area

inject 0.2 mL (15 units/ mL) sc in up to 5 separate sites around the affected area (see Diagram)
the needle (use 25 g or smaller) should be changed after each injection
HYALURONIDASE TREATMENT OF AN EXTRAVASTION INJURY MAY BE TREATED BY A PHYSICIAN, NEONATAL NURSE PRACTITIONER OR A TRAINED REGISTERED NURSE UNDER THE SUPERVISION OF AN MD OR CNS.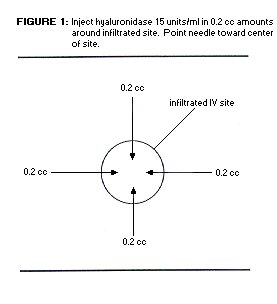 Figure 1 is from Reference #134
Supplied
1,500 units ampoule (lyophilized powder)
trade name is Hyalase®
note that "IU" means International Unit (just 'unit' is used in our monograph)
References
Banta C : Hyaluronidase, Neonatal Network 1992; 11: 103-5.
Flemmer L and Chan JSL : A pediatric protocol for management of extravasation injuries, Pediatric Nursing 1993; 19 : 355-8, 424.
"Hyaluronidase" in Taketomo CK, Hodding JH and Kraus DM : Pediatric Dosing Handbook, 1998-99, 5th Edition, American Pharmaceutical Association.
Zenk KE, Dungy CI and Greene GR : Nafcillin extravasation injury - use of hyaluronidase as an antidote, Am J Dis Child 1981; 135 : 1113-4.
New: October 2002
Last Uploaded: Thursday, 26-May-2011 00:53:39 EDT