What Can Parents Do?
Ask Questions
It is ok to ask a lot of questions. Ask the nurses and the doctors about anything you don't understand. You can write your questions on your white board at your baby's bedside so you remember to ask.
Questions you can ask about caring for your baby:
How is my baby doing?
Can I hold my baby?
How can I help my baby?
What happens if my baby is in pain?
Has anything changed?
What do I need to learn about my baby before we go home?
Questions you may want to ask about your baby's condition:
What medicine is my baby getting?
Where can I get more information?
How serious is this condition?
What are the treatment options?
Will my baby have to see other doctors?
What should I do if I have more questions?
Is this a short term or long term condition?
Questions you may want to ask about your baby's medicine, tests or medical equipment:
How does this medicine help my baby?
How does this medical equipment help my baby?
What tests are you going to be doing and why?
Parents are encouraged to attend morning bedside rounds. Your baby's progress is presented to the medical team and the plan of care is decided. You are a valuable member of the care team, please share your thoughts about how your baby is doing, and discuss any concerns or questions you may have. Rounds are daily between the hours of 9:30-12:00.
Participate in your baby's care as much as possible, so you feel prepared and confident providing your baby's care at the time of discharge. Your bedside nurse will teach you how to take your baby's temperature, change the diaper, the importance of developmental care, bathing, skin care, hand hugging, encircled holding, skin-to-skin care and mouth care. Taking care of your baby allows you time to bond with your baby. Your involvement has the potential to have long-lasting effects on your baby's physical, cognitive and psychosocial development.
Developmental care is a strategy that is used in the NICU to help reduce the amount of stress that a premature baby experiences. NICU's tend to be loud, bright and busy, making it difficult for babies to rest, grow and get better. Developmental Care helps the NICU be more baby- friendly. 
Watch the video 'No Matter How Small: A Parent's Guide to Preterm Development' on YouTube. 
Keep the NICU Environment Clean
Keep the NICU environment as clean as possible and remember to wash your hands and/or use the hand sanitizer provided to reduce the risk of infection.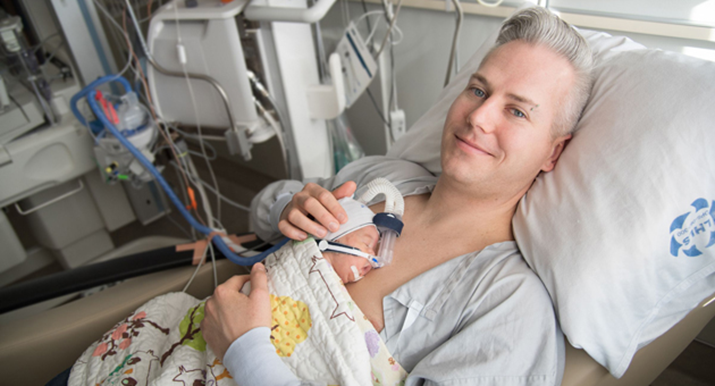 Engage with Your Baby
Read your baby a story or sing quietly. Remember your baby knows your voice and this helps to provide comfort to your baby and helps with brain development. During the first three years of life your baby's brain grows faster than at any other time. You are helping your baby with early language learning.
Participate in skin-to-skin sessions daily. Ask the team when your baby will be ready for skin-to-skin sessions.
If your baby is not ready for skin-to-skin sessions you may also do some gentle still touch. One way to do this is to do hand hugs also called a containment hold. Place very light pressure on your baby's head with one hand and put your other hand gently on their tummy or you can cup your baby's feet. When you touch your baby try not to stroke them as this can be overwhelming for babies. Doing hand hugs can help to calm your baby. This touch can also make you feel better.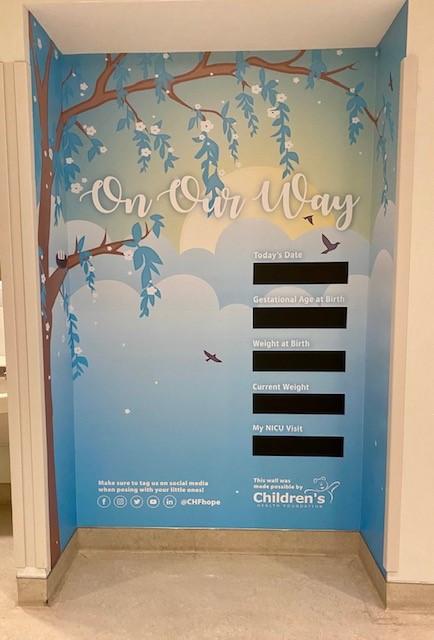 Capture the moments
Keep a journal and/or take lots of pictures. This is a great way to record your baby's journey in the NICU.
The white board in your baby's room is for you to use. It is a way for you to communicate with family and/or the medical team. Talk with your nurse and together you can make a plan for the day.
Decorate the white board in your baby's space. Add a family photograph if you want.
Decorate your baby's space to make it feel more like home.
Accept help from friends and family. Here are some examples of what friends and support people can do.
Celebrate your baby's milestones.
Designate one person to be the contact for information about the baby
At time of discharge – Take a picture at the NICU's "On Your Way" wall.