Neonatal Intensive Care Unit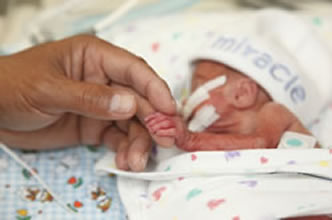 Location
B4-300
Grace Donnelly Women's Health Pavilion
Children's Hospital
London Health Sciences Centre
800 Commissioners Road East
London, Ontario N6A 5W9
519-685-8500 ext. 64427
Visiting Rules and Regulations
The NICU at Children's Hospital is committed to working with patients and families to provide compassionate, high-quality care. We believe it is important for parents to experience the support of family and friends. On the other hand, the number of visitors need to be limited to prevent infection and we need to ensure that individuals who do visit are at low risk for spreading infection.
Parents and siblings may come to the NICU at any time. Parents are not visitors.
Children under the age of 16 years, other than siblings of the baby, may not visit.
Up-to-date immunization records must be shown to the Charge Nurse or Unit Clerk prior to a sibling's initial visit. This includes the varicella (chicken pox) vaccine. Children who have not had chicken pox or received the vaccine may not visit.
A limit of 3 people at the bedside at any time. Parents may bring siblings with them when they visit but are required to supervise them during the visit. Other visitors may wait in our family space just outside of Pod A.
During RSV (Respiratory Syncitial Virus) season, typically November to May, children under the age of 2 years may not visit.
Food is allowed in the family waiting area outside of Pod A as well as there is a parent servery located at the back of Pod A for parents to enjoy refreshments. A fridge, microwave, kettle and toaster are located in this area. No food or drink, other than a sealable water bottle, is allowed at the bedside.