Disclaimer to the On-line Edition

This Manual has been designed for use in the NICU at London Health Sciences Centre (LHSC), London, Ontario, Canada, and represents clinical practice at this institution. The information contained within the Manual may not be applicable to other centres. If users of this Manual are not familiar with a drug, it is recommended that the official monograph be consulted before it is prescribed and administered. Any user of this information is advised that the contributors, Editor and LHSC are not responsible for any errors or omissions, and / or any consequences arising from the use of the information in this Manual.
MEROPENEM
Indication
meropenem is indicated for use in neonates at SJHC in the following instances:

empiric therapy for seriously ill infants after standard therapy (aminoglycosides, ampicillin, ceftizoxime) has been considered and/or used.
treatment of infections secondary to pathogens with documented resistance to first line antibiotics

a consult to Infectious Diseases should be considered when using meropenem
Pharmacology
meropenem is a broad spectrum, beta-lactamase, carbapenem antibiotic for parenteral administration.
meropenem is bactericidal; its activity results from inhibition of bacterial cell wall synthesis.
Microbiology
meropenem possesses in-vitro activity against gram-positive aerobes, gram-negative aerobes and anaerobes.
it does not possess good activity against methicillin - resistant Staphylococcus epidermidis or methicillin - resistant Staphylococcus aureus.,
consult additional references for the sensitivity of specific organisms
therapy may be started empirically before the results of sensitivity testing are the patient's clinical condition
regular sensitivity testing is recommended when treating Pseudomonas aeruginosa infections.
Pharmacokinetics
studies in premature neonates (n=14), full term neonates (n=10), infants (3 to 23 months, n=18) and children (2 to 12 years, n=25) demonstrated that following a 20 mg/kg dose the mean peak serum concentration was approximately 50 mcg/mL
a 40 mg/kg dose (meningitic dose) produced a mean serum concentration of about 90 mcg/mL
the half-lives in these age groups were as follows:

 

| | | |
| --- | --- | --- |
| premature newborns | - | 3.0 h |
| full term newborns | - | 2.0 h |
| infants | - | 1.4 h |
| children | - | 1.0 h |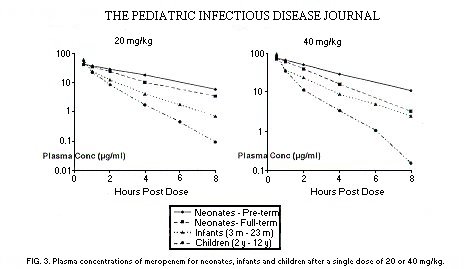 Plasma concentrations of meropenem for neonates, infants and children after a single dose of 20 or 40 mg/kg (Ped Infec Dis J 1997; 16:263-8)
CSF concentrations are approximately 15% of the simultaneous serum concentrations during the first 1 to 4 h after IV infusion during the first 24 to 48 h of therapy in children with meningitis
approximately 70% of a dose is recovered unchanged in the urine
urinary concentrations in excess of 10 mcg/mL are maintained for at least 5 hours following a single dose
there is 1 metabolite which is microbiologically inactive
Side Effects
the following local and systemic adverse reactions were reported as possibly, probably or definitely related to meropenem in clinical trials:

inflammation at injection site (2.4%)
diarrhea (5% in pediatric patients)
rash (1.2%)
fever (0.2%)
vaginal or oral moniliasis (0.2 - 0.4%)
agitation, convulsions, neuropathy (<0.2%)
constipation (<0.2%)

Changes in Laboratory Parameters (>0.2%)

increased liver enzymes and bilirubin
increased creatinine and BUN
increased platelets (7% in pediatric patients)
Precautions
Antibiotic-related seizures
meropenem, like all beta-lactam antibiotics, has the potential to cause seizures (based on competitive inhibition of the inhibitory neurotransmitter, gamma-aminobutyric acid (GABA)); this risk may be increased in patients with decreased renal function and CNS lesions
however, the degree to which a given beta-lactam antibiotic inhibits GABA differs; in an animal model imipenem was the most likely of the carbapenems to facilitate seizures, while meropenem was one of the least likely
human studies have demonstrated equivalence in the incidence of seizures when meropenem and cefotaxime were compared
Dose
Systemic infections
for infants > 3 months - 20 mg/kg q8h
for premature and term neonates we suggest a dose of 20 mg/kg q12h (at about 1 month of post-natal age it may be reasonable to consider a dosing interval of q8h)
Meningitis
40 mg/kg (dosing interval as described above)
since about 70% of a dose is cleared unchanged by the kidney, consideration should be given to extending the dosing interval in cases of severely diminished renal function
Administration
give by slow IV infusion over 30 minutes (10 mg/mL solution)
if necessary may be given IV push over 3 to 5 minutes (50 mg/mL solution)
Supplied
20 mg/mL syringe, prepared by Pharmacy Services

available as a 500 mg vial (powder)

to reconstitute add 10 mL NaCI 0.9% to prepare a 50mg/mL solution

to dilute, add 4 mL of 50mg/mL solution (ie 100mg)to 6 mL 0.9% NaCI

Final Concentration
=
=
200mg / 10mL
20 mg / mL
References
Zenk KE, Sills JH and Koeppel RM : Neonatal Medications and Nutrition - A Comprehensive Guide, NICU INK Book Publishers, Santa Rosa, California, 1999.
Bradley JS : Meropenem-a new, extremely broad spectrum beta-lactam antibiotic for serious infections in pediatrics, Pediatr Infect Dis J 1997;16;263-8.
Gura KM : Intravenous drug administration guidelines for pediatric patients 1999, The Journal of Pediatric Pharmacy Practice, 1999;4:80-106.
Merrem Product Monograph, Zeneca Pharma, Mississauga, Ontario, June 20,1996.
Last Uploaded: Thursday, 26-May-2011 00:53:44 EDT