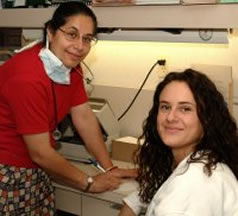 While in the hospital, your family doctor or a pediatrician will examine your baby.
You and your baby should visit a Well Baby or Breast-feeding Clinic within 48 hours of leaving the hospital. Various clinics are open Monday - Saturday, no appointment is needed and they are FREE. You will be given information pamphlets to read while you are in the hospital. For more information, check the clinic listings and times shown in the mother/baby wellness binder that you received during your preadmission appointment or call the Middlesex London Health Unit at 663-5317 ext.1122.
All breastfed babies should be seen by their doctor or a professional skilled in breastfeeding within 2 days if they go home before 48 hours after the birth. Babies who go home more than 48 hours after birth, should be seen within 7 days after discharge. Call your doctor or midwife's office when you get home to make an appointment.