Carrie Newman leaves generous bequest to foster awareness about donation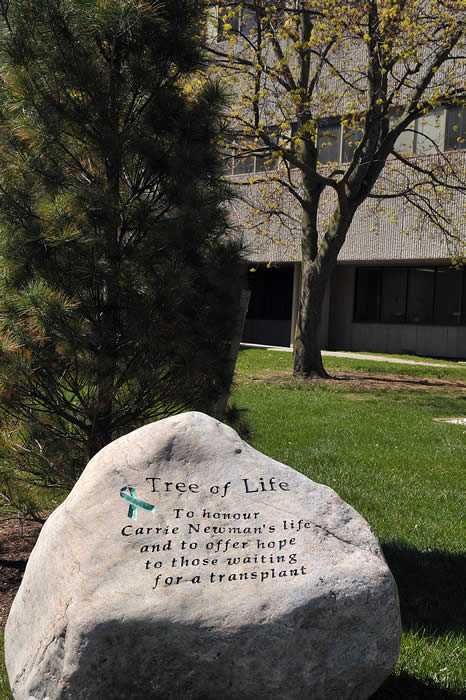 Until 1992, when she was diagnosed with a rare heart disease, Carrie Newman was a lively, active woman whose love of nature made her a committed worker in the field of the environment and recycling. After consulting with doctors throughout North America, she underwent open-heart surgery but by 1998 her health had deteriorated, and the only option was a heart-lung transplant. She was placed on the waiting list but her condition worsened as she waited and sadly, in June 1999, at the age of 36, she died.

During her last months Carrie sensed that the transplant would not occur in time to save her life. Rather than sink into despair, however, she spent her remaining energy planning how she could help others who were waiting to receive "the gift of life" through organ donation. She decided to leave a bequest to the London Health Sciences Foundation for organ donor awareness projects, using proceeds from the sale of a beautiful family property in Muskoka, Ontario.
As her life was coming to its end, Carrie spent time talking with her husband, Jack McGinnis, about how she wanted her gift used. The first project was a 2001 Canadian Transplant Calendar, and 100,000 copies were produced and distributed across the country. The rest of her gift and any additional funds raised formed an endowment fund to support donor awareness initiatives in the future. With her selfless courage and generous spirit, Carrie left a legacy that will inspire many people and, even more importantly, have the effect she wished: to save lives. Her family and friends are now also committed to maintaining and expanding this legacy.


During the fall of 2000, a white pine tree was planted in front of University Hospital, London Health Sciences Centre. The donation of the tree by Carrie's husband, Jack McGinnis, provided the incentive for another project by the Transplant Awareness Committee, which designed a Christmas tree ornament using a green ribbon - the green ribbon is the international symbol for promoting organ donor awareness. The Committee sold these metal ornaments for $10. For each one sold, another light was added to the Tree of Life. On December 8, 2000, the tree was lit with more than 300 lights to honour those who have donated organs and tissues, and to offer hope to those patients still waiting for their transplant.
In 2005, the Carrie Newman Fund donated money to the very successful World Transplant Games, which were held in London, Ontario. Public education about the need for organ and tissue donation as well as advances in transplantation were included at the Games, thanks to Carrie's gift.
The Tree of Life remains a living symbol of Carrie's generous gift.