The CCTC waiting room is located to the left as you enter through the visitor's entrance. If you enter Victorial Hospital from the first street level entrance, the CCTC visitor's entrance is to your immediate right as you enter the building (this is the hospital entrance that is located just below the main ramp).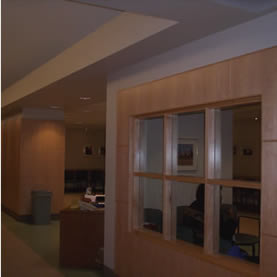 After 8:00 pm, the CCTC entrance is locked. You will need to enter the building through the Admitting Entrance, located just west of the critical care entrance.
The CCTC waiting room is shared by families of patients in the CCTC, as well as family members of patients in the Trauma Observation Unit. Although the Trauma Observation unit is physically located within the CCTC patient care areas, these patients are cared for by a different team of staff.
CCTC has 3 "quiet rooms" available for short-term use by family members of patients. These rooms must be shared by all families within the 30 bed CCTC, therefore, it is necessary for us to assign, and reassess and reassign this space on a daily basis "as needed". These rooms must be vacated each day for cleaning.
We ask your cooperation in helping us to keep the waiting room clean and comfortable for all of our families.