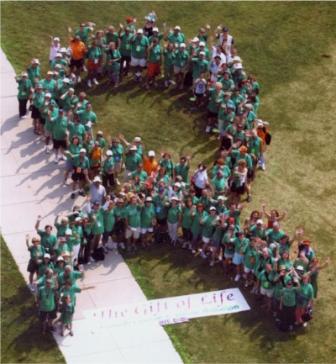 Thousands of lives are saved each year in Canada through the generous and selfless gift of organ and tissue donation. As part of the 15th World Transplant Games, a Donor Recognition Day was held to acknowledge all those who have given this extraordinary gift. The day's events paid tribute to donor families who gave consent for their loved one's organs to be donated after death as well as to living donors who gave a kidney or part of their liver to a family member or friend.
In the morning, living donors, family members of deceased donors, and recipients donned green t-shirts for a 3-km walk, culminating in the formation of a living green ribbon on top of University Hill, UWO. The banner says, "The Gift of Life... Consider organ and tissue donation. WE DID!"
A Donor Family Forum, facilitated by social workers and a chaplain, offered an opportunity to tell personal donation experiences. Meanwhile, children were kept busy in a drumming workshop, led by a kidney recipient. The afternoon activities also provided some fun games for children and adults as they flew kites, tossed beanbags, squirted water, and dodged balls in their own "games".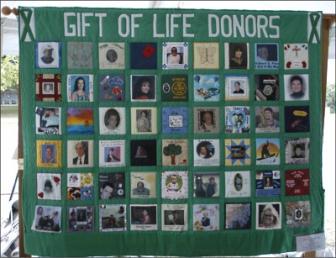 Throughout the day, many families and recipients viewed the Donor Quilt, which was on display at the Trillium Gift of Life's hospitality tent. An album also accompanied the quilt so each donor's personal story could be read.
At 5:00 pm, a special Ceremony was held. One of the speakers, Janet Brady, co-chair of the World Transplant Games, welcomed all the donors and families and thanked them for giving her "15 years of life", which enabled Janet to see her young children become adults. Janet's daughter, Tara Brady, was only 5 when Janet had her transplant; this summer, Tara was one of the organizers of the World Games.
Dr. William Wall, Director of the Multi-Organ Transplant Program at London Health Sciences Centre, spoke of the continuing need for donation. He highlighted families' tremendous gift at a time of grief.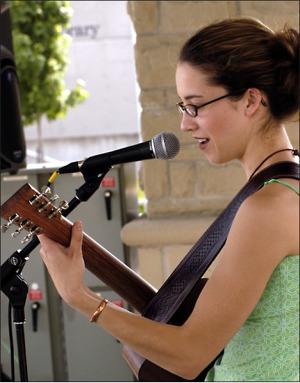 Theresa Sokyrka performed some of her songs, including "Change the World" from her debut CD. Theresa is the Saskatchewan Centennial 2005 Youth Ambassador and also the "other Canadian Idol" as runner-up in the 2004 Idol search. She expressed her gratitude to all donor families, and explained that her father had a heart transplant 20 years ago in London. Harold Sokyrka then stepped forward for a hug from his daughter.
Finally came the balloon release. Each balloon released was in honour of all organ donors. As they rose higher and higher, the crowd watched until they disappeared. Many had tears in their eyes, but a smile on their face. Earlier, 1995 kidney recipient Connie Ellis spoke of the donor families' tremendous loss, yet through their decision to donate we know that "Life and death, joy and sorrow, are forever joined."