The most recent Curling Bonspiel - Raise a Rock to Raise Awareness - was held on Saturday, October 17, 2009 at the London Curling Club. This year's Curling Bonspiel had two teams from LHSC's Transplant Lab competing against each other for second and third place finish. The score was very close! Only 3/4 of a point difference with bragging rights going to team captain Rob Coles. These two teams are up for a re-match next year!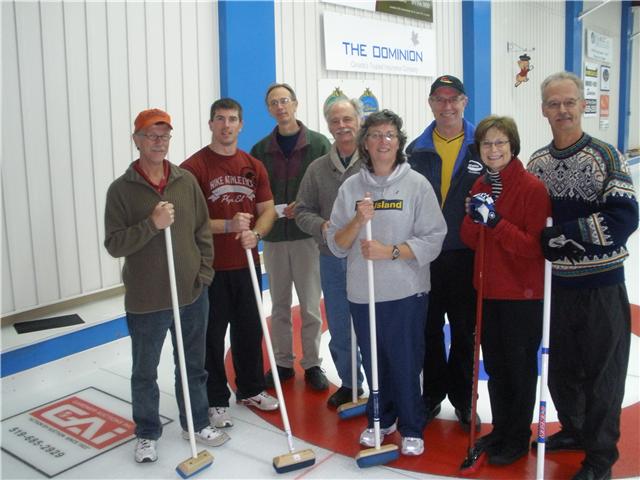 From left: Harv Stansell, Andrew Stansell, Dave Beaune, Dr. Edward Ball, Mary Jane Stansell, Rob Coles, Jamie Hooper, Paul Harris (LHSC staff bolded)
For several years, the Transplant Awareness Committee at LHSC has kicked off National Organ & Tissue Donation Awareness Week a few weeks early, holding a curling bonspiel in early April. Thanks to SNAP London North for their coverage of the 2008 Bonspiel.
This is a fun, mixed bonspiel, held at the London Curling Club (377 Lyle Street), for curlers of all ages and abilities. About 100 curlers - from very experienced to some who have never been on the ice before - take part each year. As the public and hospital personnel curl side by side with transplant recipients, the message that "Transplants Work" becomes very clear. All proceeds go to the hospital's committee to help with endeavours that promote greater awareness about donation and transplantation in our community.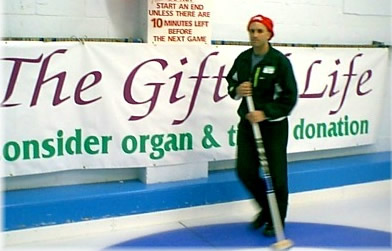 Dr. Paul Marotta, Medical Director, Liver Transplantation, LHSC  
Heather Fisher & Janet Brady, Canadian Transplant Association