Calendars

This calendar features Canadians who are making a difference by promoting awareness about the need for organ and tissue donation. Although their approaches vary and are often unique, the message is the same - consider signing a donor card and discussing your wishes with your family. People's lives depend on it.
This national calendar was possible through Carrie Newman's bequest for public awareness projects.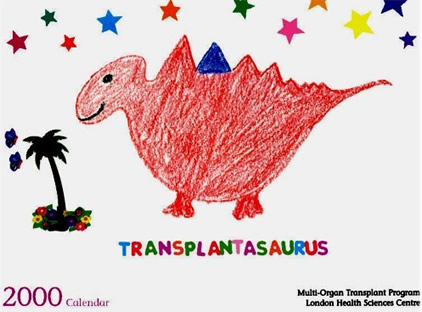 The artwork in this calendar depicts many aspects of transplantation as seen through the eyes of patients, medical students, and transplant specialists. The "Transplantasaurus" on the cover was drawn by a liver recipient, when she was seven years old. She chose to transplant one of the dinosaur's spines. Each piece of art differs from the others, and the artists' notes explain the message behind the work. There is a common theme throughout, however, which is that transplantation is a celebration of the gift of life from one person to another. Patients who are dying from organ failure have their lives saved because of the generosity and compassion of donors and their families.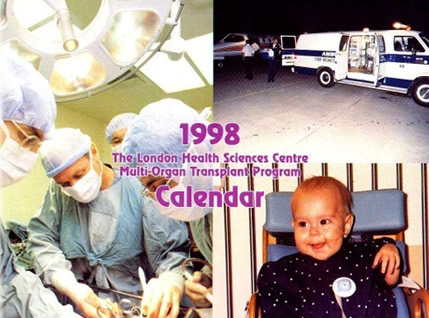 The year 1998 celebrated 25 years of transplantation at University Hospital. Scientific discoveries were made during that time, which dramatically improved the control of rejection. As a result, more than 2,500 patients had received transplants in London's Multi-Organ Transplant Program. The dozen individuals featured in this calendar are recipients of a variety of organ and tissue transplants. They demonstrate the well-being and good health that the vast majority of transplant recipients enjoy.
As much as this anniversary is a celebration of their success it is just as much a tribute to the donors and their families who, at a time of grief over the loss of a loved one, gave the gift of life to strangers. Their compassion and generosity is the foundation that makes transplantation possible.