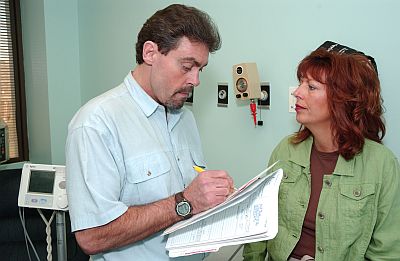 A trip to the hospital can be stressful, whether you're coming for a short doctor's appointment or as a patient overnight in one of our units.
This is especially true if it is your first time to the hospital.
London Health Sciences Centre is a large, complex hospital. Before your visit, we suggest you:
Leave yourself lots of time to find Patient Registration, and the clinic or appointment location
Review any instructions provided by the physician's office
Interpretation Services:
You may request a professional health-care interpreter. If you need an interpreter, please tell your nurse, doctor or other member of your health-care team. Sign language interpreters for the deaf/hard of hearing and spoken language interpreters for non-English speaking patients/ family members will be arranged at no cost.
What to bring:
Any instructions provided by the physician's office (doctor's name, clinic name, room/floor number, what to bring/do in preparation for the visit)

Your Ontario Health Card (or equivalent) to every visit
Supplementary insurance information (if you have extra coverage)
London Health Sciences Centre hospital card (if you have one)
CareWish (i.e. Advanced Directive for Personal Care, Living Will etc.) document if one is written
Personal toiletries (i.e. toothbrush, toothpaste, comb, brush, feminine hygiene products, shaving supplies, facial tissue, soap, shampoo, denture cup, hearing aid batteries, sleepwear, and slippers)
Electric razor (may be used if plugged into appropriate outlet)
Eyeglasses and other aids such as walkers if required
All medications you are currently taking, or a list of the medications along with your Pharmacy's phone number, including non prescription medications or over-the-counter medication. This may include herbal products, creams, and tea preparations.
Inexpensive watch or battery-operated clock
Small amount of money for incidentals (e.g. newspaper, TV rental, snacks)
Headphones if renting television
London Health Sciences Centre cannot assume responsibility for money, valuables or clothing kept in your room or on your person.
What not to bring:
Jewelry, credit cards, large amounts of money, and other valuable items: these should be left at home. If you do bring them to hospital and they can not be sent home with family or friends, valuables should be deposited in the Business Office for safe-keeping. You can pick up your valuables from the Business Office between 8 a.m. - 11 a.m. and 12 p.m. - 3 p.m. Monday to Friday. No service between 11 a.m. and 12 p.m.
Electrical appliances (in accordance with hospital electrical and fire safety standards). The use of electric appliances, with the exception of electric razors, is forbidden. A hair dryer may be available by asking nursing staff.
Perfume and other fragrances: scented products can cause allergic reaction and respiratory distress for other patients, staff and visitors. Please do not use any scented products and ask your family and visitors to do the same.
PARKING
London Health Sciences Centre has 24-hour, pay-per-use parking. Daily, weekly and monthly passes are also available.
Patient drop-off, pick-up and handicap parking areas are available at all sites.
Accessibility in parking garages:
Victoria Hospital – all levels of the parking garage provide automated doors between parking spaces and elevator lobby
University Hospital – aside from the main (first floor) level of the parking garage, all other levels currently have manual doors between parking spaces and elevator lobby
In most of our parking areas, if you are leaving after-hours you will need $1 or $2 coins to exit. Most parking lots have a machine that can provide change for bills up to $20. The parking lot at the Children's Emergency at Victoria Hospital takes only change. There is a machine that can provide change for bills just inside the Emergency Department doors. If you have any questions about parking call:
519-685-8500
          
| | |
| --- | --- |
| University Hospital    | ext. 32446 |
| Victoria Hospital/South Street Hospital    | ext. 53078 |
When you arrive:
Check in at the Patient Registration desk at the location given to you by your doctor.